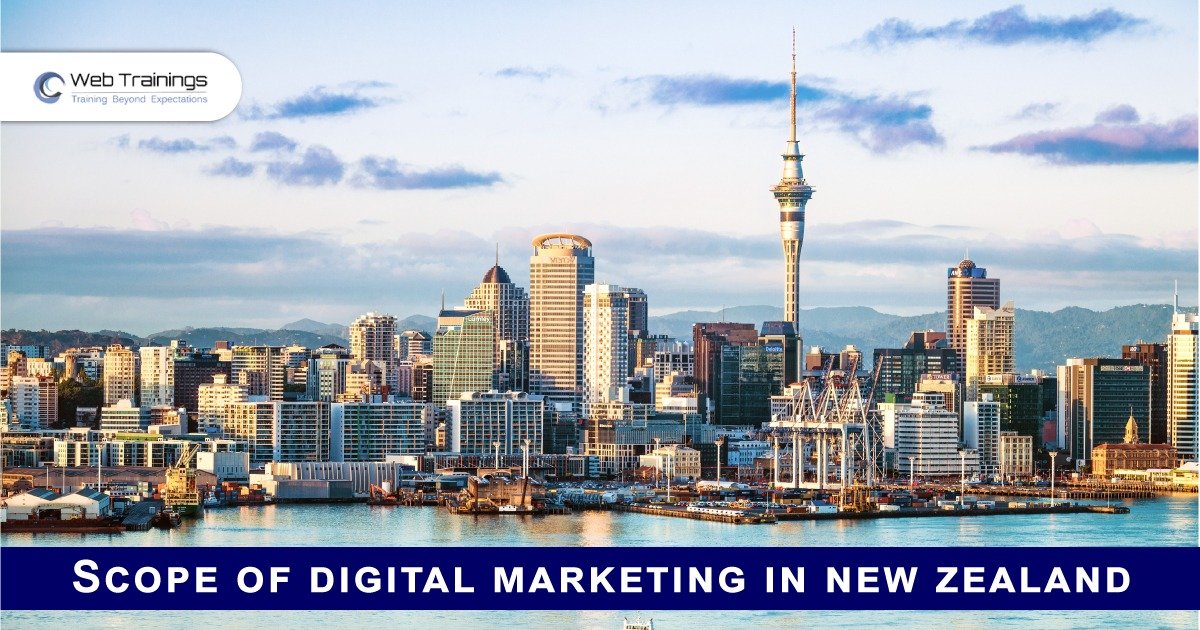 Digital Marketing Scope in New Zealand
In the current digital era, digital marketing has gained massive popularity in all countries among businesses that intend to flourish online in the competitive market. New Zealand is one sought-after country that offers  digital marketing specialists career opportunities. In this article, you will learn about scope of digital marketing in New Zealand.
Digital Marketing Job Opportunities in New Zealand
New Zealand has multiple job opportunities in the digital marketing stream for various candidates based on their skill set to succeed in their careers. Advertising specialists are more in demand in the country.
As per information stated by the New Zealand Interactive Advertising Bureau, the revenue raised from advertising channels is $1.26 billion in 2019.
Social media analysts and social media managers are two much-demanded profiles in New Zealand offering the highest salary. Other featured designations are digital marketing coordinator, digital marketing assistants, learning and development consultant, and digital marketing with graphics specialist. Each role-plays an imperative role in the growth of the business, and the above-listed positions are some of the abundant opportunities in New Zealand when it comes to the digital marketing side.
Digital Marketing Average Pay Scale in New Zealand
Well, the salary depends on the skillset and experience of the digital marketing professionals in New Zealand. Budding digital marketing professional is paid a basic compensation of NZ$48,281. For profiles like digital marketing managers with nearly 10 years of DM experience, the pay is at NZ$71,440 per annum that comes to NZ$5,950 per month. Apart from fixed pay, companies also offer incentives and other perks.
Before fixing the final salary, some of the most demanding skills are looked at in every digital marketing profile. Web marketing is the most desired skill that has a 7% impact on the wage. The second most wanted skill is Search Engine marketing which can take your salary higher by five percentage. According to the reports, paid media marketing, Google analytics, and email marketing account for three per cent of salary raises.
Job Types in Digital Marketing
Different job types covered under digital marketing based on the requirements of every business. People taking up the course during their graduation are assigned internship roles to train them in the field. Some job types are regular, permanent, contract, temporary basis, part-time, internship, and freelance positions. Based on one's interest, the candidate can seek the desired job type as long as they fulfil the business requirements.
Cities Offering Digital Marketing Jobs in New Zealand
New Zealand is a country with plenty of opportunities in digital marketing in several cities. Some of the popular cities are Auckland, Tasman, Wellington, and Canterbury. These cities have many sub-cities favouring profitable job opportunities.
Job Responsibilities for Digital Marketing Professional
A digital marketing person plays a crucial role in the growth of any business by spreading the brand's awareness among the public through various marketing approaches. Some of the worth-mentioning strategies are PPC, SEO, SEM, and others include measures to drive more traffic towards the site, eventually increasing the business's sales.
Below listed are the primary responsibilities of DM professionals aimed at the improvement of any company.
Gathering and study of client requirements in-depth for more visibility on the output.
Create digital marketing strategies concerning client specifications.
Drafting a content document based on client targets.
Introducing on-page and off-page SEO activities for web pages.
Establishing a social media profile on behalf of the business to improve brand awareness.
Conducting email-marketing campaigns for the success of the business.
Creating leads for the clients.
Generating a social media strategy and staying updated on social media.
To be updated with current market trends.
To find out critical digital marketing opportunities for bringing out their unique talents to the outside world.
New Zealand Visa for Immigration
The NZ government has an exclusive website for helping visa applicants apply online hassle-free at the convenience of their homes. There is also an agency named New Zealand Immigration Service responsible for Visa processing for students and job seekers planning to migrate to NZ.
Needed Skills and Certifications in Digital Marketing
The first prerequisite is a bachelor's degree in marketing and advertising streams. It is good to have an additional course completion certification in digital marketing. Extensive marketing skills in lines like SEO, Google Ads, Bing, Social media ads, and email marketing is essential to be the right fit for the digital marketing position. It is good to know about Google Analytics to generate reports in the actual job.
Some must-have certifications are Google Ads certification, Facebook Blueprint Certification, Hubspot Certification, and Google Analytics certification. A certified professional has more exposure than the one with just a degree in marketing and adds to their profile to seek better jobs. Other generic skills required for a marketing professional include communication, negotiation, and attention to detail, content creation, and effective project management.
Attend a Free Demo Session to know more about Digital Marketing
Conclusion:
Digital Marketing plays an imperative role in the success of any business by promoting the products on various social channels in view of brand reachability. NZ satisfies the thirst of every digital marketing applicant by providing job opportunities in multiple cities based on their expertise. Join the advanced online digital marketing course to enhance the knowledge base to excel in the digital marketing career.
Scope of Digital Marketing across the globe:
Scope of Digital Marketing in New Zealand
was last modified:
January 19th, 2023
by