What is WordPress?
If you're an IT aspirant looking to build their website, then you're on the right page. WordPress is the most prominent, user-friendly, and effortless way to develop a website. Do you know that WordPress powers about 40% of all the websites online? To gain more knowledge, let us dive in deeper. WordPress is an open-source CMS that reveals that anyone has the freedom to modify or use the software for free.
The software is designed for all, highlighting user-friendliness, security, performance, and accessibility. WordPress developers have created the software with minimal setup features so that any individuals desiring to use the web may display their product, story, service in a free manner. Using the WordPress software is effortless and straightforward, with extraordinary features for growth and success.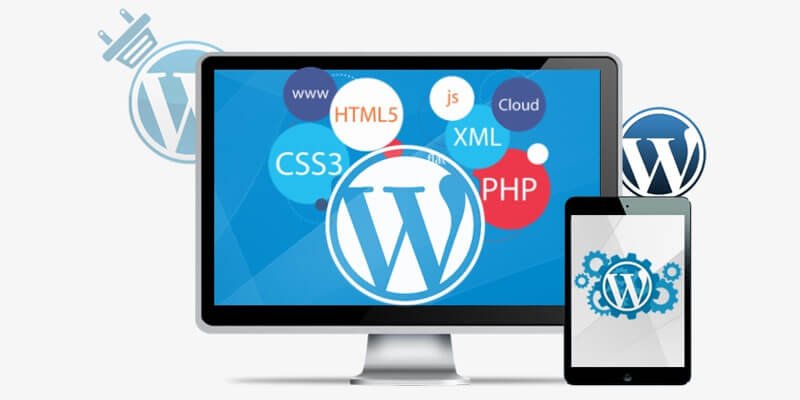 Research portrays that WordPress has a high rate of search online of about 2,740,000 times each month. The demand for competent WordPress developers is high across the globe. Why not pick a career in WordPress? To enter the world of WordPress as a developer, enrolling in our Online WordPress Course is an intelligent choice. Web Trainings Academy's WordPress course in Hyderabad is the best solution as we work on providing quality training to job enthusiasts.
Online WordPress Course
Web Trainings Academy's WordPress course works wonders as we practically train students imparting knowledge mandatory for the real world. Web trainings is one of the most prominent training institutes delivering word Press training in Hindi and English language.
We have been leaders in training students in real-time WordPress training and help them understand the concept effectively. We have the best faculties possessing hands-on experience in WordPress and offer the best training program that suits the requirements of the students.
We nurture students and train them in designing a website. Our faculties go the extra mile and support them in creating architecture for developing a good website. Students also gain the opportunity to test the website. The WordPress coaching enables aspirants to user-friendly site layouts and a lot more add-ons.
We know that WordPress specialists are in high demand in the corporate world.
Benefits of WordPress
The powerful CMS provides a bundle of features for developing unique websites. From its initiation in 2003, WordPress has come a long way and raised the flag as a web development solution for e-commerce stores and professional websites.

The above are a few benefits of WordPress as the list goes unlimited. WordPress is also the best source for blogging, flexible, has community support, a self-hosted platform, SEO friendly, Cost-effectiveness, dependable security, and has outstanding scalability. With such fantastic benefits, wouldn't businesses adopt WordPress for an online business!

WordPress Course Syllabus
Our WordPress in-depth training offers an extraordinary syllabus where students develop live websites in few days, of course. The syllabus includes
HTML, CSS and Java Script
Theme Settings and Customization
Categories, Tags and Post
Adding a menu to the website
Adding widgets to the website
Practical Project Example
Attend WordPress Course Demo
WordPress Course Demo in Hyderabad
Learn the Basics of WordPress Course on our YouTube Video. In this video you will learn the fundamentals concept of WordPress, benefits of WordPress, WordPress strategies & career opportunities in WordPress.
Our Placements

Why Join our WordPress Course in Hyderabad @ Web Trainings
Award Winning Institute (Radio City Icon Awards 2019 – Best Digital Marketing Institution)
WordPress course in Hyderabad with 100% Job Assistance
Top Rated Digital Marketing Institute with 4.8/5 ratings from more than 800 reviews.
Regular job updates by Email & Whatsapp group.
14+ years experience faculty & Other Industry Experts
WordPress course with Internships
Live Project work with WordPress Course
Backup sessions for missed classes / Revision Sessions.
Support via Whatsapp Group
Weekly project assignments
Complete study material on daily basis
Free WordPress e-books and guides
WordPress interview questions & Mock interviews
Resume preparation help
Complete Google/Bing/HubSpot certification guidance & mock exams
Practical & job oriented sessions
WordPress updates as per changes in all networks
Dedicated Lab and Lab Assistance
Support after completion of WordPress course
Help in Online money earning strategies
What our Students Say about Us ?
WordPress Course Reviews
I would like to say everyone like me who really want to learn Web-related course please come here.
★★★★★
This is Apramita student of WEBTRAININGS ACADEMY…First of all, I would like to say thanks to my institute and my instructor MR.MOHAMMAD ARIF. It was a pleasure for me to learn my course from an institute like Webtrainings and trainer like Arif Sir. This is the best institute to join without any Hesitation. The way of explaining the concepts and the way of teaching process was very nice…After joining Webtrainings for the course of web designing I realize that I have taken a better decision for my career by selecting this institute…
And lastly I would like to say this very Gladly "for Webtraining & for My perfect Trainer" I got the reference and today am here with my Job. This happens only within a week after completing my course. "The Webtrainings is the BEST and RIGHT place for learning" …bcoz "I am fully satisfied in here". Thank you, Sir.
Apramita Sahoo Review
was last modified:
September 30th, 2019
by
This is one of the most reputed institutes.
★★★★★
I Have learned Web Designing From This institute & The Teaching was done by Mr. Arif. The learning experience was too good and the training they provide is worth what we pay. They also provide lab sessions where we can have a chance to clarify our doubts and improve our practical knowledge on the subject and the trainers are much friendly and interactive which lead to a better learning atmosphere.
I have got a great opportunity to work as an Intern right after completing my Course and after the completion of my internship got placed in a top MNC company.
CinemaIzm review
was last modified:
September 30th, 2019
by

I just want to say that the institute is excellent
★★★★★
I just want to say that the institute is excellent and Mohammed Arif sir have sound knowledge of web and current standards. They help the students in every phase of designing and development during their learning sessions and also give new ideas which help students to a better understanding of the subject. I have enjoyed my training duration because the nature of the faculty Mr. Mohammed Arif sir is very friendly and helpful which is a major part of the development of any student's view of the professional world.
Thanks a lot ARIF SIR…
Gajanan Pame Review
was last modified:
September 30th, 2019
by

Web Trainings Academy is the best and excellent training institute in Hyderabad.
★★★★★
"To become a web designer then web trainings academy is the best and excellent training institute in hyderabad. After my graduations I was very confused about my carrier one of my brothers told me to learn web designing and he suggested me web training academy is the best to join, I attended the demo classes and I decided to learn web designing. The most experienced and understandable faculty. My humble thanks to ARIF sir, you are an excellent faculty and excellent in teaching web designing. I recommend everyone to join web trainings academy for web designing. now I am not at all confused about my career, thanks to web trainings academy and once again thanks to Arif sir you are the best."
Abhinav Tej Review
was last modified:
September 30th, 2019
by

Hi, This is Mayuri Humnabadkar.
★★★★★
I have completed my Web Designing Course in Web Trainings Academy, Hyderabad, Telangana. One of the past students referred me to this institute. I came from Maharashtra state just to learn Web Designing Course.
I would like to mention about my Mentor Md. Arif Sir, who taught Web Designing, HTML, CSS, JavaScript, JQuery, Adobe Photoshop, Adobe Dreamweaver very easily so that I never felt that I'm from the non-technical background during the course. Without any hesitation, I would like to refer to Web Trainings Academy in my network.😊
Mayuri Humnabadkar Review
was last modified:
September 30th, 2019
by
I can say it is the BEST institute for Web Designing.
★★★★★
I have recently finished my Web Designing course and I am really very satisfied. I would like to thank Mr. Arif sir for his guidance and support. He made concepts of each module very clear.
Sampada Deshpande Review
was last modified:
September 30th, 2019
by

Hi friends,  I am one of the students in WebTraining Academy
★★★★★
I did my web designing course from Web Training Institute and today I am writing this review because if anybody is looking for a good web Training institute and want to get in-depth knowledge of the subject. Then Web Trainings Academy is only the answer.
Sai Kiran Review
was last modified:
September 30th, 2019
by

Web Training is one of the Best Digital Marketing & Web Designing Institute in Hyderabad.
★★★★★
1st I took video class for Digital Marketing Whenever I sent doubts through Mail immediately they will respond. After that, I joined Web designing class.
My personal suggestion is if you want to Learn Digital Marketing or Web design "Web Training Academy" is one of the Best Place.
Thank you
Mohan Krishna Review
was last modified:
September 30th, 2019
by

The trainer Arif sir teaches in a simple way and clarifies all doubts
★★★★★
I have learnt responsive Web designing at this institute. The trainer Arif sir teaches in a simple way and clarifies all doubts. If you want to learn web designing go with it."
Yeshwanth Reddy Review
was last modified:
September 30th, 2019
by

Best Digital marketing and web design institute trained under master mentors
★★★★★
Arif sir taught us in a very friendly manner, clears every doubt we have on web designing and hospitality of the staff was very good.
Prabhakar Prabha Review
was last modified:
September 30th, 2019
by

FAQ's about WordPress Training Hyderabad
1. Which is the best training Institute for WordPress in Hyderabad?
Web Trainings Academy is the best institute to enroll in for the WordPress course in Hyderabad.
2. Are there possibilities to build a website in 14 days?
Yes, with our intense training, we help students build the website in just 14 days. We teach students with mandatory strategies and skills for website development in a short period.
3. Does Word Press have a sound future?
Yes, Of course. WordPress is an extremely treasured technology to excel as there is high demand for WordPress developers.
4. Is it reasonable to learn Word Press online?
Yes, Web Trainings Academy offers online courses too for aspirants desiring to excel in WordPress. The expert faculties help students transform into real Word Press developers through their coaching.
5. Will the institute provide materials for training?
Yes, the Web Trainings Academy provides materials in the form of softcopy, and faculties are always there to help students clear any doubts in Word Press.
Conclusion
Gain the opportunities to learn WordPress online and classroom sessions with Web Trainings Academy's WordPress training in Hyderabad. We have Expert faculty, real-time project, and the creation of websites in few weeks, and what more? Master WordPress by collaborating with Web Trainings Academy and come out in flying colors.
Learn WordPress Course Online | WordPress Course in Hyderabad
was last modified:
March 28th, 2023
by