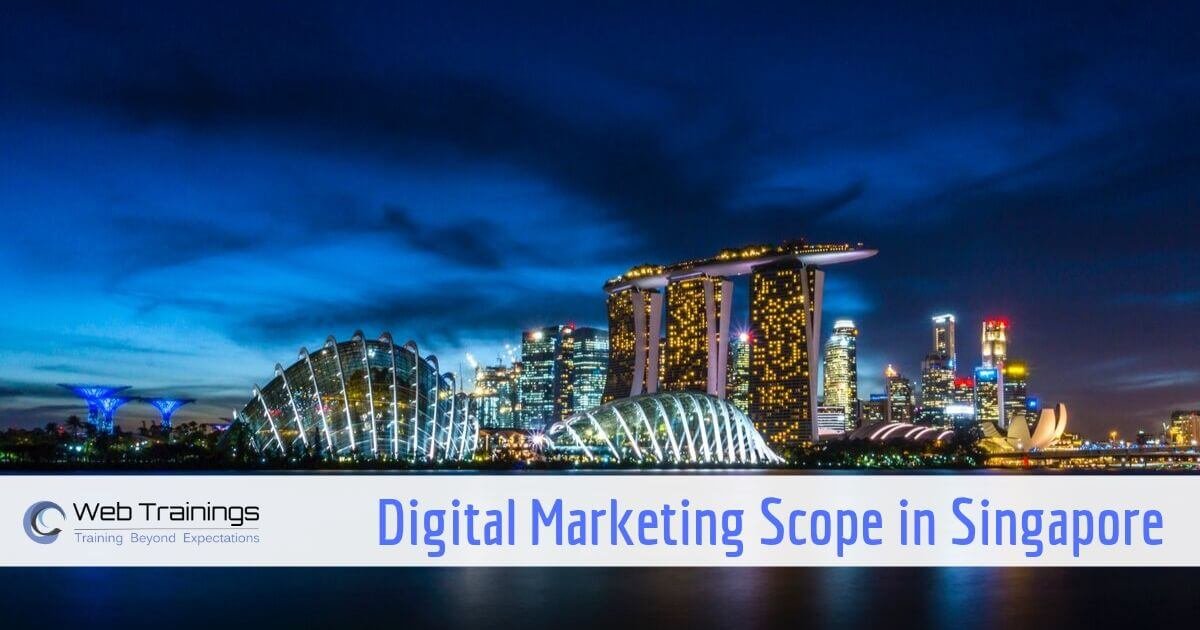 Scope of Digital Marketing in Singapore
Singapore is a place that is buzzing with opportunities and innovation. It offers many jobs to its citizens and has a forward-thinking population that is up to date with respect to technology and developments. Therefore, it does not come as a shock that it has a large amount of opportunities for both budding and experienced digital marketers.
Digital Marketing Job Opportunities in Singapore
Singapore is a country with a population of 5.83 million. Amongst them almost everyone has access to the internet, and they are active on social platforms. In fact, social media, blogging and other digital options are very much prevalent in Singapore where the internet penetration of the population is almost 84 percent which is relatively one of the highest internet penetration rates in the populations worldwide. According to an online survey 4.6 million of the population of Singapore are active social media users and most of them operate using smartphones or laptops.
Internet Users in Singapore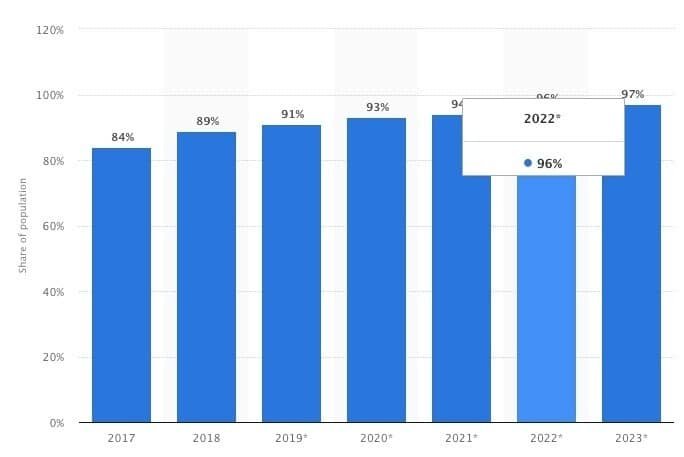 Network wise usage in Singapore.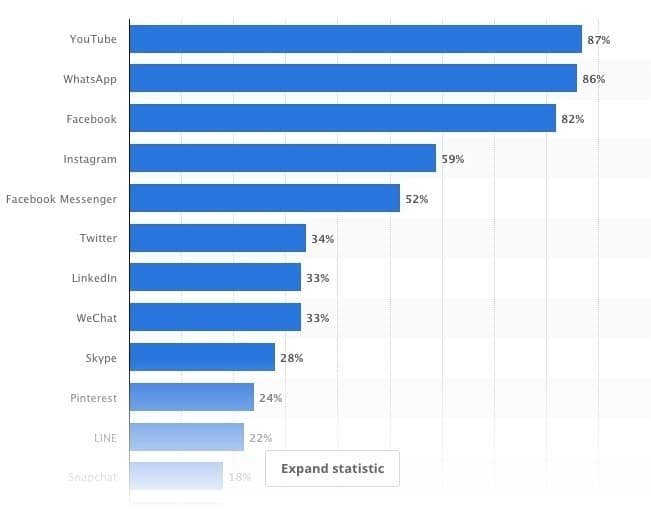 Therefore, digital marketing is a booming industry in Singapore with more and more job opportunities rising up for trendy and tech savvy marketers. Over the years the number of internet users as well as the digital marketing industry has kept on growing exponentially and the marketing industry has turned from traditional policies to digital marketing campaigns almost totally. Singapore is also a sector that is booming with business and companies and statistics show that around 78% of these companies either have digital marketing team or they hire marketers to help them with their digital campaigns.
Digital Marketing Job Stats from Singapore job portals:
Many job portals operating in and around Singapore offer around 3-10 thousand jobs at various locations to digital marketers with higher packages offered to people with experience and exposure to the marketing trends within Singapore. Not only do they offer amazing salary packages, these jobs also entail attractive benefits and remuneration which makes digital marketers a highly in demand position in Singapore.
Some companies in Singapore looking for new talent and offering the highest salary packages for digital marketers are as follows:
De Mellows
24K Design Studio
Active media
AD Cool Media
Aiden Creative
Asian Press trade
Ate ideas
Brand Rich LLP
Biz Edge consultancy
ClickTRUE
Conversion Hub
Convertium
Webcada
Digital media nerds
Amongst all of these companies and other professional businesses offering digital marketing services, social media experts and video content optimizers are preferred because it has been observed statistically that the Singapore market is dominated by millennials who engage and respond better to photos and videos and product reviews more than promotional content that is uploaded onto various social media platforms.
Digital Marketing Average Pay Scale in Singapore
According to job portals like PayScale, Glass Door and equine academy, salaries of digital marketing managers or experts can be as high as 69,858 dollars on an average with a minimum of 21,000 dollars salary and an epic highest salary rate of 115,000 dollars. In hourly rates that converts to 54 dollars per hour with around 9,826 dollars more as a bonus and around 4,500 dollars of optional profit sharing. Salary also varies as per various factors such as job profile, experience, educational qualification and other skills like SEO managing skills or social media marketing skills.
Average Digital Marketing Manager Salary in Singapore S$69,570
Job Types in Digital Marketing
Most of the companies in Singapore have a fully versatile and diverse digital marketing team having experts who specialise in various fields like ad hosting or content management or ranking optimization and other such roles. Companies in Singapore mostly hire on a probational status until they are assured about the competence and skill of the marketer. Internships and part-time requirements are also quite lucrative in the Singapore digital marketing job market. Some of the most popular job roles in Singapore are mentioned below:
SEO managers
Google Ads Specialists
Facebook marketing experts
YouTube marketing experts
Twitter marketing experts
Instagram marketing experts
Content Writing Expert
Review curation and implantation expert
Lead generation and follow-up expert
Guest posting and traffic management expert
Overall digital marketing manager.
Video creation and editing expert
Good Graphics expert.
Marketing and online campaign strategists.
Job Responsibilities of Digital Marketing Professional
Digital marketing work responsibilities depend on the job role and type of campaign you work. But as per the market requirements, some day-to-day job tasks of digital marketing are as follows:
Performing business analysis and understanding client requirements
Performing competitive research
Developing digital marketing strategies as per client objectives
Creating a content strategy as per client objectives
Analyse the online market to evaluate and identify critical digital marketing opportunities
Creating SEO strategies for clients
Implementing On-page and Off-page activities in SEO
Creating social media presence for the project
Designing a social media content strategy and update social media pages.
Creating and executing email marketing campaigns
Generating Leads for clients
Staying up to date with the current market trends
Singapore Visa for immigration (Check this page)
The authorities in lieu of the work visa issue something called work permit or work pass which enable foreigners to take up temporary or permanent work in the country.  The work permit or pass can be applied for by any qualified and skilled Indian, who wants to work in Singapore through an appointed employment agent (EA) or employer. As per the rules of the work permit, the employers who engage foreign workers in Singapore need to provide them with a salary for their service, maintain a security bond as well as provide them with health insurance.
Foreign workers who work in Singapore need to fulfil the requirements mentioned below:
The applicant must hold a valid passport.
The applicant must be of at least 18 years of age
The applicant can only work within the scope of work mentioned in the work permits issued by the authorities.
Take no part in any other business or start their own business.
Work only in the occupation and for the employer specified in the work pass or work permit.
Not marry a Singapore citizen or permanent resident in or outside Singapore without having the approval from the Ministry of Manpower.
Reside only at the address set by the employer at the start of the employment.
Carry the original work permit at all the times and produce it for inspection on demand by any public officer.
Required skills and Certifications in digital marketing
For Digital marketing job you need to have the following:
Bachelor degree in marketing, communication or advertising or designing or business any related to them.
As per the market trend, the right knowledge and experience of new software and analytics tool will be expected.
Marketing expertise – SEO, Google Ads, Bing Ads, Social Media Marketing, Email Marketing
Analytics skills – Google Analytics
Valuable Certifications which are preferred by employers
Google Ads Certification
Facebook Blue Print Certification
Google Analytics Certification
Must have Corporate Skills
Fluency and proficiency in native English
Fluency in one or more local languages to communicate freely with clients and target audience
Time and resource management skills
Good human resource allocation skills
Good eye for details
Flair for excellence and perfection
Amazing content creation, editing and curating skills
Good team building and communicative skills.
Join our Advanced Digital Marketing Course & Start your Career in Singapore
It will be beneficial to do our advanced digital marketing course which is available online and in-class training as per your convenience to get the trending digital market knowledge, for the successful career in the digital marketing industry.
Attend a Free Demo Session to know more about Digital Marketing 
Scope of Digital Marketing in other countries in world
What is Future Scope of Digital Marketing in Singapore [2023]
was last modified:
January 19th, 2023
by