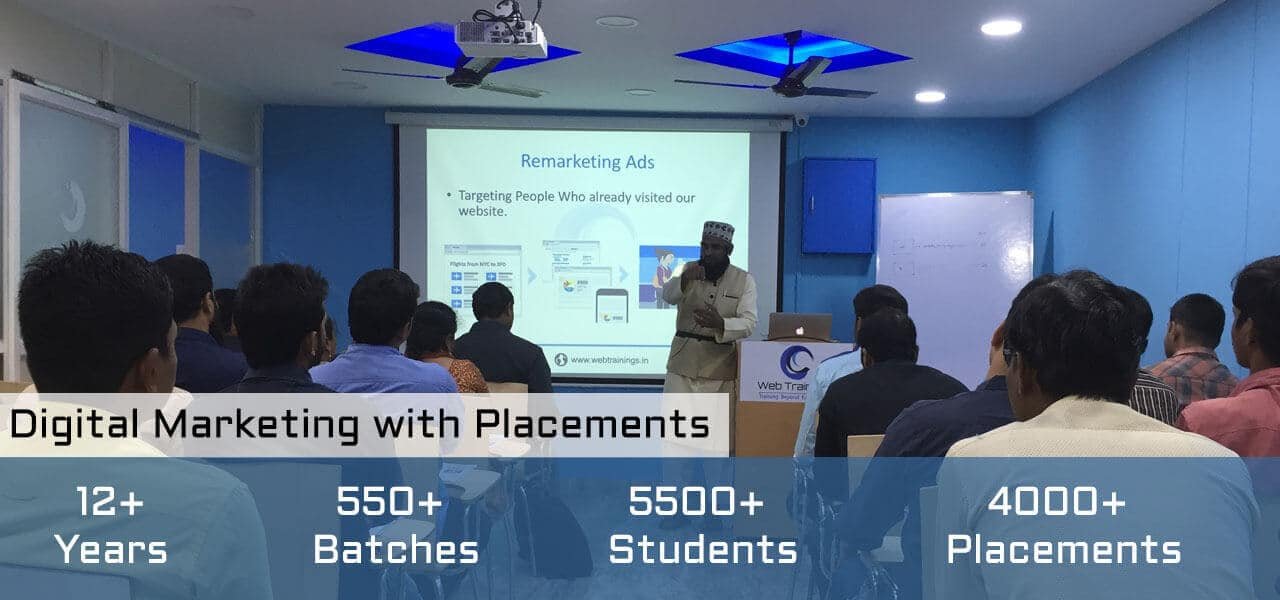 What is Digital Marketing?
Digital Marketing is a marketing approach to promote a business on various digital platforms. The primary goal of digital marketing is to reach our target audience based on their demographics, behaviours and interests to generate brand awareness, traffic and leads. Digital marketing is most cost effective marketing strategy with high ROI compared with traditional marketing. Goal of our Digital Marketing course in Hyderabad is to make your expert in digital marketing strategies.
Growth of Digital Marketing in India
As of April 2019, the global internet users are 3.9 Billion. India is the 2nd largest country with more than 500 Million (50 Crores) internet users. Due to growth in internet usage, digital marketing has become the fastest growing industry in 2018-19. As per recent news report, there is a demand of more than 1,50,000 digital marketing professionals in India. Our Digital Marketing Course will empower you to start career in digital marketing.
Become a Certified Digital Marketing Professional
Web Trainings Academy is pioneer in digital marketing education and offering the practical training as per industry standards. Our comprehensive digital marketing course in Hyderabad will help you master the subject in theory and practical. Our course includes website designing, Search engine optimization, Search Engine Marketing (Google Ads & Bing Ads), Social Media Marketing, Email Marketing, Online Reputation Management, Inbound Marketing, Money Making Strategies and more. We deliver the digital marketing training in classroom, video and online mode. We are offering both Weekdays and Weekends Classes for Digital Marketing.
We are offering Digital Marketing Training in Hyderabad from expert trainers. We believe in practical oriented training, so we help students with practical examples and assignments in training course. In Hyderabad many digital marketing institutes have been started recently due to boom in internet world, most of them without any experience in training. We are the oldest and best digital marketing institute in Hyderabad with years of training & industry expertise. We also provide 100% placements assistance for students for better career opportunities.
Digital Marketing Course in Hyderabad Syllabus
Advanced 25+ Digital Modules and 10+ Certifications
Digital Marketing Overview
Social Media Fundamentals
* We also conduct Personality Development classes on Weekends. A Positive mental attitude is very crucial for success in any field.
10+ Global Certifications with our Course.
Web Trainings Certification
Listen a Digital Marketing Demo
In our Digital Marketing Course Video, You can learn about Basics of Digital Marketing, Benefits of Digital Marketing, Digital Marketing Strategies, Career Opportunities in Digital Marketing.
Our YouTube Channel is one of the Oldest Digital Marketing Channel in India. Watch more Digital Marketing Videos on our Channel. Subscribe for new updates. 
Certified Digital Marketing Course Syllabus (2020)
Digital Marketing FAQ's (Frequently Asked Questions)
What our Students Say about Us ?
Digital Marketing Student's Reviews
Course is Scheduled in Systematic Way
When I joined this Institute, I realized that I made a correct decision and chose the correct institute to Pursue my Digital marketing course. With complete support during training and practicals. I was assured that I've been learning the course in a very systematic way and was successfully able to achieve my Google AdWords Certification.

Amazing learning experience
I would like to say thank you to Mohammed Azharuddin sir for teaching Digital Marketing course so well that will absolutely differentiate us from other students. I enjoyed the course, they provided me with lots of insight and information. I am literally feeling amazed by seeing the depth of knowledge he is having about SEO, Google AdWords, Google analytics etc.

Mr Azharuddin sir is excellent in subject
After joining in Web Trainings for the course of digital marketing I realize that I taken a wise decision in my career by selecting this institute. Our trainer Mr Azharuddin sir is excellent in subject wise and also he had lots of patience, with that he clarifies all the doubts with real time scenarios.

I got the platform to learn Digital Marketing.
I was interested in Digital Marketing from a very long time and I wanted to take up the Course in it which will give me the opportunity to enhance my Skills. This became a reality, all thanks to Web Trainings. I am very glad that Web Trainings Academy helped me immensely. I got the platform to learn Digital Marketing. The Trainer is fabulous, he has the in-depth knowledge of the subject, and he is friendly and very helpful. He has ample of patience to listen to Students queries and have the ability to resolve them in the right manner. I strongly recommend Web Trainings Academy to all Entrepreneurs and Students who want to make it big in Digital Marketing.

Great Experience at Web Trainings
As a Marketer Presently working in B2B Segment, so I passion about to learn things to Complete Digital Marketing course Randomly I Chosen the best Academy in terms of a Delivery of Course in Slow phase manner which is Understandable by any Student and Learned a Great Experience thought by the Trainer Azhar Sir.

4.9 star ratings till date are just amazing.
As a Marketing professional, I was a looking for the best Digital Marketing Institute in Bangalore or in Hyderabad, where I came across Web Trainings Academy in Hyderabad. I researched a lot about other institute too and compared with Web Trainings Academy and Faculties. 4.9 star ratings till date are just amazing and students are completing their courses under the guidance of Azhar Sir and getting placed in many reputed companies. With so many live examples and his personal experience a willing student can surely get benefited.

100% Training Beyond Expectations
I'm from Mechanical back ground, but I am very passionate about #Digital Marketing. While I was searching for the best institute in Hyderabad. I went to so many institutes, I attended all the demo lectures but I wasn't satisfied with any of them. I was worried about how they teach the Professional Digital Marketing Program within a span of 30-45 days. And then I found this institute Web Trainings Academy. This is entirely different. Mohammad Azhar Sir teaches in an excellent manner. He clarifies all the doubts with good n live examples.

Great trainer and the Best Mentor I have ever met
When I joined, the concept of digital marketing was unknown for me. But Mr. Md Azhar taught me in a manner like he is a GURU of Digital Marketing. I m really thankful to Web Trainings Academy and especially our trainer Mr. Md Azhar who guided us at each concept very well. His way of teaching is best among all the trainers, I have seen before. I am sure that each student who learned digital marketing from Web Trainings will achieve a great height in this field. Once again, Thanks a lot Sir for sharing your experience and taking us through the practical concepts of Digital Marketing, SEO, Google AdWords, PPC, and SSM.

Web Trainings is doing an awesome job
Humour works well when it comes to learning. A fun way to learn Digital/Social basics.­­­­­­­­­Spreading awareness about the power of social media is very important and relevant in today's day & age and Web Trainings is doing an awesome job of it! Please keep up the good work.­­­­­­­­­­­­

Simple and Genuine Review
The way sir teaches you, will make you motivated and literally you'll make a move towards your niche! That's for sure.

Web Trainings Academy is the one of the best institution in Hyderabad
Before joining this institution I had a lot of questions in my mind related to digital marketing because I learned basic things from you tube with (Web Trainings Academy) but I want to learn digital marketing in depth, so I joined Web Trainings Academy, Hyderabad and after completion my course I can say that Web Trainings Academy is the one of the best institution in Hyderabad so those who want to learn basic go through you tube channel and those who want to learn in depth join this institution. Thanks to Azhar sir, and Mannan sir.
–

One of the finest institutes in Hyderabad in Digital Marketing course.
I got nice experience in this institute. Personality development classes also taught on every Monday. Live examples, easy ways to remember. Before joining have your own site or blogger for better experience, they are also provide but having our own is better in my opinion. I recommend this institute undoubtedly.
–

Web Training Academy is one of the best institute
Who are aspiring to be a digital marketing expert should join Web Trainings. The internet presence of web training academy is a solid proof for that. Azhar sir is one of his kind & he is one of humblest, dedicated teacher I have seen.Thank you sir for all your support.

Passionate teacher can bring interest on the subject in the minds of student.
Good teacher can make his students pass in exams but only a passionate teacher can bring interest on the subject in the minds of students. MD.Azhar Sir is one of the passionate wisdom givers I have ever seen.

Kudos to Mr. Azhar Sir for a wonderful real time training
After so much of research and attending demo classes in various other training institutes, I was not satisfied. But watching tutorials in YouTube of Web Trainings, I found out something different compare to others and this is the way I connected to Web Trainings. Thanks to Mr. Azhar Sir for covering the entire aspects of Digital Marketing World.

I am now fully confident to take my business to next level
I am running my own Travel Business and wanted to increase my business by learning Digital Marketing. I got to know about Web Trainings Academy through Google Organic Searches and decided to take this course to learn Digital Marketing in Hyderabad. I liked the teaching methodology of Azhar Sir with detailed explanations, and I am now fully confident to take my business to next level with the knowledge of Digital Marketing.

Very good training with practical knowledge & examples.
Azhar sir teaching was very good and also very helpful in doubt clarification. Sir was always practical while explaining the topics which helped me in understanding the subject in a easy way. Personal development classes also helped me very much to choose my career right way and see the life in a different way. Thank You, Azhar Sir and Web Trainings

Hard-working Trainer & Great Infrastructure
Digital marketing course explained in a good and understanding way. Provides Real time/live projects. Our trainer Azhar sir always has time to clear doubts during and after the class hours. By the end of the course, I can confidently say that I am a Digital Marketer. Hard working trainer, a good infrastructure I'm glad I choose Web Trainings

Outstanding training on Digital Marketing
Thank You very much Azhar Sir for providing such an amazing and outstanding training on Digital Marketing that I have ever trained before. It perfectly Fits to the caption "TRAINING BEYOND EXPECTATIONS". Now I am 100% confident that I can do whatever, which is related to Digital marketing. Thank you Azhar sir.

I am Satisfied with the Course.
Before Joining "Web Trainings". I have visited demo classes almost every institute in Ameerpet & Madhapur. When I attend demo here then, I was really impressed by the way of teaching by Azhar Sir. After joining here I am really satisfied with my digital marketing course and faculties of Web Trainings

Highly recommended institute for digital marketing
Thanks for Web Trainings for shaping my skills in the right direction. I joined the course for Digital Marketing and I have learned more than what I expected. The motivation and financial classes helped me in changing my thinking process.

Proud to be a Student of Web Trainings Academy
It was an extraordinary course in real time scenarios for a fresher. Not only about Digital Marketing, This course will Change the mentality of students to achieve a successful life in the career. I loved the Motivational and financial classes. Thank You.

The Best decision made by me by joining in this institute
Best institute, Wonderful way of teaching. Azhar Sir has a unique way of teaching which helps the students to grasp and absorb easily. He is an expert in the Digital Marketing. Not only Digital Marketing, even personality development classes are taken which will change your life. Really great work by Azhar sir.

Complete digital marketing knowledge with real-time examples
Web Trainings Academy is the best institute to learn Digital Marketing. And also sir give motivational classes. It is really a good thing for everyone. Motivational class is very inspiring to me.

Thank You for helping me to build my career.
I am Balvanth, I took Digital Marketing training at Web Trainings Academy at Panjagutta, Hyderabad. The trainer was Md Azharuddin Sir who has 9+ years of experience in Digital Marketing. Here during the training, I completely learned about SEO, PPC AdWords, Social Media, AdSense Thoroughly I completely with all details. I really satisfied with the course. I took in this academy under the guidance of Azhar Sir. As Azhar sir has passion in teaching and also in helping students. He taught us in a very clear and good manner where no one can teach.

One of the Best Institutes for Digital Marketing
Web Trainings Academy is one of the best institutes to learn Digital Marketing. The subjects are taught in-depth with an excellent teaching style. All the topics are covered with the ongoing market trends. With the right practice, anyone can master the element of Digital Marketing. The best part is the Friday classes on Personality Development. The books requested to read really helps in defining one's goals and accomplishments, and it also makes a tremendous effort in developing one's attitude towards life.

Thank you would be a very small word to express my gratitude.
When I first thought about pursuing a career in Digital Marketing, I had an assumption that it would be very technical and coming from a non-technical background I thought it would be difficult for me to learn it. However, Azhar Sir has simplified Digital Marketing. His methods of teaching and approach on various modules of Digital Marketing are such that even a school going kid can understand them. Not only that, he also provides guidance on Financial Management, Freelancing and also motivates students by encouraging positive thoughts. I would recommend Web Trainings Academy to anyone who is interested in pursuing a career in Digital Marketing.

It's a perfect place to get trained in digital marketing
As they gave theoretical and practical knowledge in perfect blend all the faculties are always there to help. Internship is cherry on top. Through which I gained experience of working on live projects. Azhar sir has not only guided us professionally but also by his motivational classes we got better perspective towards achieving our goal in life

I am feeling very great to complete this course in Web Trainings Academy
I have met wonderful people in my life. Excellent faculty with good facilities and very cooperative staff. This course is great. It is set out clearly and is easy to follow. Each section has quotations and a case study to enhance the learning and the Course Summary section has a fantastic power-point presentation"

Web Trainings Academy is one of the best institutes to learn Digital Marketing.
The subjects are taught in-depth with an excellent teaching style. All the topics are covered with the ongoing market trends. With the right practice, anyone can master the element of Digital Marketing. The best part is the Friday classes on Personality Development. The books requested to read really helps in defining one's goals and accomplishments, and it also makes a tremendous effort in developing one's attitude towards life.

Join Digital Marketing Training in Hyderabad Today.
Call 9052425444 to Get Digital Marketing Course Details.
Why Learn Digital Marketing in 2020 ?
Upcoming Digital Marketing Course Batches