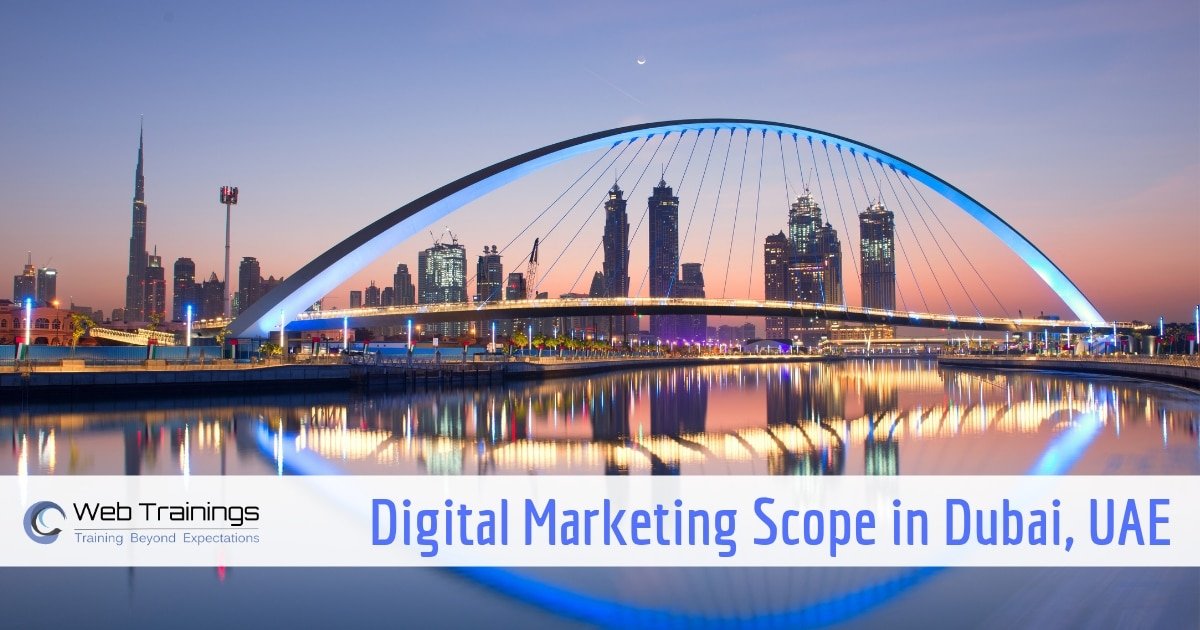 What is Scope of Digital Marketing in Dubai?
In the era of the 21st century, digital marketing is the most essential medium of marketing and business branding. Which has open the door of opportunities for startups and big business houses. Digital Marketing is the fastest growing industry in UAE. According to IWS 98.4% is penetration of internet users in UAE. Internet users has grown exponentially in UAE in last 10 years. 
Job opportunities in Dubai, UAE.
UAE is one of the largest markets for internet marketing, as the market is facing a demand for a digital marketing specialist. It has made UAE as the booming industry of job opportunities for a digital marketing.
So every small, medium and large companies are using digital marketing to reach their target audience. Thousands of job openings are available in UAE for various digital marketing positions & specializations. Industries like Real Estates, Hospitality, Retail Stores, E-Commerce Sites, Automobile Dealers, Advertising agencies have a high demand of digital marketing professionals. Start career in digital marketing with our specialised online digital marketing course in dubai.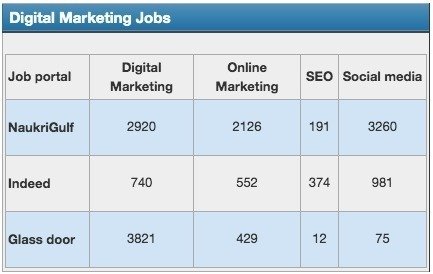 Most of the companies are hiring professionals in following specializations: 
SEO Specialist

Certified Google Ads Expert
Lead Generation Expert

Data Analytics

Programmatic advertising

Social media marketing specialist

Facebook Marketing
Instagram Marketing
Snapchat Marketing

Content marketing strategist

Digital Marketing Manager
Digital marketing pay scale in the UAE
As per trusted source of payscale.com, industry median pay is AED 184,000 per Year. This calculation is based on digital marketing specialists from all industries and all experience levels.
Salary varies based on specialization, experience, domain knowledge and other skills. As per our Web Trainings Academy students who are working in Dubai, Abu Dhabi, UAE has confirmed the starting salary for most companies in the range of AED 3,000 to AED 6,000. Most of the companies will prefer hiring a professional who has some experience in industry.
United Arab of Emirates has excellent opportunities for freelance working in all the stream of digital marketing. Many experienced digital marketers work in UAE as freelancers and have own companies to provide services to clients.
Best Cities for Digital Marketing Jobs in UAE
Job Responsibilities of Digital Marketing Professional
A digital marketing job responsibility depends on the job profile and type of campaign you work. Most of the companies prefer hiring Experience professionals. But as per the market requirements, some day to day job tasks of digital marketing are as follows:
Performing business analysis
Understanding client requirements
Conducting competitive research
Developing digital marketing strategies as per client objectives
Creating a content strategy as per client objectives
Analyse the online market to evaluate and identify critical digital marketing opportunities
Creating SEO strategies for clients
Implementing On-page and Off-page activities in SEO
Building social media presence for the project
Planning a social media strategy and content
Creating ad campaigns on social media
Designing a social media content strategy and update social media pages.
Creating and executing email marketing campaigns
Generating Leads for clients
Staying up to date with the current market trend
Expert knowledge of emerging trends in digital engagement and content syndication
Exceptional oral and written communication skills
Other Personality Skills required:
Project management
Presentation  skills
Strong analytical skills
Pleasant personality
Legal formalities for a visa in UAE
The government of the UAE has simplified the visa process, but still, there are several documents and legalities to be done. All the process of visa and work permit is undertaken by the employer bearing fee of the process. Please check UAE Indian Embassy website for details.
A requirement for digital marketing professional in UAE
Bachelor degree or Master's degree would be preferred
Industry recognized certificates or diplomas from recognized institutions.
As per the market trend, the right knowledge and experience of new software and analytics tool are mandatory.
Industry certification in SEO, Google Ads, Google Analytics, Facebook Blueprint, and HubSpot certification
We hope this article has given a good insight about digital marketing scope in Dubai, UAE. Please share your comments below if you have any questions.
Web Training Academy offers advanced digital marketing course in Hyderabad which is updated as per industry trends. You can learn digital marketing with our video e-learning program to get your professional profile update as per the job market. You can join our Video Program from anywhere in the world.
Attend a Free Demo Session to know more about Digital Marketing 
Widget not in any sidebars
Scope of Digital Marketing in other countries in world
Scope of Digital Marketing in Dubai, UAE
was last modified:
January 19th, 2023
by