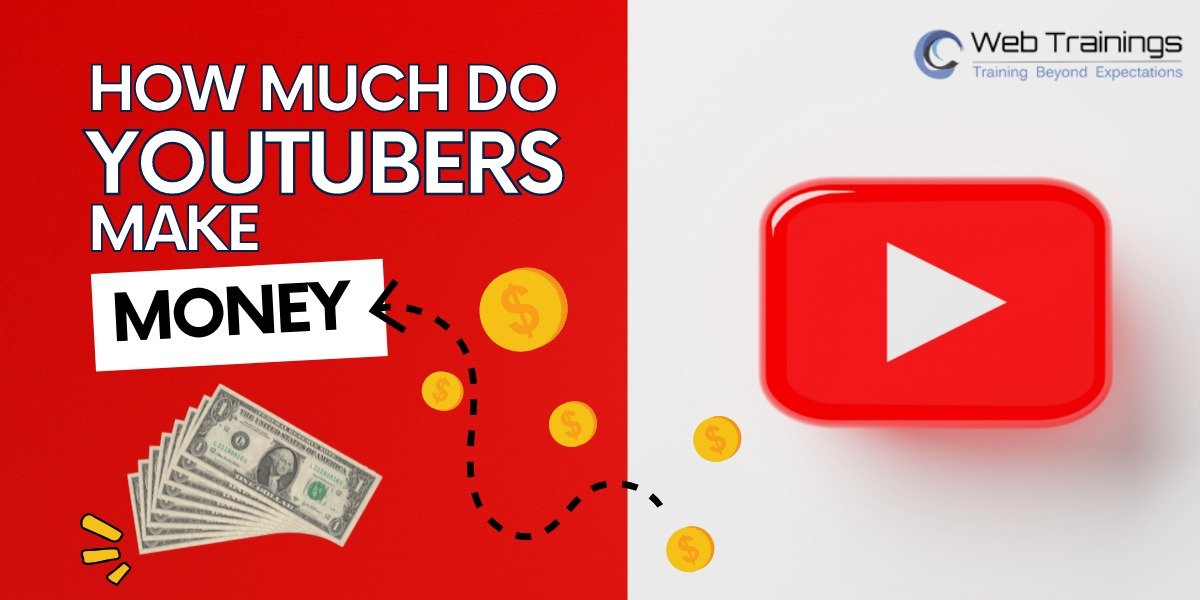 In the 2010s, "YouTubers" became popular. While generating money in the entertainment industry was formerly restricted to a select few, anybody with access to the internet can now make a job doing what they love—as long as they put in the effort. YouTubers are indeed self-made celebrities.
The majority of these on-screen celebrities do what they do to satisfy a need to create and perform in front of an audience. Even if making money isn't your primary motivation for launching a YouTube channel, you'll be pleasantly surprised by the abundance of ways to do it after you do.
YouTubers have become more popular due to a variety of factors. If you want to establish your own YouTube channel, you've undoubtedly wondered how much a YouTuber makes, how they are paid, and how much they get each watch. Read on to find out these details and learn a little more!
How to earn money on YouTube?
The number of times a YouTuber's video is seen determines how much money the Partner Program pays that individual. These are hosted by Google AdSense. It follows that setting up an AdSense account is the first step. After that, you must create a YouTube account and try to get a lifetime view total of 10,000.
To have your content reviewed for compliance with YouTube's creator regulations, apply to the YouTube Partner Program. Payments are made via your AdSense account after your application has been accepted. Your money may be transferred to your bank account after it has reached a minimum of $100.
Your earnings are influenced by how your audience interacts with video adverts. There are several advertising forms available. Marketers may thus choose to charge based on how many times a certain advertisement is seen. The more people who see your advertising, the more money you'll make.
Some YouTubers also use other revenue sources to supplement their income. Affiliate links, text adverts in videos, working directly with sponsors, or selling items are just a few examples of the many options.
How do YouTubers make their money (Platforms)?
In other words, how exactly do these YouTubers make any money? A lot of people's first question is about this. As a YouTuber, you'll have various options for monetizing your audience. The various ways are described below.
Ad Revenue — This is the simplest method to profit from YouTube. Allow Google to show adverts on your content and be compensated for it. All ad types are display advertisements, overlay ads, non-skippable video commercials, bumper ads, and sponsored cards.
Channel Memberships — Charge your subscribers a monthly charge. Paid channel users will access goodies such as avatars, badges, and other items for their monthly subscription. A fantastic approach to get reoccurring income.
Merchandise Shelf enables you to use your video material to promote branded items. It is designed for YouTube content creators who already have a product selling presence on another ecommerce site. To increase online sales, use YouTube.
Super Chat & Super Stickers — When you're streaming a live video, your viewers may purchase Super Chat and Super Stickers. These elements make their identity and messages stand out during a live broadcast. Their opinions may rise to the top depending on their spending habits.
YouTube Premium — Users who desire ad-free watching, offline watching, and YouTube Music may pay a monthly membership to YouTube. Creators may get a portion of the money depending on how many times YouTube Premium subscribers see their material.
Affiliate links — Affiliate marketing is popular for YouTubers to make money. Using an affiliate link, you may earn money if one of your followers purchases the item via your link. You should add an affiliate link in your video if you believe a product would benefit your viewers.
You can generate money off of YouTube by leveraging your channel somehow. A few examples include sales promotions, influencer marketing, and sponsored links. Each and every one of them is controlled and made possible by other parties apart from YouTube.
How much money do YouTubers make?
The amount of money a YouTuber earns will vary based on their popularity, specialty, creativity, and willingness to work with others. However, to better indicate how much money YouTubers earn, the average fee an advertisement or company pays a prominent YouTuber for each video watch ranges from $0.10 to $0.30.
Similar research suggests that the typical YouTube channel makes between $3 and $5 per 1,000 video views, around $18 for every 1,000 views of an ad. According to these estimates, if you can get 10,000 video views each day, you'll make between $18 and $31 per year on YouTube, for $6,000 to $11,000 per year.
If you scale this up to 150,000 daily paid video views, you have a good chance of making a respectable yearly income as a YouTuber that ranges from $100,000 to $167,000. What a terrific method to make a little more money!
Also Check-out How to Choose a Good YouTube Channel Name
The Bottom Line
We hope that this article has clarified your concern regarding how much YouTubers make. Unfortunately, it's difficult to offer a clear response to that issue because of the many aspects that influence profits on this video-sharing service.
However, you may utilize the information in this article to estimate the amount of money you might make depending on your respective circumstances, such as the niche you're in, the nations you service, other monetization strategies used, and so on.
Want to Earn Money From YouTube, Apply For Web Trainings Academy's YouTube Marketing Course in Hyderabad. We help professionals, social media marketers, marketing specialists, recent graduates, and job seekers develop skills for YouTube marketing.
How much Money do YouTubers Make ?
was last modified:
January 19th, 2023
by