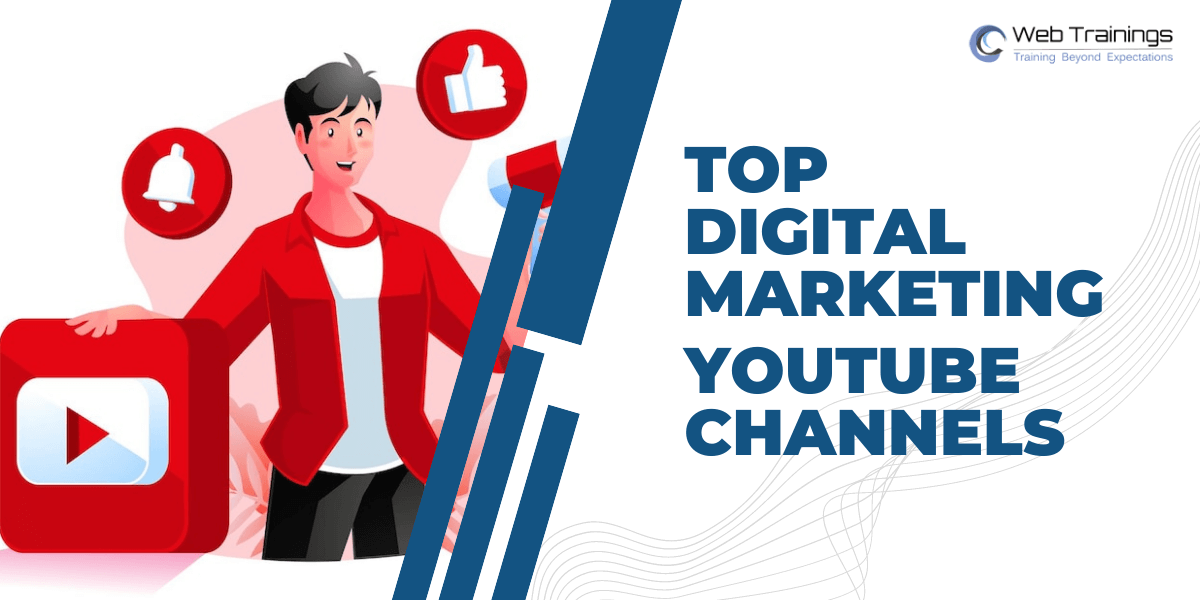 YouTube is a wonderful social media platform to explore and learn new trends in Digital Marketing and become a pro in the same by seeking guidance from professionals. Without a medium like YouTube, many businesses would not have grown so much as it has served as a channel for business-related ideas. So, it is high time we make use of such YouTube channels to grow in our professional life. there are lost of Digital Marketing youtube channels Let us get a sneak peek into some most famous Digital Marketing youtube channels that contain informative videos on SEO, social media strategies, content writing, and content promotion.
1. Web Trainings
Web trainings Academy is the Best youtube channel to learn Digital Marketing, mohd azhar is the Founder and CEO of the the web trainings Academy any they are among the top Digital Marketing training institutes in india in this youtube channel you'll learn every thing about Digital Marketing and also stay updated with the latest trends of Digital Marketing. and the Various strategies of Digital Marketing.

2. smart telugu 
Telugu-speaking small business owners, aspiring entrepreneurs, startup founders, and students can learn digital entrepreneurship and marketing strategies through Smarttelugu's tech education portal  The founder of Smarttelugu is Ravikiran, an award-winning regional language (Telugu) blogger and digital marketer with extensive experience in startups and digital marketing.


3. Digital Marketing Guruji
Rahul Meena a Digital Marketing expert. is the founder of this channel
In this channel, you will learn complete Digital Marketing for free and how you can start your business and grow it. Rahul is also a founder and CEO of Voxmedia solutions.


4. Neil Patel
Neil Patel is renowned digital marketing You tuber who is also an associate founder of Crazy Egg, Hello Bar, and Kissmetrics. He aims at providing marketing video tutorials on social platforms like Instagram, YouTube, email marketing, SEO, and more thrice in a week. Neil provides intuitive links to new tools in his videos that aim at improving the marketing of products.

5. Ahrefs
Link building, keyword research, competitor analysis, rank tracking, and site auditing features are all included in the SEO software suite Ahrefs. The majority of Ahrefs' features were created with marketers in mind. Some of the best videos, tools, and tactics for learning digital marketing are shared on by Ahrefs on the youtube channel.


6. Backlinko
The owner of this channel is Brian Dean, A certified SEO expert that many online brands like Amazon and Disney have subscribed to his email newsletter. He posts a plethora of insightful videos with sheer enthusiasm on link building and content marketing approaches. Users can subscribe to the channel and get benefited with popular posts like "Advanced SEO strategies and Case Studies, YouTube Marketing and Video SEO Tutorials, and "White Hat Link Building Techniques and Tips". Hub

7. Semrush
A popular online marketing tool focuses on increasing brand awareness via promotional videos for social media, SEO-oriented platforms, and PPC. You can subscribe to regular playlists on the channel like "How to Increase the Social Media Visibility, "Boosting Online Sales with a Personal Brand, and Live Site Audit. The channel contains attractive thumbnails that hold a glimpse of the video content to engage the viewers.
8. Hubsopt
HubSpot is a one-stop destination for learning inbound marketing strategies that train people on how to promote sales with interactive social media blogs and searches. Playlists listed under this channel are "Creativity, Design and Brand, Improve Content, and Social Media Management.
9. Garyvee
Gary Vaynerchuk is a trusted Digital Marketing Guru in New York who has also made a fair investment in social marketing platforms like Facebook, Twitter, Tumblr, Venmo, and Uber. This author is a pro in improving the brand presence online with his mindful techniques for better business progressions. Look for Playlists titled "The #AskGaryVee Show, "DailyVee", and "Business Meetings with GaryVee". This leader has millions of subscribers for his media channel and is the CEO of VaynerMedia, a full-time ad company. He always posts inspirational videos on outgrowing your business and makes frequent interviews with leading entrepreneurs like Mark Zuckerberg. If you are looking for short motivational videos, then he is the best as he catches the attention of the audience by satisfying their requirements.
10. Moz
The Moz media channel holds a repository of information about search engine optimization, building links to websites in view of improvising the website traffic for better online business ranking. Rand Fishkin is the proud owner of this channel, and he makes it a practice to post videos every Friday in collaboration with other inbound marketing leaders to provide adequate knowledge on the subject. This series has been running successfully for the past nine years with plenty of sensible information for brand improvement.
11. Umar Tazkeer 
Omer tazkeer is one of the best Digital Marketers in india,  iComputer science (B. Tech) and marketing and finance (MBA) as minors in business administration. he manages   India's largest digital marketing learning app and community, which has more than 1.5 million users. with years of teaching experience. and teaches some of the best strategies of Digital Marketing on youtube.


12. Google Analytics
This certified and most trusted YouTube channel contains a repository of videos on many Google products that include Analytics, Optimize, Surveys, and Tag Manager. This is an effective platform for eyeing the website traffic with demonstrative videos with actions on how to apply them in the Google Analytics tool.
13. Loves data
This channel primarily features videos on google ads and how to optimise them for higher Google conversion rates. Subscribe to playlists on this channel that discuss Digital strategies and tools for increasing sales of any online company. Make sure you pay close attention to investors with first-hand knowledge of these topics if you want to learn how to improve the effectiveness of your website.


14.Tube Buddy
Tube buddy is one of the Best channel to learn Digital Marketing. This Channel focuses on Algorithms modern technology, social media handling, and uninterrupted customer support. The online business owns a marketing blog and manages many entrepreneurs and officers.


15. vidIQ
This popular YouTube channel is owned and run by VidiQ. The channel provides a glimpse of knowledge on improving reach across the youtube platform to draw and attract new subscribers for channel expansion. Playlists falling under this channel are, How to Use youtube Tools Effectively, Tips for Successful youtube channel.


Final Thoughts
Here are some of the top Digital Marketing youtube channels, Subscribing to the above-listed YouTube platforms is definitely going to give you a positive experience by exposing you to different new strategies so that you follow them for a prospective business. It can also be inquisitive enough to motivate you to start your own channel for sharing your thoughts in a constructive way with the world. Watch all the videos carefully and apply the ideas in your business to take it to new heights. We hope these videos would be informative enough to encourage you to perform better in everything you do to shine brighter as a media professional.
Top 15 Digital Marketing YouTube Channels
was last modified:
January 19th, 2023
by