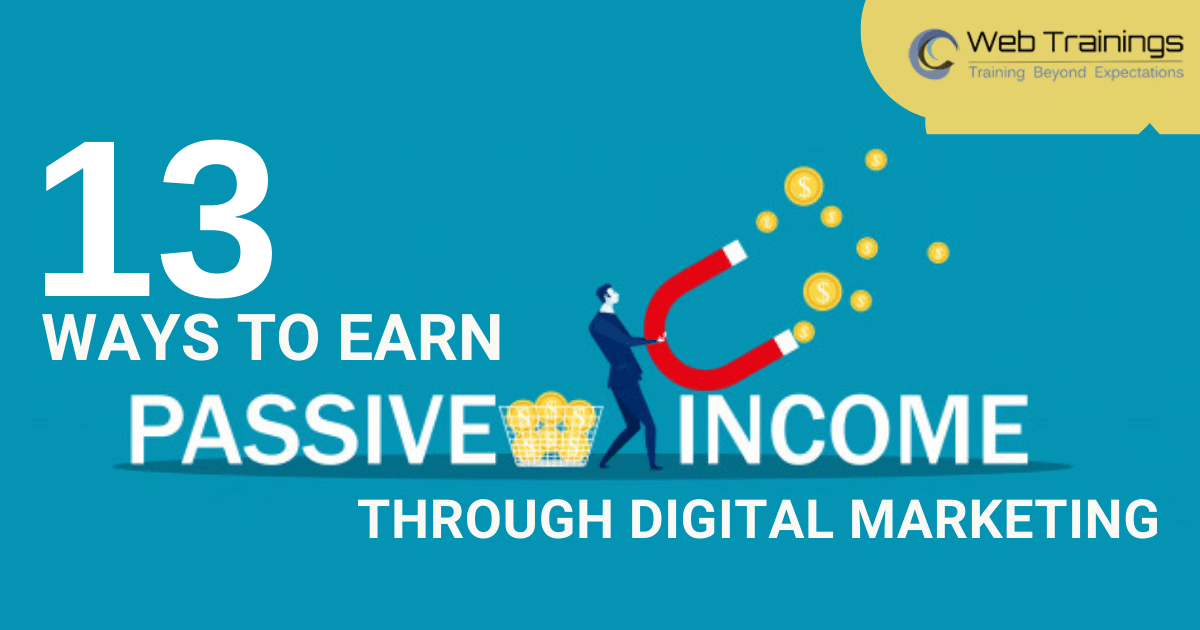 Are you trying to earn money online?
Here are some tested techniques on How to earn money from digital marketing in 2021.
In this article, I'll be providing the 13 most effective ways to make money with digital marketing in 2021. Before we start, a clear note – "Digital Marketing is not a get rich quick scheme to earn money". Let's dive right in.
How to earn money from Digital Marketing
Table of Content
01. Use Podcast for Selling Products
02. Income via YouTube Channel
03. Income via Affiliate Marketing
04. Personal E-Commerce Store
05. Develop an App and Monetize
06. Teach Online by selling Recorded Videos or taking live classes
07. Create and sell Logo Visuals Designs Online
08. Creating a Blog Website and monetizing it
09. Create and Sell eBooks or Audiobooks
10. Sell your or Client's Digital Products and Software's
11. Start Freelancing Service
12. Make money by Selling your Website or Blog
13. Earn by Selling Domains, Hosting, Themes, and Plugins
01. Use Podcast for Selling Products
The podcast is a recent trend that one can use to generate passive earnings. You can use a podcast to promote blogs, eBooks, online courses, affiliates, and many more.
The main steps in a great podcast's success are to resolve one's audience's problems and produce excellent quality content and valuable information for the audience. It will furthermore help with the marketing of one's products or services.
02. Income via YouTube Channel 
YouTube can be a great income source if one gets high monthly traffic on your videos and has a great customer base. It depends on your content type, how engaging, appealing, useful, relevant, appropriate it is, and whether it provides value and can solve your audience's problems. You can make money through YouTube through Google Ad-Sense, Brand Promotion, Promote your Services or Business, and many more.
If you only depend upon google AdSense income, you will not suffice as a full-time YouTube. Even if you can promote your affiliate service through your YouTube channel, and definitely by giveaways, promo coupons, links from your affiliate product, there is a greater chance of making the sale to make considerable earnings out of it regularly, and as days roll on, it will only grow.
03. Income via Affiliate Marketing
Affiliate Marketing is the best way to convert your Website traffic into passive income. You require to promote and sell other brand names' products and services to make repeating commission and payment.
Apart from the Amazon Affiliate associate platform, multiple companies and some big companies that offer affiliate programs are SEMrush and HubSpot, and many more. Apart from these companies, other platforms like – Clickbank, Awin, ShareASale CJ Affiliate, Avangate Affiliate Network, FlexOffers, Peerfly, eBay Partner Network – can help you to make passive earnings.
You can start the process of Affiliate Marketing by beginning your website or blog. Your success in Affiliate Marketing relies on two aspects that are content of your website and the volume of website traffic, these two factors will decide that How much you'll earn money from Digital Marketing.

04. Personal E-Commerce Store
You can begin your e-Commerce site to sell various items like Shopify and Etsy, Facebook Marketplace, and many more. 
You will get the prepared ready-made template of the e-Commerce site, and you need to start selling your products by registering up with the platforms,
For having your e-Commerce website, you do not need to have your inventory products. The only requirement is to sell pre-established products and primary focus to boost sales and earn passive income.

05. Develop an App and Monetize
You can develop a mobile application for your users, and if they find it beneficial & utilize it, you can make a passive income. You can use your mobile application to make recurring passive income by creating it as freemium and monetizing it with online sponsored ads for the free version of the app or getting paid for the premium version sale. 
06. Teach Online by selling Recorded Videos or taking live classes
Online learning is a growing trend for the past few years and drastically increased after the Covid-19 pandemic. Anyone who wants to gain a new skill is likely to buy online courses. Online courses are the very best to provide understanding to your audience that they want.
After developing your course, you can create your site to promote it. It will also assist you with your Personal Branding and increase the sales of your online course. You can also take live classes online in zoom or go-to-meeting, or any other popular online meeting platform software. 
There are also online learning and teaching Marketplaces nowadays like Udemy, Skill-share, Lynda, where you can have passive income regularly. Even on YouTube, one can train to make an initial start.
07. Create and sell Logo Visuals Designs Online
You can create visuals, graphics, and can easily make money online by selling them to customers who require visuals for their business.
Logo designing is likewise useful to generate passive revenue by creating one's portfolio of visuals and logo designs. One can sell visuals, graphics, and logos to even new start-up companies that want ready-made logo visuals designs.
08. Creating a Blog Website and monetizing it
Once you create and publish your Blog or Website around the niche that your expertise in, you can provide value to your readers by fixing their problems by sharing your knowledge and unbiased experience with them. The more valuable content that engages your readers will help you to bring more site traffic. Once you get AdSense approval for your website content niche and grow recurring monthly traffic, you start making passive income. Apart from online ads being placed after getting Adsense approval, you can also promote your website as an affiliate. Thus you get more monthly revenue with multiple sources. You can even promote your services or business. 
Most successful popular blog websites focus on how or why to guide topics as the primary focus lies in taking a problem around that niche and finding a solution to fix it.
The myth that blogging is dead in 2020 is not valid. Even in 2020, many micro-niches are not too difficult to rank with low competition and high monthly search volume.
09. Create and Sell eBooks or Audiobooks
You can create and sell eBooks or Audiobooks that are now a growing trend and demand in today's digital era. The basic need to get success is to provide valuable information or any form of content niche that will bring value and worth to your users, and they accept what you deliver as worth paying for it. 
Some prefer eBooks others do like to listen rather than to read. Senior academic or any content that needs a complicated diagram to explain is mostly in eBook. You can go for audiobooks for children as audio helps to memorize fast as they listen on the go, and audiobooks also go well with listeners for content-related fiction, devotional content, and many more. 
One advantage of audiobooks is that you can listen to them anywhere; on the contrary, eBooks take an edge when it comes to a nostalgic feeling that we all are used to a hardcover book.
Before creating an Ebook or Audiobook, look at what you as a customer would have preferred, or you may ask your friend's family and research on the internet to get a clear picture of what works for different niches. 
You can sell your eBooks or audiobooks by having your store and then marketing around it by google or Facebook ads, Email marketing, YouTube marketing, and more ways to make it a brand. Other-wise there are many marketplace platforms where you can list both audiobooks and eBooks like amazon kindle and amazon audible, and many such other popular platforms also exist. 
Just focus on niches that your expertise in and get started with your content. 
For customers to trust you, make sure that you offer a 30 days trial and hassle-free money-back guarantee and keep it affordable initially and later scale it up on category level and financial level too.
10. Sell your or Client's Digital Products and Software's
As digital marketers, we are aware of many digital products and software that we use or market demands. For digital products, be it an online course, Music or Movie streaming platform, eBook's, Audiobooks, and in this 'internet savvy digital era, even voice-overs are being sold at high rates. Even a little skill can make you start earning online. 
An advantage for digital marketers is that they can look at the competition in every niche and go specific targeting even for their products or their clients.
Similarly, many software comes in day-to-day use, but before you sell software, make sure you are fully aware of the software and its navigation, user interface, and most importantly, the value it will offer to your customers. Say "Neil Patel" New York Times Bestselling Author, and according to Forbes, he is one of the top influencers and owner of one of the world's hundred leading companies. He focused on SEO from the beginning till now, and later, he bought "UberSuggest", a tool for digital marketers to do SEO audit, keyword research, on-page SEO, off-page SEO, link building techniques, root domain analysis, checking backlinks, search volume, competition, even deep down taking personal projects for clients and companies.
Even you can sell third-party digital products and software by joining their affiliate program offered by various platforms and make an income out of it. 
11. Start Freelancing Service
Freelancing is the concept of providing your services to customers on a part-time basis from your house. Sitting at your home, you can develop your clients worldwide. Freelancing platforms like fiverr.com, freelancer.com, Upwork, you can begin offering your freelancing services and generate income out of it.
12. Make money by Selling your Website or Blog
By creating and selling different websites with profitable niches and making them rank with high monthly organic traffic along with AdSense approved, you can easily do such a business by regularly repeating this process and generating high income.
13. Earn by Selling Domains, Hosting's, Themes, and Plugins
You can join an agency affiliate for any branded domain and hosting company like Site-Groud, Cloudways, Inmotion, Kinsta, and similarly for Theme marketplace like Themeforest,  Envato's marketplaces, Mojo Marketplace, and many available out there. Even one can sell plugins, which will result in valuable recurring commissions.
Conclusion:
These are some of the ways of earning money with digital marketing techniques, Always start with basics if you're new to digital marketing then check our YouTube Channel Web Trainings Academy where you can find some quality content to learn Digital Marketing for Free & if you want to learn Advance Digital Marketing Course then contact for details. Select a niche of your expertise and which also should be profitable with market demand. if you consistently work in the right direction then I can assure you that all your efforts will be paid off and you can earn handsome money with Digital Marketing.
13 Ways to Earn passive Income through Digital Marketing
was last modified:
January 19th, 2023
by