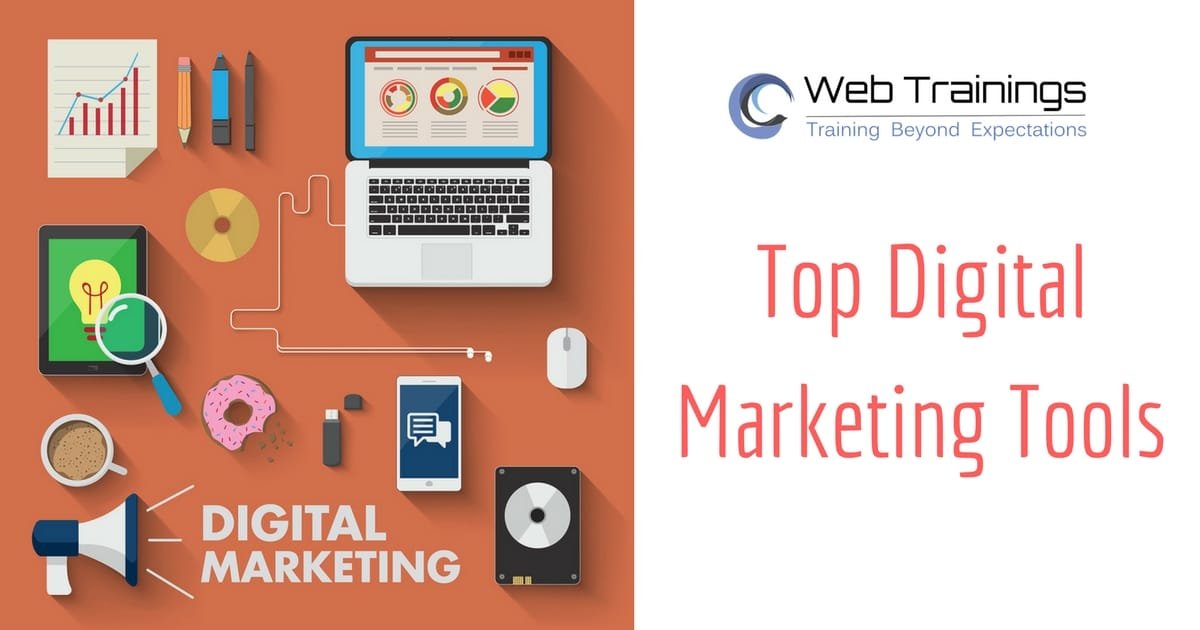 Top Free Digital Marketing Tools 
Digital marketers spend a lot of time in various activities which increases their time for implementing the strategy. Using the free digital marketing tools, marketers can able to improve their productivity. There are plenty marketing tools which are available in the market, and there are plenty more which get added every day. With the increase in marketing plans and decrease in marketing budget, picking an appropriate digital marketing tool becomes a challenge. Isn't it great if you get these tools for free? Yes, you heard it right! There are many online marketing tools which are free. So, without wasting time, let's stack these tools for you.
'Canva' for designing
Appealing visual content becomes an eye-candy for many visitors. Among ample free designing tools, 'Canva' is the most user-friendly one. Pick any image, illustration or template from its huge library collection and come up with elegant designs with easy drag and drop. Check our Complete Canva Guide
'Mail chimp' for email marketing
Email Marketing plays a pivotal role in business success. It makes a healthy communication between the company and the customer, by offering you tools which can efficiently nurture leads. 'Mail Chimp' is an easy and free online email marketing tool which is good for beginners to learn. Visit www.mailchimp.com
Screaming Frog for SEO
Screaming Frog is a SEO Spider tool which helps in analysing the website. This is a most useful SEO Audit tool which can provide information about broken links, titles, meta, analyse duplicate content etc. This tool also generate sitemaps and review robots.txt file. Visit www.screamingfrog.co.uk
Keyword Research with 'Keyword.io'
Keyword research is a critical process of SEO. Most of the SEO Professionals already use Google Adwords Keyword Planner. But apart from this tool we can use other keyword planner tools to increase our keywords data. Keyword.io is a unique tool which provide keyword data from multiple sources. Visit www.keyword.io
Track time with 'Due'
'Due' is time-tracking app which calculates the amount of time spent on any marketing project. This helps organisations to manage time and fuel up productivity accordingly. This tool also caters payment and invoice platform, which helps freelance marketing talent in billing their clients. Visit due.com
Manage social media with 'Buffer'
Streamline your social media posts with 'Buffer'. It goes without saying that social media is a powerful weapon for marketing strategies and using 'Buffer' will definitely help you in audience engagement; increase in followers and brand establishment. BufferApp is a must free tool for managing multiple social media pages from single platform. Visit bufferapp.com
Create logo with 'Spaces' free logo maker'
Branding is an important aspect while marketing your business, and probably logo is an integral part of branding which has its own importance. Now, no need to waste time on logo designing, as this work can be handled efficiently by 'Spaces' free logo maker' tool. Create stunning logos from this tool which comprise of plenty icons and frames. Express your brand without any specialised design training. Visit SpaceSquare.com
Organize with 'Evernote'
Organisation of your thoughts and ideas becomes difficult while marketing. You may come up with any innovative idea at any hour; hence it becomes indispensable to prioritise them. 'Evernote' can store your ideas and inspirations at one accessible place. Access them anytime from your laptop, phone or tablet. Visit Evernote.com
'SurveyMonkey' for feedback
It is one of the best online free tools for surveys. Surveys are a good medium to gather customers' information, keep them engaged and get good insights of your business. With 'SurveyMonkey' one can create, design and publish business survey. Visit www.surveymonkey.com
'Sniply' for call-to-action
Each business needs social media promotion, and if you are doing so then you might be sharing some content of reputable experts. 'Sniply' allows users to put call-to-action option in the shared content. This helps business in gaining good traffic from the non-affiliate content they share. Visit snip.ly
Create landing pages with 'ONTRApages'
Everyone marketer knows the importance of landing pages, but to create one is not an easy nut to crack. But with 'ONTRApages' tool one can easily make landing page which can match with your website design. Pick a template, insert images with content and you are good to go. Visit Ontragpages.com
Title Generator Tool
As we know that Title of the blog article attract more customers. This tool is extremely useful for generating powerful headlines for your blog articles. Just enter your topic and this tool will give you many creative and catchy titles for your articles. www.portent.com
Many more tools will updated!
Top Free Digital Marketing Tools – 2023 Updated
was last modified:
January 19th, 2023
by