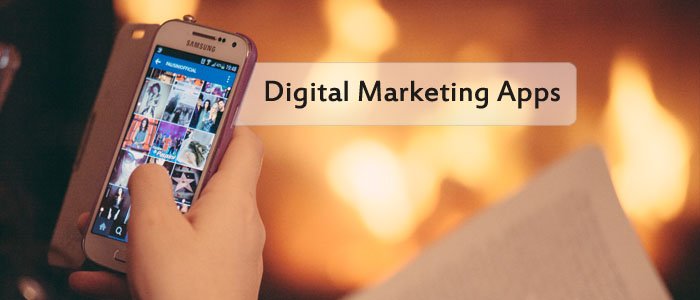 In today's business environment, marketers needs to watch the campaign 24/7 for any major changes. Any new update in search engines, bug in website can cause severe damage to the business. In digital marketing strategy Mobiles and Tab devices play a very crucial role. We have prepared a list of Android Apps which are essential and very useful for Digital Marketers.
WordPress Android App

WordPress App is very crucial for managing your WordPress site. For busy marketers and blogger this App will make the life easy. This app is suitable to update the website with latest updates without delay of information. Download WordPress App
Facebook Page Manager App

This is very crucial app for managing Social media presence on Facebook Business Page. With this app marketers can be able to manage all the pages, send/receive messages, post updates on page and view the insights for page.  Download Facebook Page App
Google My Business App

This app is very helpful for managing business information on Google Search, Maps or Google+. Major features is to update business info on Local Listings, Maps, Post updates on Google+, Read and Respond to Reviews on Google My Business Page. Download Google My Business App
Google Analytics App

For digital marketers analysis of the reports at every point of time is very essential. Keep track of your website reports using this App. This is optimized version of Google Analytics for faster browsing the reports for mobiles and tabs. Dashboard provide a detailed report of Visitors by country, Traffic sources and Conversions. Download Google Analytics App
YouTube Creator Studio App
If you are a video marketer and regularly manage YouTube channel then this is the best App for management. In the dashboard we can view the past 28 days reports, recent uploads, comments etc. This app also provide in depth reports with analytics. Download YouTube Creator App
Buffer App

Buffer is extremely useful app for managing the social media updates. This app helps to share updates on Twitter, Facebook, LinkedIn and Google+. Marketers can schedule the updates and post awesome content from various sources. Download Buffer App
Hootsuite App : This app is also social management tool similar to Buffer App. We can manage and schedule posts to multiple social media sites on Twitter, Facebook, LinkedIn, FourSquare and many more. It also has a good notification system for brand related info. Download Hootsuite App
WunderList App : This is very useful app for managing the tasks and plans. Marketers can use this app for preparing a content marketing plan and social media plan and execute according to schedule. Download WunderList App
Google Adsense App: This App is very useful for the website owners dependent on AdSense revenue. This app provide the most crucial information on finger tips. It also provide details reports, custom channel and other metrics to track your account. Download Google AdSense App
AutoDesk Pixlr App : Many marketers like to post on various social networks from mobile apps, sometimes we need to edit photos as per the size requirements. This is the best App for editing the photos on the go. Download Pixlr App
If you find any interesting and useful app for Digital Marketers, Share with me I will update them in the list.
To learn digital marketing in classroom/online clickhere
Top 10 Android Apps for Digital Marketers
was last modified:
January 17th, 2020
by