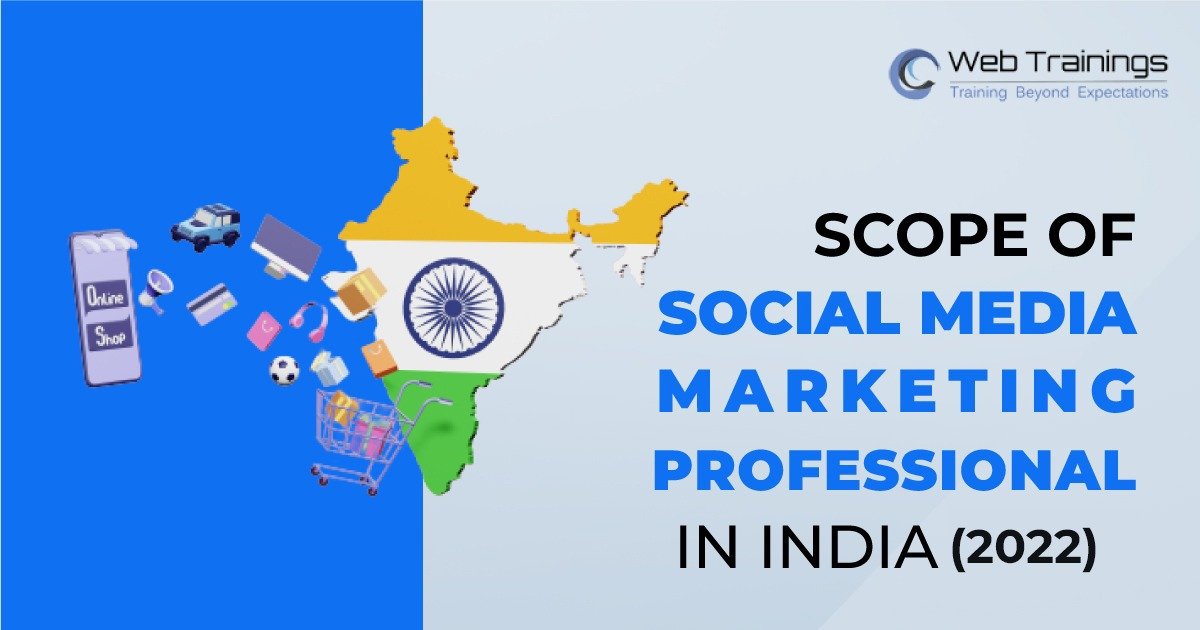 What is the Scope of Social Media in India?
The usage of social media is widespread and growing in India. It has the tenth-largest economy and the second-largest population in the world. According to a 2019 poll of the top firms, social media advertising accounts for 15-20 % of their marketing expenditure. As a result, the significance of social media in brand advertising is clear.
There will be no one who does not understand what social media is. Isn't that so? Many individuals, however, are ignorant of how important social media marketing is in digital marketing or how it may help them develop in their jobs. According to data, there would be 258.27 million social network users in India. It's a big jump from the 168 million users it had in 2016.
Why is Social Media Marketing a Must for Every Company?
Statistics of Growth of Social Media
In 2021, the world's active social media users will number 4.48 billion, up 13.13 % from 3.69 billion in 2020. There were only 2.07 billion users in 2015, indicating a 115.59 % growth in users in only six years.
2021: 4.480 billion active users (+13.13%)
2020: 3.960 billion active users (+13.7%)
2019: 3.484 billion active users (+9.2%)
2018: 3.196 billion active users (+9.0%)
2017: 2.796 billion active users (+21%)
2016: 2.307 billion active users (+11%)
2015: 2.078 billion active users
Targeted Audience (Higher Conversions)
Traditional marketing could not target a specific population based on demographics and other information. Do you agree with this statement? Yes, absolutely. The marketing of any product used to be directed at the general public. However, there are many specialized options for reaching out to your target demographic with today's digital marketing trends.
High ROI with Less Cost
Social media marketing is a platform that offers a high return on investment for a small investment. This is why many small and medium-sized businesses use social media as a marketing tool.
So, to put it another way:
Creating material that may be shared and advertorials
Establishing a presence on social media
Customers' input is encouraged through competitions and questionnaires.
Also Check-out: Roles and Responsibilities of Social Media Executive
Social Media Platforms:
When you think about social media networks, what comes to mind? Facebook, Twitter, WhatsApp, Google+, LinkedIn, YouTube, and Instagram are some of the most popular social media platforms. Correct?
Another significant trend is the emergence of social media, which has shown to be one of the most long-lasting types of digital marketing throughout the world. Advertisers have begun creating and distributing tailored content, stories, and channels for entertainment as part of their marketing strategy, from Facebook and Instagram to Snapchat and YouTube.
India is already the world's second-largest Facebook and YouTube user. If this trend continues, conventional marketing channels such as television and print will soon include social media marketing as part of each brand's marketing deck.
Facebook
Facebook has over 2 billion monthly active users and is one of the most acceptable ways to communicate with friends and family via videos, posts, chats, and other means.
Instead of selling directly, Facebook marketing establishes trust and encourages visitors to join up for the site.
WhatsApp
WhatsApp has over 1300 million monthly active users because it provides free private and group chats.
E-commerce, banks, individual service providers, and travel and tourist organizations may all benefit from it.
YouTube
With 1.5 billion monthly active users, this is one of the most excellent video-sharing platforms for local, entertainment, and B2C businesses.
Entertaining and instructional films are used in marketing to encourage interaction, and the more views you get, the more money you gain.
Google
The website has 440 million active users. It facilitates the posting and sharing of blogs and following a community, and connecting with friends.
Marketing methods on Google+ include publishing content to attract traffic and networking via Google Hangouts.
The Future of Social Media & Digital Marketing in India for Professionals
The start-up culture in India is a significant contributor to the rise of digital advertising. It has evolved into an environment where businesses must expand and market themselves using the most cost-effective techniques possible.
As long as general methods such as SEM (Search Engine Marketing), SEO (Search Engine Optimization), and SMM (Social Media Marketing) continue to reign supreme, marketing systems for new businesses and organizations in India will rely on these critical elements of Digital Marketing to gain customers and grow.
Furthermore, the advent of digital media has paved the way for educational courses and internet marketing schools in India, helping working professionals, individual novices, and entrepreneurs harness the power of digital technology and further their careers in digital marketing.
Web training in the Advanced Social Media Program introduces social media that will help you develop the necessary skills to master social media marketing. This social media for beginners course will teach you how to use content marketing, reputation management, influencer marketing, and analytics to promote your brand and manage social campaigns.
Also Read: Social media Advantages and Disadvantages
Scope of Social Media Marketing Professional in India (2023)
was last modified:
January 19th, 2023
by