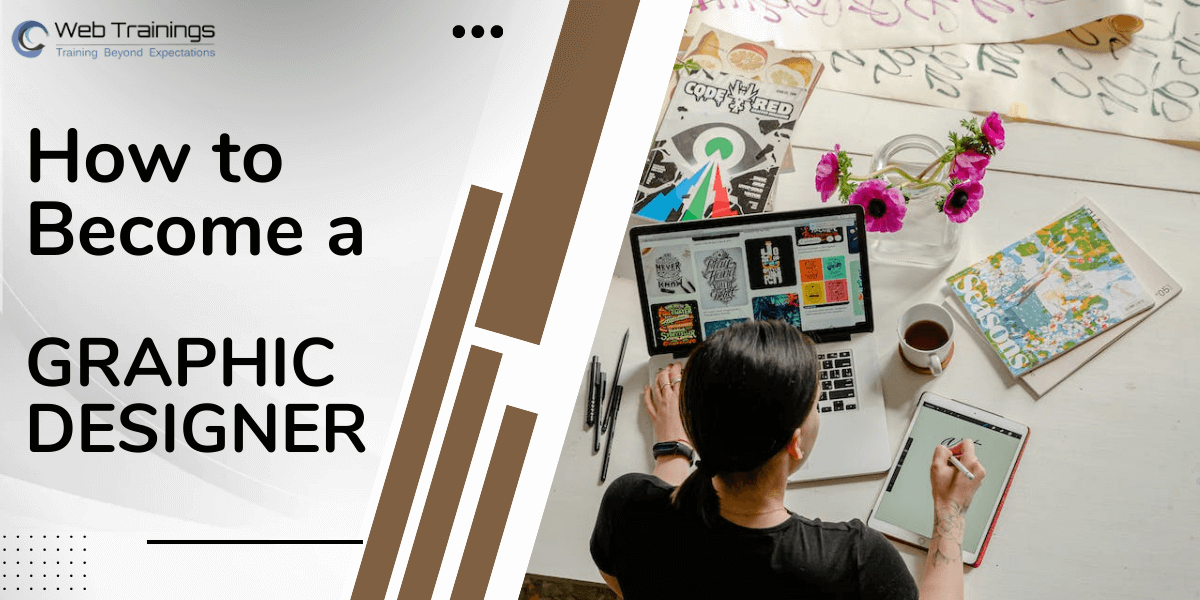 Graphic design is a skill that anybody can learn. They are experts at creating visual messages and designs to attract customers. There are many different tools, such as Photoshop, Illustrator, and InDesign, that are used by Graphic Designers. In here you'll know the main concepts of how to become a graphic designer
What is Graphic Designing?
The process of visual communication and problem-solving using typography, photography, and illustration is known as graphic design. Graphic designer uses their skills to create visual concepts through text and images to communicate ideas. They create logos for companies, magazine advertisements, concert posters, business websites, and more.
What Graphic Designers do?
Graphic designers are responsible for the visual communication of a brand. They create the look and feel of a brand, including branding, logo design, advertising, and marketing materials.
They also create the overall image of a product or service. This includes the packaging, colour palettes, website design, and more. This way, they are responsible for creating an emotional connection with their audience and customers. They create brand identity by developing visual elements representing a company's values, beliefs, and personality. They create a consistent brand experience across all media. Print, online, video, and social media count. They also help design user interfaces and software.
Steps to become a graphic designer
Learn and understand the basics of graphic design. This includes studying design principles, such as composition, color theory, and typography. You can learn these basics through online courses, tutorials, and books.
Take a course in graphic design. Many community colleges and universities offer certificate and degree programs in graphic design. These programs can provide you with a solid foundation in the principles and techniques of graphic design.
Master all the tools of the trade. Graphic design is highly technical, and you must be proficient in various software programs to create professional-quality work.
Keep practicing and experimenting. Graphic design is a field that requires constant learning and experimentation. As you gain experience, you should try new techniques and styles and continue developing your skills
Build an attractive portfolio. Your portfolio, a collection of your best work, is crucial for showcasing your skills to potential clients and companies.
Start pitching. You can promote yourself to potential clients and employers once you have a solid portfolio. This may involve networking, attending job fairs, and sending proposals and samples of your work.
The scope of graphic design is wide and varied, and there are many opportunities for talented and ambitious graphic designers. Some graphic designers work for design firms or in-house design teams, while others are self-employed and work as freelancers. Graphic designers can also work in various industries, including advertising, publishing, and web design.
Community colleges, technical schools, and universities teach graphic design. Online courses and tutorials teach graphic design. Dedicated, hardworking, and willing to learn and adapt keys to graphic design success.
Learn and Understand the basics of Graphic Designing
Graphic Designing is the art of visual communication, which involves using various techniques like typography, illustration, and photography to create a message.
Use Adobe Photoshop or any other software for digital illustration and photo editing. This will help them create their designs without having a formal education in this field.
Master all the Tools of Graphic Designing
Photoshop is image-editing software. It's an excellent tool for beginning graphic designers. Adobe Illustrator can add text, shapes, and other objects to designs to make them more professional.
InDesign is more specialized than Photoshop or Illustrator. This free software creates professional-looking books and magazines. Dreamweaver is a popular web design tool because it's simple and produces clean code without HTML knowledge.
Keep Practicing and Experimenting
You're going to have to keep practicing and experimenting. Practice makes perfect, but getting used to a new tool or style can take time. Try different tools, design styles, and new ideas in your portfolio. You never know what might come out of those experiments. If you're unsure where the path will lead me, let's keep working on this project until you get there.
Build an Attractive Portfolio
The most crucial thing you can do to highlight your design abilities is to create a portfolio. It will convince clients that you know what you're doing and can be used as a reference for future projects.
Your portfolio should include the following:
A list of all previous work.
Examples of your work in progress or finished products and designs.
Contact information for any agencies or clients who have worked with you.
If clients like what they see, there's no need for an interview since they discussed everything during the initial contact. Avoid overselling by focusing on how valuable your services will be to their business.
Scope Of Graphic Designing
Scope of Graphic designing is vast as Graphic designers produce visual communication and design for magazines, posters, books, and other publications, including logos, websites, and other marketing materials. Graphic designers provide visual information that clients can use in many ways. Graphic design affects how people regard themselves, their products, and their services (especially if you're freelancing). Design abilities are needed to attract company prospects. and more and more companies are hiring Graphic Designers and it's one of the highest paying job.
Where to learn Graphic Designing?
There are many ways to learn graphic design. You can learn it online, offline, or even by attending a school. In this section, we will talk about the different ways of learning graphic design and the pros and cons of each one. You can choose an affordable online course compared to offline courses, but you have to be careful about what kind of course you want because some of them may give poor results or if they don't suit your requirements at all.
Web trainings Academy is one of the best institute to take Graphic Designing course in hyderabad All recent graduates, independent contractors, and job seekers eager to advance their careers have access to opportunities thanks to the graphic design course. The course is for strategic and creative thinkers who want to express fresh concepts and topics using fonts, colours, and graphics. Students with a talent for graphic design who graduate from 10+2 can hold onto the course to succeed as the finest graphic designer because the course offers levels ranging from basic to advanced.
Conclusion
Hope you understood what is graphic design is, how it works and how you can become one. The best part is that if you want to be a great graphic designer, you do not need to be born with any innate talent. What you need is passion, motivation, and study. So go out there and give it all you've got.
Also read:
Scope of Graphic Designing in India
Transform Your Passion for Design into a Career: A Comprehensive Guide to Becoming a Graphic Designer
was last modified:
February 7th, 2023
by