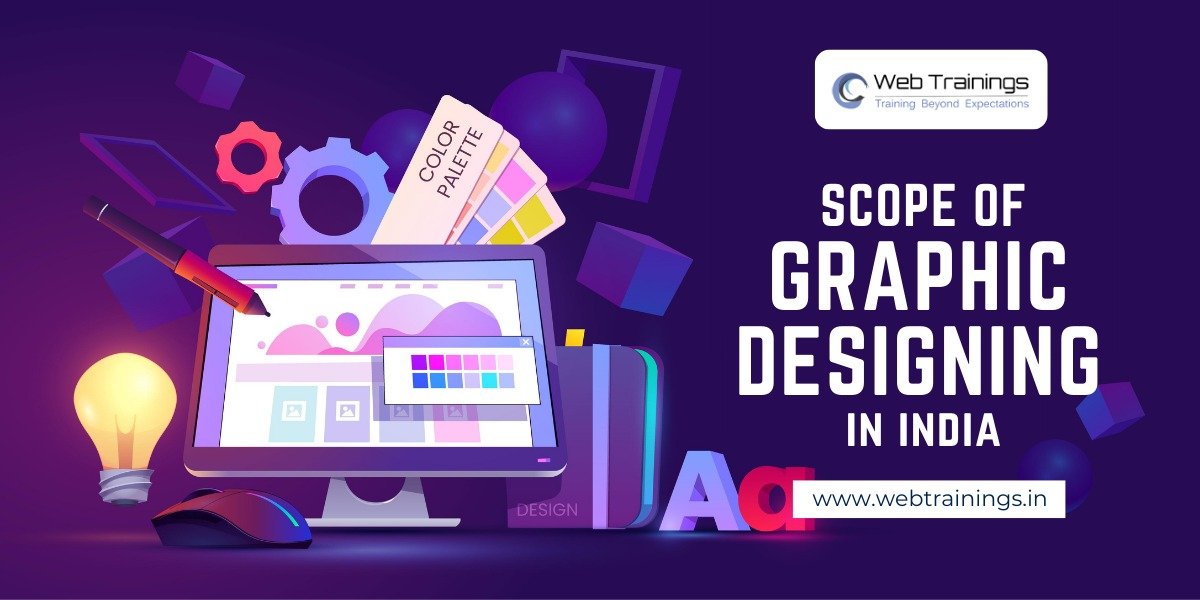 What is Graphic Designing?
Graphic designing means creating visual content for communicating information to the target audience. It is used for creating visual content by using photographs, illustrations, colors, icons, and typography.
These are the different types of Graphic Design that one must know of:
Motion graphic design
Visual identity graphic design
User interface graphic design
Publication of graphic design
Art and illustration
Environmental graphic design
Packaging graphic design
Marketing and advertising graphic design
Graphic Designing Industry Statistics
As per a study conducted by the Department of Labor, Graphic Designing is among the fastest-growing fields in the country. According to the Bureau of Labor Statistics, the field is expected to grow by 5% by 2026.
Eligibility and Skills needed for Graphic Designers
To become eligible for graphic designing courses, the aspirants must have completed their 10+2 in any stream (Commerce/Science/Arts) at the graduation level. If the aspirant wants to pursue the courses at the PG level, they must complete their Bachelor's degree in design.
Different kinds of courses are available for graphic designers. They are Certificate and diploma courses, Bachelor courses, Master courses, and Doctoral courses.
There are many entrance examinations for getting admitted to the different graphic design courses. They are as follows:
CEED Entrance Exam 2022
MIT Entrance Exam
Symbiosis Entrance Exam 2022
UCEED Entrance Exam 2022
Graphic designers combine art and technology. Hence they need ideas about designing principles along with knowledge of designing software. Since they often have to work in a team, soft skills like problem solving and communication are also important.
Technical skills
The graphic designer must know about design principles. They must know how to bring together lines, shape, color, texture, and harmony to make their work visually appealing to the clients.
Ideation
They must have the ability to generate ideas. Ideation involves doing research, development, evaluation, and then application. There are many ways to process ideation. One is mood boards, and the other is thumbnails.
Branding
Graphic designers maintain branding for their clients. When they work with a brand, they need to understand the brand so that they can give life to the creatives that they develop for the brand.
Typography
With the correct typography, one can provide meaning and feeling to a creative. They must understand the right font for a project.
UX and UI design
Knowledge of UX and UI skills helps graphic designers to create functional and visually appealing designs.
Technology
Graphic designers must be familiar with designing software like Adobe Photoshop, Adobe InDesign, Sketch, and others.
The soft skills that graphic designers must have are as follows:
Communication
Graphic design consists of visually communicating ideas with the help of the designs. Graphic designers often have to communicate with clients and team members. Hence having written and verbal communication skills for presentations and proposals are mandatory.
Strategy
Graphic designers have to think strategically. They must be aware of design elements and convey the meaning by conforming to design standards. It involves doing market research, brainstorming for ideas, developing ideas, creating thumbnails, and evaluating the designs.
Solving problems
The correct design will help in solving the problem of the clients. Graphic designers use problem-solving skills in the design process. It involves revising the designs to meet the needs of the clients.
Managing the time
Graphic designers often have to work on more than one project. As a result, they have to deal with the deadlines of different clients. As a graphic designer, one must balance workloads and help prioritize projects.
Future scope of Graphic Designers
The future scope of graphic designers is in different fields. As a graphic designer, knowledge about these new areas will help expand the scope of work and develop work experience. They are as follows:
Image designing
Catalog design
Logo designing
Brochure and leaflet design
Animations
Brand videos
Business card design
3D design
Newsletter and other business tool design
Salaries for various Graphic Designing Roles
The annual salary of a Graphic Designer ranges from Rs 2 lakhs to Rs 6 Lakhs. However, candidates with more skills and work experience can get higher salary packages from the recruiting companies.
How to Become a Graphic Designer in India?
Different colleges and universities in India offer Graphic Designing courses for students. There are many institutes also that offer such courses in graphic design. One such institute is Web Trainings Academy located in Hyderabad.
Why choose this institute to pursue a course in Graphic Designing?
Located nationally and internationally
The institute is located in Hyderabad, Vijayawada, Delhi, Chennai, Bangalore, and Mumbai. Hence the aspirants can enroll in a graphic designing course from different cities. They are present globally in Dubai and Toronto. Hence international students can also enroll in their courses.
Successful placements
Many of the students have been placed successfully in eminent companies like Accenture, Google, and others. This increases the chances of the aspirants getting themselves placed in good companies.
Different kinds of course structures
The institute has various courses like classroom training courses, short-term courses, software courses, video courses, and online courses. The aspirants can choose the courses according to their needs.
100% placement assistance
The institute provides 100 per cent placement assistance to the students. It helps the aspirants to get placed in reputed companies based on their level of skills. However, this placement assistance lets one know about the openings in different companies.
Free demo class
Web Trainings provides a demo class to the aspirants. They can check the quality of the class before enrolling in the class. One can understand whether they must enroll in a course in this academy.
Final words
Graphic designing as a course offers much diversity of career options for the aspirants. With the increase in demand for graphic designers in India, choosing a career in this field is a wise decision.
Related Articles
How to Become a Graphic Designer? 
Scope of Graphic Designing in India
was last modified:
January 19th, 2023
by