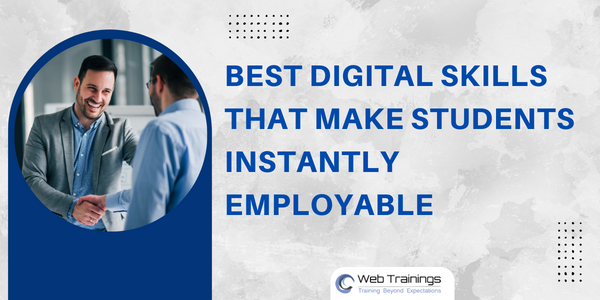 The new phase in the industrial revolution began in the 2020 decade. Automation, AI, and Machine learning are no more luxury careers. They are essential to a student's career growth. This is certainly true for those in the STEM field. Basic digital skills are important for any student's career growth. Research shows that basic digital skills are needed for 90% of professional careers. It is paramount for students to adapt to this transformation in careers and the job market. Thereby, adding digital skills to the resume is vital. Big companies require basic digital skills, and experts in this particular domain are in huge demand.
In India, education does not guarantee employment. Students with Ph.D. are applying for low-level government jobs. Hence, basic graduation and post-graduation are not sufficient for career growth. There is a need to teach important skills.
Students can learn digital skills and get a head start in life.
What Are Digital Skills?
Before you begin your career in the Digital world, you ought to know what exact skills are required to excel in this profession. A very rudimentary understanding of Digital skills is to use digital devices and technology fully. People are glued to the internet, and millions are searching for information about various products and services. Hence, any business to thrive in this age requires employees with adequate digital skills.
Students with Digital skills have a huge advantage in finding a job. Digital Skills would increase the possibility of finding employment in various digital channels.
Let's delve into 10 Digital Skills for Students
Social Media
In the modern world, it is an extension of ourselves in the virtual world. Everyone is on any social media platform, such as Twitter, Facebook, Instagram, etc. Many YouTube channels also increase engagement. Social Media Marketing skills and their effective usage help drive traffic towards the website, eventually finding leads and potential customers.
Social Media is one platform where customers, influencers, and brands meet. Expertise in Social Media Management understands these dynamics and creates an effective strategy to build customer relations and business plans.
Content Marketing
Everyone writes on social media platforms such as Facebook and Twitter. Content marketing is an ideal option if any student has a propensity toward writing, apart from writing if anyone with excellent video editing skills has a bright future in this Digital Marketing domain.
In content marketing, you can create riveting videos or write intriguing articles, Blogs, emails, or social media posts to attract customers or build a relationship with prospective customers.
Data Analytics
"Data is the new oil" is indeed a platitude. Data would provide loads of valuable information. However, the large chunk of data requires proper inference; thereby, Data Analytics comes into the picture. This particular area goes hand in hand with SEM. Any career in Data is certainly lucrative. Any organization that makes informed and data-driven decisions has more chances of success.
No organization functions on instincts or whims and fancies; thereby, hard-calculated data analysis is the future.
Search Engine Optimization (SEO)
Indeed a fascinating career option for students who are research-oriented and geeks. It involves various strategies to improve the website's visibility on search engines like Google and Bing. More visibility of the website implies more attention, engagement, and an increase in leads and sales.
SEO specialists' role is extremely crucial because they are central to the digital marketing strategy. SEO experts look into the backlinks, title, and URL, and most importantly, analyze the content and ensure that the content is relevant and SEO friendly, (Become an SEO Expert).
Email Marketing
One thing that is always constant is your Email and the old archives & folders in it. It is indeed the best way of direct marketing and an ideal way to find or retain customers. It doesn't matter if there is a start-up or an established MNC. A proper email marketing strategy is always useful.
An experienced digital marketer knows various funnel stages, including sign-up and final purchase. The entire strategy of building engagement is a vital skill in the digital industry. Email marketing is indeed useful for students seeking a career in Digital Marketing.
PPC Marketing
To attract traffic towards specific companies, opt for PPC to ensure that the brand is visible on the first page. Students should certainly learn google ads skill because it is in huge demand nowadays.
The skill required to excel in PPC marketing is a comprehensive understanding of Google AdSense and impression, CPC, and reach.
Creating Riveting Video
Videos are not merely for entertainment. YouTube is a major platform and quite influential in various aspects. Several influencers are moving towards Tik-Tok and Instagram and creating fascinating video content for consumers. Videos are easier to consume when compared to extensive blogs. Any student with good video editing skills and intriguing ideas can easily find huge followers and members.
Web Design
It is the most lucrative career with plenty of job opportunities in any organization. These days it is hard to imagine a company without a website. The website of a company is akin to a visiting card. Web Designing is a skillful task that requires creativity and technicality. The technical knowledge includes learning programming languages like Python Programming, Javascript, CSS, HTML, and Bootstrap.
Copywriting / Content Writing
A Digital Marketer and SEO specialist would be deeply involved in planning advertisement campaigns and optimizing keywords. However, all the efforts would go down the drain if the content is mediocre.
Writing ability would certainly bring forth plenty of opportunities for students pursuing a career in Digital Marketing.
Mobile Marketing
Over the last decade, mobile phone connectivity has improved, and the number of people with smartphones has increased considerably. It is fascinating that smartphone traffic has outpaced desktop traffic in this short period. Students looking to enhance their digital marketing careers should adapt to mobile-friendly marketing strategies.
Also Checkout Top 10 Cities to Work in Digital Marketing 
Web Trainings Academy is one stop for a remarkable career in Digital Marketing. Many students, professionals, and business people are pursuing digital marketing course from Web Trainings to augment their careers or upgrade their business online.
10 Digital Skills That Can Make Students Instantly Employable in 2023
was last modified:
January 19th, 2023
by