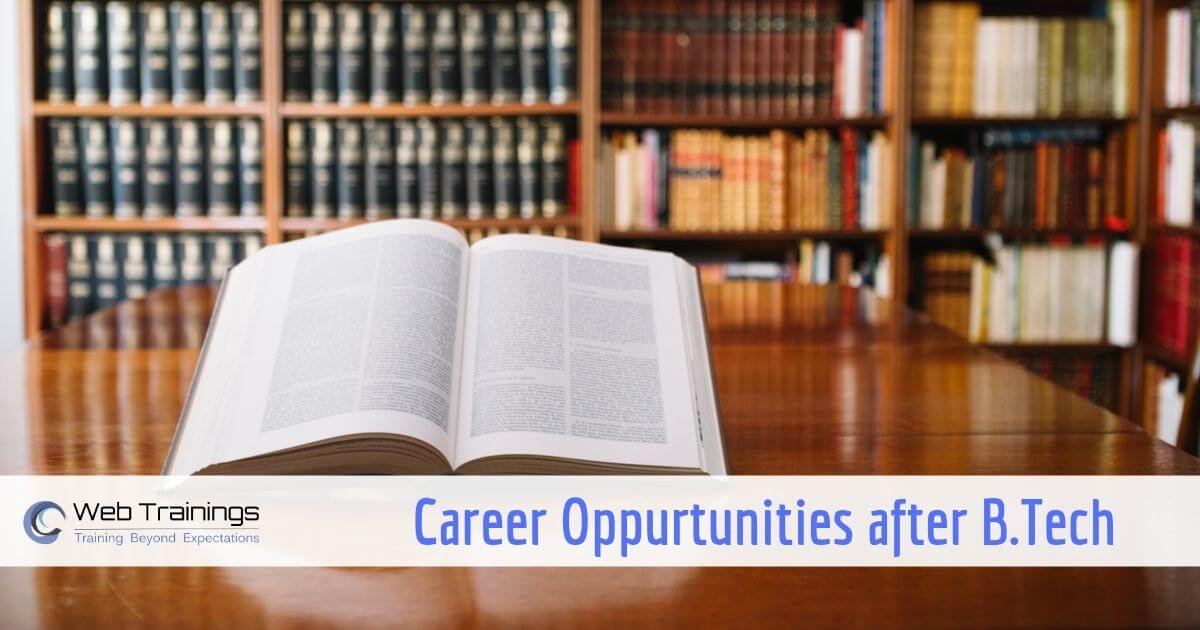 These days most of the Indians are preferring engineering field to pursue in present market. Most of the youth opt for B. Tech owing to its ease and affordability of course. Due to this these graduates have outnumbered the availability of jobs in this field. In engineering, the supply of graduates is more than demand for them. This results in shortage of vacancies for these graduates in engineering field. This has caused many of the graduates to start their businesses and work in jobs irrelevant to their field of study. Career opportunities in India re
Out of this shortage emerged the need for B Tech graduates in various other fields in various jobs. Some of such fields and jobs are mentioned in this article. This article provides all the required details regarding the career opportunities for B Tech graduates in India. B.Tech graduates from CSE, ECE, Mechanical, IT or any other relevant fields can pursue the following opportunities in India.
One of the biggest reason most B. Tech graduates don't get placements is due to lack of employability skills. As per one economics times report, 94% of engineering graduates are not fit for hiring  It may be due to lack of knowledge, communication skills, not able to understand the real-time technologies. So its very crucial for B. Tech graduates to understand the real world concepts and master these concepts to get placements in good companies.
Career Opportunities after B. Tech in India
1. Digital Marketing
There's no getting round the fact that almost all businesses, or later, must include digital in their advertising activities.  Even digital marketing is evolving as the best way to get various opportunities. This is the only field where, demand for B Tech graduates is more. Abundant job opportunities in various sectors of digital marketing are available for various graduates. You can learn digital marketing course and do online certifications to start your career in digital marketing.
Some of the most common job opportunities in digital marketing. 
Search engine optimization (SEO)
Search engine advertising (SEM, Google Ads)
Social media marketing
E-commerce marketing
Email marketing
Marketing automation
Content Marketing & Curation
Copywriting and editing
Web Analytics
It's an excellent idea to learn the entire digital marketing and then choose a specific industry to build your career. Its always recommended choosing a job role with multiple responsibilities.
Salary insights of digital marketer:
A digital marketing fresher can start his career with pay of Rs 10K to 25K per month based on his location, education and skills.
An entry-level Digital Marketing Executive with 0.5 to 2 years experience can up to Rs  20K to 35K. Salaries increase based on work experience, skills and communication skills of the candidate
A Digital Marketing Manager with 5-9 years of ride earns compensation of Rs 50K to 2L per month.
2. Data Science 
A data scientist is one of the hottest trend in digital world. Market has huge demand of quality data scientist.. Therefore, it comes as no shock that Data Scientists are coveted experts in the Big Data Analytics and IT industry.
With specialists predicting that forty zettabytes of data will be in existence by way of 2020 (Source), Data Science career possibilities will solely shoot via the roof! Shortage of professional gurus in a world which is increasingly more turning to statistics for choice making has also led to the massive demand for Data Scientists in start-ups as properly as well-established companies. A McKinsey Global Institute learn about states that with the aid of 2018, the US alone will face a scarcity of about 190,000 professionals with deep analytical skills. With the Big Data wave showing no symptoms of slowing down, there's a rush among world organizations to hire Data Scientists to tame their business-critical Big Data.
Data Scientist Salary Trends
A record through Glass door indicates that Data scientists lead the pack for the great jobs in America. The document goes on to say that the median profits for a Data Scientist is an amazing $91,470 in the US and ₹622,162 and there are over 2300 job openings
3. Mobile app development
The enterprise is now eight years into the mobile modernization and seven years since the emergence of the apps' economy. It is the first-class time for the cellular app builders to be full-fledged in the next 5 to 10 years.
The modern-day cell units and applications are changing the way we communicate, do business, and access news and entertainment. Businesses, customers and programmers have embraced this modern medium, making mobile software developer one of the most demanded and quickest growing IT career paths.
Building great apps can amplify the purchaser interaction and provided greater benefits for the app development companies. Though many organizations improve the business apps for smart-devices, the impacting apps can influence the customer's mind.
Salaries for Mobile App Developers (per year)
Mobile Software Engineer: $102,000
iOS Software Engineer: $102,000
Mobile Application Developer: $107,000
iOS Application Developer: $113,000
Android Application Developer: $117,000
Senior Mobile App Developer: $119,000
The hourly wage for mobile application developers varies broadly – from $21 to $150 per hour – relying on the cell developer's location, portfolio and other factors.
4. Full stack Development 
Because of the versatility of a full stack developer, finding a job is convenient due to the fact they are what the employers are looking for. Below is the listing of the top careers for full stack developers:
Full Stack Developer – Full stack improvement is combination of front-end and back-end work. Full-stack is considered to be one of the high-end jobs in the tech industry. For Full Stack Software Developers, the median salary is $86,326/year.
Back-End Developer – Back-end development is the contrary of front-end development. While front-end improvement revolves round the user interface, back-end development is worried with the true good judgment at the back of the application. The median earnings of a net designer is $92,489/year.
Front-End Developer – Front-end developers, just like net designing, has full-size know-how of HTML, CSS, and JavaScript. The difference is that front-end development is no longer used for designing a website and entails a little bit of back-end. The median profits of a web clothier is $92,211/year.
Web Developer – Unlike front-end development, net development is more involved on the back-end aspect of the website. Web builders are knowledgeable in programming languages like Python, Ruby, PHP, etc. The median earnings of a web clothier is $73,552/year.
Web Designer – Web Designers create the designs and appeal for a website. In order to do this, builders use sketch tools, HTML, CSS, and JavaScript.
5. MBA in Technology/Marketing/Digital Marketing
The next option might be doing MBA. This rewards the graduates in terms of salary. This MBA graduates from good colleges can get better packages.. This also adds extra weight to graduates resume. Hence, doing MBA might add-on to your technical skills for easily getting jobs. Most of MBA graduates are hired by big companies with technical knowledge.
Many more opportunities will be updated shortly in the blog.
Career Opportunities for BTech Graduate, Freshers in India
was last modified:
January 19th, 2023
by