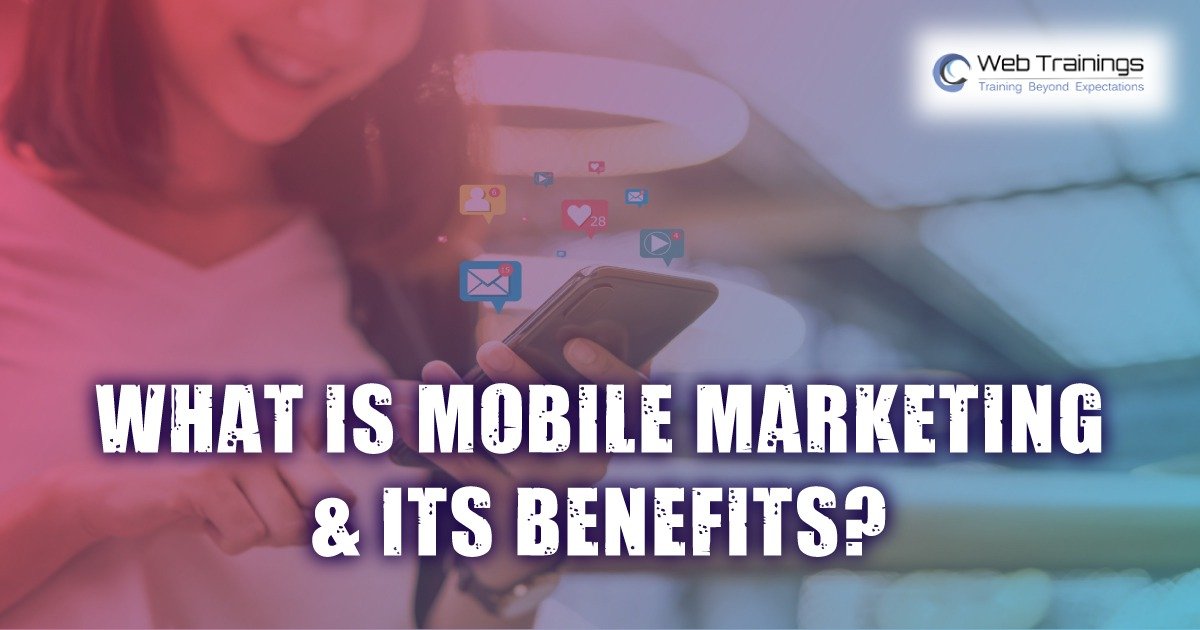 Smartphones play a significant role in every individual's life today. Educating, shopping, paying, learning, and more aspects are more comfortable online with handy smartphones. In that way, marketers sharpen their skills by using mobile marketing as a strategy to entice customers.
Mobile marketing has proved to be the most effective technique where businesses associate with customers at any time and any place. 2020 has revealed an immense value of USD 66.42 billion for mobile marketing and is expected to escalate to about USD 253.40 billion by 2026. It is a proven and quickest way of marketing with an audience. With such tremendous hype, let us dig into detail about mobile marketing and its benefits.
What is Mobile Marketing?
Promoting services and products through smartphones, mobile devices, networks, and tablets is called mobile marketing. Potential customers obtain location-sensitive and personalized services and products. As one of the digital marketing strategies, It is a process that focuses on the target audience through mobile phones in the form of SMS, email, websites, MMS, apps, and social media. According to salesforce statistics, 68% of businesses have shifted to mobile marketing strategy for a profitable business.
How does it work?
Mobile marketing considers promotions sent through text messages, multi-media messages or MMS, through apps, in-game marketing, and more. Location-based services and proximity systems alert users according to their geographical location. In mobile marketing, customers reach business utilizing mobiles. Facts reveal that 80% of customers use smartphones. Visitors are already online, and hence companies need to be present online too. The only chore of services and products is putting their services in front of the customers.
Mobile marketing works by developing a marketing strategy, picking a specific type based on business strategies and objectives, and finally analyzing and making the strategy better. There are several types of strategies for businesses to flourish in the mobile marketing business. Choose the right approach to hit the jackpot.
Types of Mobile Marketing Strategy
With several strategies as penned below, choose the method that best suits your business for improving success.
In-game marketing: A mobile ad that pops up during mobile games is called in-game mobile marketing. The ads appear as full-page ads, banner pop-ups, or video ads that appear during screen loading time.
App-based marketing: Mobile apps are employed in app-based marketing. Google Admob and more such services support advertisers in developing mobile ads that pop up in third-party mobile apps. Facebook is a good example where it permits its advertisers to create ads that are incorporated with Facebook mobile app. The promoted post ads on Facebook are flawless as visitors do not realize it as ads.
Location-based marketing: Location-based mobile ads that pop up based on a particular business or area.
QR codes: In this particular strategy, visitors scan a QR code and lead to a website associated with the QR code. Such an approach blends with mobile gamification and inspiration as users are unaware of the destination.
Mobile image ads: These image-based designs pop up on mobile devices.
Mobile search ads: These are nothing but Google search ads developed specifically for mobiles that render add-on extensions such as maps or click-to-call.
SMS: By using the customer's mobile numbers, text messages regarding offers, opportunities, etc., are sent to visitors.
Benefits of Mobile Marketing
Reaches a wider audience: People unable to acquire products and services get an opportunity to access such aspects with mobile phones. Ads in Mobile, hence reach a broader audience.
Immediate results: Since mobile phones are handy and we have them all the time, updates, results, and other aspects are quick.
Stress-Free work: With mobile advertising placing ads is stress-free with a few clicks that help reach more customers.
Convenience: With the internet everywhere, finding and purchasing any product is simple and easy.
Track user response: Tracing user response is effortless with mobile marketing. It can track the number of visitors to the web page or know the number of hours users stay on the page or glimpsing through the user reviews.
Instant transaction: With handy internet and mobile phones, transactions are also quickly after purchasing a product.
Advantages and disadvantages of mobile marketing
The advantages of mobile marketing are innumerable such as cost-effectiveness, better competition, portable advertising, boosting search engine ranking, etc. It also has a few disadvantages, such as privacy issues, navigation, too diverse platforms, etc.
The advantages are flawless and reap good results, and hence mobile marketing is an excellent choice for marketers desiring to grab in more customers.
Conclusion
Mobile marketing has taken over people's minds with the enhanced busy lifestyle. The pocket companion has made everything instant and easy. The global system for mobile communication Association research reveals that by 2025 about 75% of mobile users will be using smartphones. The rapid growth in smartphones adoption and tablets with improved internet in developing countries led mobile and digital marketing to greater heights. People also welcome mobile ads for the best advantages they enjoy. make your self ready for the future marketing, Learn Mobile & Digital Marketing All together at Web Trainings Academy
What is Mobile Marketing and its Benefits?
was last modified:
December 10th, 2021
by