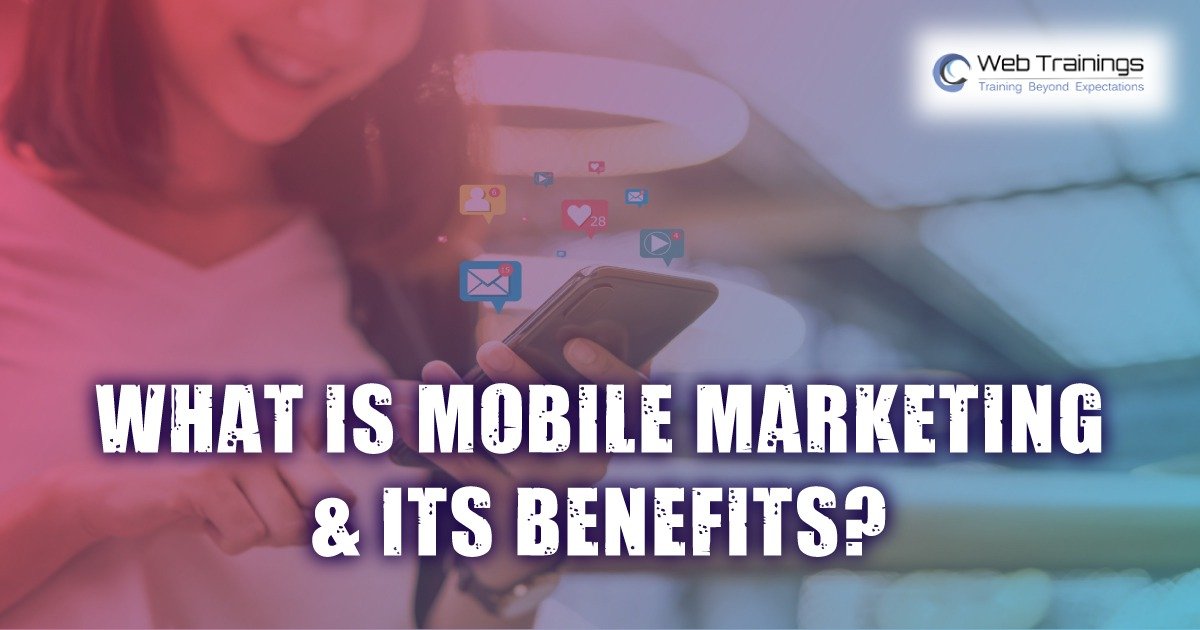 Mobile Marketing and its Benefits
Smartphones play a significant role in every individual's life today. Educating, shopping, paying, learning, and more are more comfortable online with handy smartphones. In that way, marketers sharpen their skills by using mobile marketing to entice customers.
According to Semrush data,
69% of internet users use it while on the move.
The U.S. mobile advertising market is expected to reach $145.26 billion by 2024.
63% of retailers believe that social media is the best place for them to advertise to drive more customers to their online stores.
The U.S. was the largest mobile advertising market worldwide in 2020 with $120.4 billion.
India came in second place for fastest growing advertising market, with an annual growth rate of 42%.
What is mobile marketing?
Mobile marketing uses social media, emails, websites, SMS, and other kinds of communication to contact consumers or potential customers on mobile devices such as smartphones and tablets. It is a method of reaching mobile users using methods like mobile-optimized ads, push notifications, text messages, mobile apps, multi-media messages. When it comes to creating a long-term or short-term marketing plan, mobile marketing is an essential piece. There are many mobile marketing channels that can reach your audience, including email, pay-per-click, search engine optimization (SEO), and content marketing.
How does it work?
Mobile marketing considers promotions sent through text messages, multi-media messages or MMS, through apps, in-game marketing, and more. Location-based services and proximity systems alert users according to their geographical location. In mobile marketing, customers reach business utilizing mobiles. Facts reveal that 80% of customers use smartphones. Visitors are already online, so companies need to be present online. The only chore of services and products is putting their services in front of the customers.
Mobile marketing also includes "snacking", which is a short-term period when mobile users use their phones to check messaging or media. Mobile marketers create content that users find easy to consume and is gratifying.
Mobile marketing works by developing a strategy, picking a specific marketing type based on business objectives, and finally analyzing and making the strategy better. Mobile advertising targets audiences by behavior, not demographics.There are several marketing strategies for businesses to flourish in the mobile marketing business. Choose the right approach to hit the jackpot.
Types of Mobile Marketing Strategy
With several strategies as penned below, choose the method that best suits your business for improving success.
In-game marketing: A mobile ad that pops up during mobile games is called in-game mobile marketing. The ads appear as full-page ads, banner pop-ups, or video ads that appear during screen loading time.
App-based marketing: Mobile apps are employed in app-based marketing. Google Admob and more such services support advertisers in developing mobile ads that pop up in third-party mobile apps. Facebook advertising is a good example where it permits its advertisers to create ads that are incorporated with Facebook mobile app. The promoted post ads on Facebook are flawless as visitors do not realize it as ads.
Location-based marketing: Location-based mobile ads that pop up based on a particular business or area.
QR codes: In this particular strategy, visitors scan a QR code and lead to a website associated with the QR code. Such an approach blends with mobile gamification and inspiration as users are unaware of the destination.
Mobile image ads: These image-based designs pop up on mobile devices.
Mobile search ads: These are nothing but Google search ads developed specifically for mobiles that render add-on extensions such as maps or click-to-call.
SMS: By using the customer's mobile numbers, text messages regarding offers, opportunities, etc., are sent to visitors.
Benefits of Mobile Marketing
1. Results in a flash: –
Because phones are so portable, many individuals have one on or near them at all times. We can't leave the house without them on occasion. That means our phones will ring to notify us of the findings as soon as they are available. From the comfort of your own home, you can monitor and keep up with everything that is going on in your company.
2. Convenient to Use: –
Phones have evolved into one of the most useful instruments in modern commerce. Everything may now be put on it, even credit cards left in the car and coupons left on the counter. Have you forgotten where a product was sold? You may find out via the Internet on your phone. With so much information available, it's getting easier for a potential buyer to locate and purchase your goods.
3. Tracking User Response: –
User replies may also be readily tracked with mobile marketing. For example, you can quickly check product reviews or see how many people have seen your new ad to determine its success. You can even see how many visitors visited a certain website page and how long they were there.
4. Mass Communication Made Easy: –
In the United States, 115.9 Million people use mobile-only social networks in 2022. Mobile marketing benefits the seller by reaching a larger audience through social media, messaging, alerts, and other means. This allows a wider range of people to learn about the goods you're selling or advertising.
5. Mobile Marketing boosts search Engine Rankings: –
Some of the most popular search engines on the Internet, such as Google, Bing, and Yahoo, will enhance a website's search ranks if referenced on other social media platforms, such as Twitter or Facebook. For example, when your website is linked to your Twitter, both your Twitter and your website will appear when someone searches for it. As a result, it is more likely to get recognized when your company is referenced through mobile marketing.
6. Advertising on a mobile device is portable: –
Mobile phones have been described as very addictive. Few individuals dare to leave their houses without it since it is convenient and simple to use. This implies that you may send an ad to everyone on the globe from anywhere in the world. You don't need to spend time in the office – or even have one – to place an ad. You may do it while sitting on the couch at home thinking about it.
Disadvantages of Mobile Marketing
1. Privacy Concerns: –
One of the most common worries among clients is privacy. They don't want to give themselves away or agree to anything that appears dubious or uncertain. So instead, provide them explicit information on how to opt-out of marketing messages if they so wish. Customers feel safer having that option, even if it is a number against you if they do not sign up.
2. Navigation on A Mobile Phone: –
On a mobile phone, navigating might be difficult at times. Mobile users are left with only a little screen to utilize instead of a huge screen and a mouse. This is a disadvantage of mobile marketing since if the website or social media page is difficult to browse, the ad may go unnoticed.
Final Thoughts
Mobile marketing has taken over people's minds with the enhanced busy lifestyle. The pocket companion has made everything instant and easy. The global system for mobile communication Association research reveals that by 2025 about 75% of mobile users will be using smartphones. The rapid growth in smartphones adoption and tablets with improved Internet in developing countries led mobile and digital marketing to greater heights. Make your self ready for the future marketing, Learn Mobile & Digital Marketing Course all together at Web Trainings Academy
What is Mobile Marketing and its Benefits?
was last modified:
January 19th, 2023
by