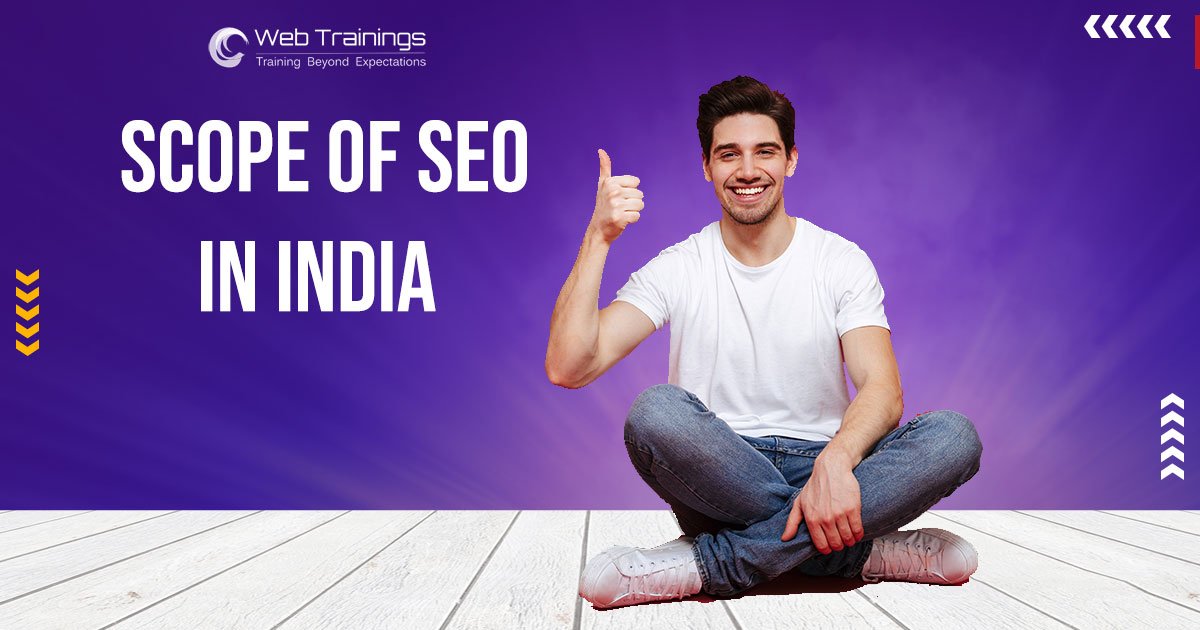 Whenever you type a query on a search engine page, you get a list of websites. Do you probably click on the top website? So, how does a website attains a good position on a search engine page? The answer is through Search Engine Optimization. SEO (Search Engine Optimization) is marketing strategy about getting the top ranking on Google search results. In other words, it is the procedure by which organisations optimize their website in order to increase Visibility and Ranking in search engines. As Google algorithms are dynamic, it becomes important for a company to hire SEO professionals.
In this article, you will learn about Scope of SEO in 2023.
SEO is not just adding new content but also optimising the keywords in the content and building authoritative backlinks and waiting for the results. Due to the continually evolving nature of Google algorithms, SEO is becoming more and more complicated and requires specialists, preferably a professional who has pursued a digital marketing course, and one who has worked on SEO projects.
SEO Industry Statistics
68% of internet experience begins with a search engine. (BrightEdge)
The top Google result receives around 32% of all clicks (Backlinko)
0.78% of Google Searchers click on the links on the second page. (Backlinko)
53.3% of the internet traffic comes from organic searches. (BrightEdge)
92.96% of global traffic is from Google Search, Google Photos and Google Maps. (Sparktoro)
SEO generates 1000% more traffic than organic social media. (BrightEdge)
An SEO professional's estimated yearly salary is around $60.5k (Backlinko)
69.7% of search queries contain four or more words. (Ahrefs)
60% of marketers claim that inbound (SEO, blog content, is their highest quality lead source. (HubSpot)
SEO leads have a close rate of 14.6%. (HubSpot)
Why to Make a Career in SEO?
SEO was not popular in the past. Webmasters used to optimize websites by using some simple techniques, and Google used them to give better rankings. But today's scenario is different. Google has started improving its algorithms, thus making it difficult for webmasters to handle websites.
Every problem indeed gives an opportunity for new solutions, and here the solution is SEO. Today webmasters are looking for professionals who can give top rankings to their websites, and here comes the role of professionals who are good in SEO. Hence it goes without saying that SEO professionals have huge demand in the market as every business has a website that they want to promote.
Skills Required For SEO Professional
1. Basic Coding Skills:
To succeed in SEO, you do not have to be a professional programmer. When you are hired in a company for the SEO profession, there will be a separate coding team. But in order to perform Technical SEO, working knowledge  of HTML and CSS is required. Heading tags H1-H6, Meta tags, Title Tags, Alt-tags, XML sitemaps, status codes, robots.txt, and the ability to solve crawl issues are among the essential technical SEO skills.
2. Analytical Skills:
Analytical thinking can help to measure the success of Internet marketing campaigns and the performance of the website in order for a more impactful future course of action.
SEO professionals must be able to track, analyse, and report on core KPIs and success metrics using data analysis. These findings will help to drive editorial strategies which will enhance the business's search rankings on major search engines.
3. Keyword Optimised Writing:
Strong writing skills are a must for anyone managing an SEO campaign. Search engine optimization is a content-driven strategy, and SEO writing is an art and not everyone is good at it. It is extremely difficult to weave keywords into your content without making them seem to be forced to do so.
SEO professionals specialise in writing content for web pages, blogs, creating titles, meta-descriptions. They also understand how to blog effectively for link building. One of the best ways to get links for your website is to write Keyword optimized content and project them around to other relevant sites. It is an outreach method for generating Backlinks.
4. Knowledge of SEO tools:
Simply carrying out of the SEO project does not summarise the task of a SEO professional. After utilising the SEO project it is furthermore crucial to determine the efficiency of those campaigns. In order to do so, one should have the ability of employing different SEO tools.
Therefore, understanding the knowledge of the SEO tools like Google Analytics, Google Search Console, SEMrush, Ahrefs, Surfer SEO, Moz local and so on is a need to understand for an SEO aspirant.
5. Critical Thinking :
An SEO specialist should be able to think critically when evaluating what works for a campaign vs what the competitors' techniques are. Because no such SEO strategies or websites are similar, a site's search engine ranking is impacted by a number of elements that must be carefully considered.
Job Titles and Salary range for SEO professionals
1. SEO Intern:
Perform keyword research: keyword lists and content/keyword mapping. * Prioritize SEO initiatives for the most impact.
to Perform site-level optimization: improving site structure, page construction, compelling SEO copywriting, updating metadata.
Salary Range: The average salary for SEO interns in India is between 10k-12k per month.
2. SEO Trainee:
The designation of the SEO trainee ranks for the lowest position in the hierarchical order of the SEO career profiles. The SEO trainee is generally a fresher in the sector, starting with the fundamentals. The trainee shall be under the supervision of  SEO executive. The roles of the SEO trainee can vary from organisation to organisation. However the main duties are not done by the SEO trainee. Brainstorming ideas and introduction of various SEO tools, Keyword research, Basic On-page and off-page SEO  are primarily the Goals
Salary Range: The average salary for SEO interns and SEO Trainees in India are more or less in the same range of 10k-15k per month.
3. SEO Executive:
The SEO executive is not a particularly influential position in the hierarchical order. In the absence of an SEO trainee, the SEO employee will be ranked as the lowest. The duties undertaken by the SEO executive can depend on the structure of the organisation in which they serve. The tasks listed which include doing process-centric SEO, carrying out individual SEO campaigns, maximising content analysis. Also, perform SEO on-page and off-page. Writing the title tag, description and meta description of the content to be put on the market in order to maximise traffic. SEO optimization is often identified as one of the Core activities of the SEO executive.
Salary Range: The average salary of a SEO executive ranges from 15K to 25k which depends upon the experience level.
4. SEO Account Manager:
-The SEO account manager's job description is solely to recommend and track the efficiency of different tasks carried out to improve the website's SEO. He discusses the final results obtained from the promotions in social media, Google campaigns and all SEO operations. All of these performance reviews help him to recommend the improvements that should be made to enhance the SEO. Its primary objective is to incorporate effective SEO strategies for active campaigns.
Salary Range: The average salary of a SEO Account manager ranges from 30K to 40k per month.
5. SEO Manager:
-The SEO manager stands ahead of lots of designations in a company. Thus, the manager is expected to examine the reports of all the campaigns running at a particular time. Guide the subordinates with in-depth knowledge of keywords and effective Ad campaigns, which an SEO manager is anticipated to be equipped with.
Salary Range: The average salary of a SEO manager ranges from 32K to 60k (variable) per month for experienced candidates.
6. SEO Team Lead:
They Work together with content marketing and blog factors to create high-quality content around important, appropriate terms.
Stay updated with the most recent tools, trends, and changes with SEO and major search engines.
They Take responsibility for a daily and weekly tracking of all non-paid channels while ensuring that the group is fulfilling the company's goals.
They can Handle keyword research and on-site SEO optimization.
They Own all of the SEO projects and tasks responsibilities.
Work together with programmers and SEO Executives to develop and keep improved technical elements of the websites.
Manage the SEO group and lead it to success.
Manage and improve organic online search engine performance and goal-setting based on click-through rates, traffic, and conversions.
Salary Range: The average salary of a SEO Team lead ranges from 35K to 45k per month.
6. Head of SEO's:
The Head of SEO's job role is to keep a check on the accomplishment of set goals. He is the one who sets the basis for the campaigns to be conducted, with objective and past shortcomings. After a proper assessment and analysis, he carries out his functions.The Head of the SEO Department looks after the overall performance of the SEO department on a macro level.
Salary Range: The Head of the SEO Department withdraws a salary of 80k -1.5 lakhs (minimum) per month.
7. Outreach Specialist:
These professional expertise in Driving a strategy for the acquisition of backlinks that positively impact  organic rankings. They reach out to blog authors and other online personalities via email, twitter, blog comments, Facebook and phone for acquiring high quality backlinks from websites having high DA, PA, TF and CF.
Salary Range: The average salary of a SEO Outreach specialist ranges from 30K to 40k per month.
8. Link Builder:
Link Builder portfolio is one who is qualified to build a website link profile. In the promotion process it is important not only to have a large number of backlinks, but also to monitor the quality of links, avoiding links from dubious and spammed websites that may lead to getting hit by penalty.
Some the link sources that they work on are Web 2.0, Google Stackling, Profile Links, Social links, Blog Commenting, Forum posting, Blog commenting, Broken links outreach, Reverse Engineering, Directory Submission, Article submission, Press Release, PBN Setup, Gov or Edu links.
These are the job profiles (designation) of the SEO hierarchy, however, it should be noted that the description and job title may differ from company to company.
SEO Jobs in the India:
If we do a market research for SEO Jobs in different recruitment portals, we find that there is a huge demand for SEO professionals in the market.
Let's look at some of the figures for recent months.
Naukri: It has around 17047 open SEO positions. For 0-3 yrs Experience there are 5120 jobs and for Salary range between 6-10 Lakhs there are 9318 vacancies.  Check link: https://bit.ly/3azlvDA
LinkedIn: The biggest professional network portal LinkedIn almost 12000+ SEO openings. Link: https://bit.ly/37wBGja
Shine: Shine too has around 4615 SEO jobs. Check Link : https://bit.ly/3aqBpQJ
Monster India : Monster India has almost 900 job openings in the month Dec 2020. Check link: https://bit.ly/2J8Bs8K
Read SEO Interview Questions and Answers to get prepaid for your SEO Interviews.
Conclusion:
SEO is the backbone of Search Engines and it is never going to Die. If you are someone who can keep oneself regularly updated about the Industry latest Updates and is ready to work in a problem solving environment then no doubt SEO is definitely for you.
Scope of SEO in 2023 – Top Career Opportunities
was last modified:
January 20th, 2023
by