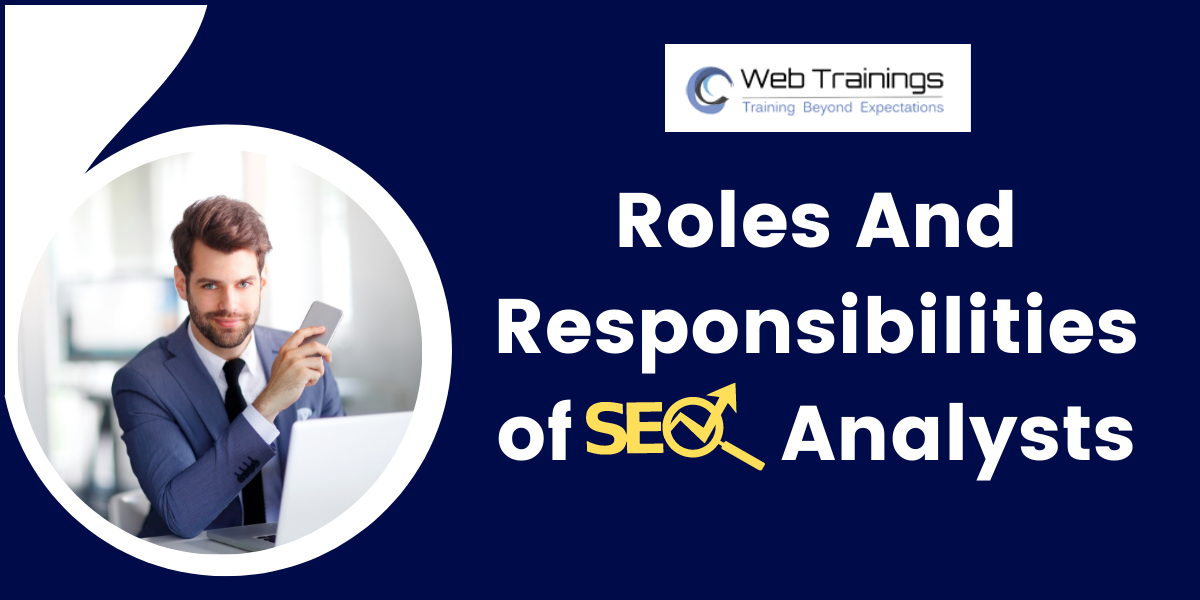 Alright! You've created a riveting website with a thought-provoking theme.
What next?
Do you want the website to languish in obscurity?
Websites are created for myriad reasons. Your idea deserves much-needed attention and clicks. Thereby, SEO Analyst is required to ensure the website is presentable on leading search engines. In addition, SEO Analysts would develop your website & webpage for indexing to improve its ranking.
Data is the new oil, and SEO Analyst understands its significance. Moreover, an Analyst is in a much better position to understand the data conundrum. With various analytical tools and the availability of infinite data, a capable Analyst can interpret and come up with different ideas to improve the website.
Before we delve into the roles and responsibilities of SEO Analysts, let us first understand SEO.
SEO is Search Engine Optimization. It is an all-encompassing methodology to increase traffic and improve the website's overall quality on search engines.
The abovementioned meaning of SEO and the task undertaken by an SEO specialist might sound technical. It is, in fact, more than technical because the complexity is intriguing. SEO is not merely a one-dimensional procedure. There is a lot to it. Every SEO Analyst is involved in small tasks vital for the overall digital marketing strategy. Every task that an SEO specialist performs requires skills from different fields. SEO specialists should be able to bring forth things from different fields. The approach ought to be eclectic.
Different Fields in SEO:
Web Design
Content Creation
Data Analysis
Information Technology
Statistics
Roles and Responsibilities of SEO Analyst
There are many vital functions that any SEO Analyst would be involved in. But, the Analyst should first develop a working strategy for on-page & off-page optimization.
Some of the responsibilities and roles of an Analyst are as follows:
Assisting Content Writers
SEO Specialists should work in tandem with content writers. This is a general pattern in every digital marketing agency. The two different parallel universes collide. The content writer's creative musings must collaborate with the technical nitty-gritty of SEO requirements. SEO Analysts should be able to plan the content in such a way that it should improve the rankings of the website.
Total Website Auditing
This is indeed a cerebral task where the Analyst would peek into factors impacting the website's ranking. Website Audit is a tedious task, and auditing every page is time-consuming. However, Seotime & Woorock tools have replaced manual auditing and saved time.
Link Building
It is a way to obtain links from another website to your website. Good backlinks are those links that are obtained from a high-quality website. Bad backlinks belong to low-quality websites. Google rewards and augments the rankings of good websites in search engines. Bad backlinks from spammy websites get penalized.
Keyword Research
SEO Analysts should delve deeper into trending keywords. Keywords are specific words typed in a search engine to extract web content. The effort focuses on finding the keyword relevant to the industry. Then, SEO Analyst would provide you with a resolution for specific problems.
It gives a clear picture of what people are searching
Search volume
Also, the way people want the information to be obtained
Google Analytics Reports
SEO Analysts should generate Google Analytics Reports. It provided a bird-eye view of the activities occurring on the website. It gives a clear picture of the user preferences and activities; also a proper understanding of the traffic flow. All this vital information helps to increase website rankings and improve strategies.
On-Page Optimization
To rank, a website requires proper SEO.SEO Analysts would consider all the important factors that impact the ranking, such as On-page Optimization, including Title Tag, Meta Description, Meta Keywords, and Heading Tag.
Competitor Analysis
This is one of the major tasks of an SEO Analyst. It requires plenty of brainstorming and research on the market competitor. The Analyst should keep a close eye on competitors and collect enough data. The purpose is to study the techniques used by other industries in website rankings.
Off-page Optimization
Off-Page Optimization is an important task done by SEO Analysts. It does improve the presence of the website on various forums. This activity is performed outside the website. It does have various advantages, such as improved visibility and better backlinks. Advertising on the website and blog marketing are different ways to bring traffic to the website. Other activities to drive traffic include forum marketing, social networking (Facebook, Twitter, Instagram), Article submission, social bookmarking, and local listing.
Skills Required for SEO Analyst
Sound Analytical skills
Good knowledge of Google Analytics
Well-informed on keyword research and various other management tools
Well-versed in various search engine optimization practices and ranking factors
Prior experience in digital marketing organization as an SEO Analyst
A degree in Marketing is always handy
Join Web Trainings Academy for a comprehensive understanding of Search Engine Optimization. Along with classroom training, there are labs available to practice and enhance your skills. Our practical approach would certainly help in the job market.
Roles and Responsibilities of an SEO Analyst
was last modified:
January 19th, 2023
by