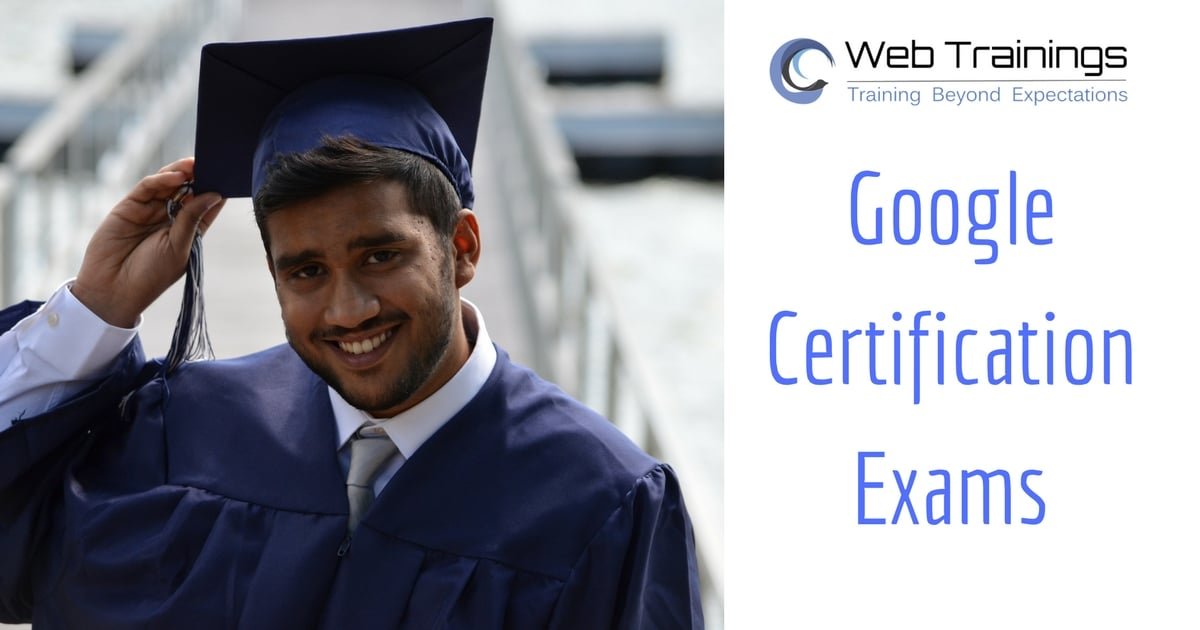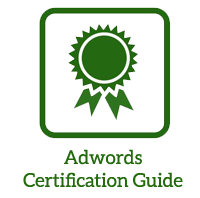 Updated: March 18 2018 
One of the common query most of the users have is How to Become a Google AdWords Certified Professional? What is the different between Google AdWords Certified & Google Partner ? In this blog post I will explain how to get Google AdWords certification and what is process to join the program.
Google Adwords Certification program is to test the skills of search marketer in Google AdWords. This certificate will be an added advantage to your profile, as many companies prefer candidates with in-depth knowledge of Google Adwords and certification.
Steps to Become Google AdWords Certified?

Step 1: Anyone with Practical understanding of Google AdWords and Who studied the AdWords guides provided by Google can easily pass the exam.
Join the Google Academy for Ads  – Click Here to Join.
Step 2: Once your Signup, you can login to see all the Google certifications exams and guides.
Step 3: Take the Fundamentals Exam as its mandatory.
Step 4:  Take any one of the exams from 5 certifications.
After completing 2 exams you will be awarded Google AdWords Individual Certification. Look at my certificate sample.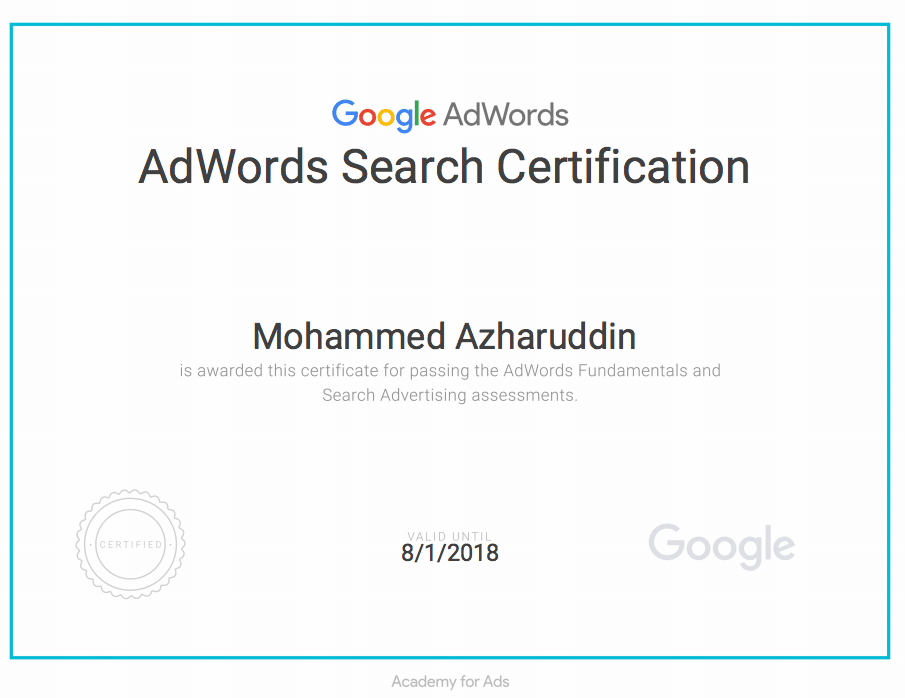 Google AdWords Certification Exams: 
As of March 2018 Google has 6 AdWords Certification Exams. Out of which you have to write the Fundamentals and any one of the specialisation to become a Google Certified Professional.
Additional Google Certification Exams:
Mobile Sites Certification

This certification exam covers basics and advanced concepts of best practices of creating and managing mobile friendly websites.
65 Questions
90 Minutes
80% Passing score

Digital Sales Certification

This certification consists of basics concepts of online sales and digital marketing. This test assesses the effectiveness of sales representatives to sell Google digital solutions to different businesses.
55 Questions
90 Minutes
80% passing score

Google Analytics Individual Qualification 

This certification show expertise in Google Analytics. This assess the effectiveness of using Google Analytics on basics to advanced level.
70 Questions
90 Minutes
80% Passing Score
Certification Exam Fee:
It is free to write the AdWords certification exam for any individual who joined the Google Partner Program. (In the initial days Google has charged $50 for each exam)
Validity of Certification
The validity of the certification is 1 year from date of passing exam. After expiry we need to retake the exam.
Google AdWords Study Guides
Each exam guide is available with the respective exam study section free of Cost!
Difficulty Level of Exams
As a certified professional, I can say the exams are an easy, if we have in-depth knowledge of practicals and theoretical knowledge provided in the Google Exam Guides. Basically the questions can be categorized as
Basic Definitions
Adwords terminology
Question related to interface
Scenario-based questions
Best practices questions
Account optimization questions
Attend a Free Google Ads Demo Session
Widget not in any sidebars
Call 9052425444 to learn Adwords with Certification or Visit our Adwords Training Page
How to Become Google AdWords Certified Professional – 2018 Updated
was last modified:
January 17th, 2020
by