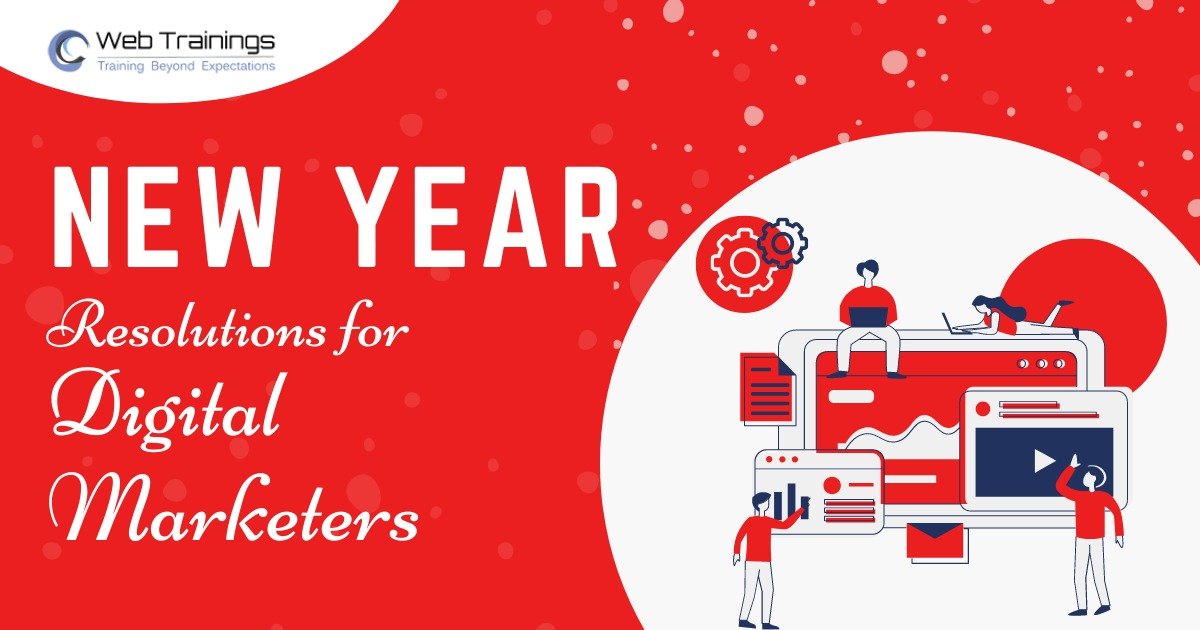 Web Trainings Academy wishes you a Happy New Year 2022.
Another precious year goes by and welcomes a more hopeful year ahead. This leaving year has been effective for digital marketers with many digital marketing strategies that have helped them in gaining massive success the whole year. As of every year, even last year we learned many lessons from various experiences of ours. This is what is much expected from every passing year. Similar to these, the listing of resolutions for the upcoming year has also been a habit for many. So is it to the digital marketers? After having a successful year, 2021 has taught digital marketers different strategies. Now, they need to be prepared for this upcoming year 2022.
Aiming high is most common in those who like to set up their own business. However, preparing for the foundation is necessary. In digital marketing, aiming high might be common, but achieving it gets tough if not done strategically. While strategies involve various sectors of planning, planning the resolutions for this upcoming year happens to be the crucial one. If you are in search of top resolutions in digital marketing for the year 2022, then don't worry we here have a list of them given below.
Top Digital Marketers New year's resolutions for 2022
Monitor the Accounts Daily 
Make a pledge to monitor all your client accounts daily. Make a daily habit of checking the account performance in following tools Google Search Console, Google Analytics, Google Ads, Social Media Accounts and other networks. By regular monitoring and updates, you can able to improve the advertising strategies.
Start with a Positive Attitude
Attitude matters in the way an individual looks at his life and its success journey. Being negative causes us to get distressed and lose our confidence in ourselves and our ability. Negative thoughts surface or mind when we feel weak or lost. However, if we are maintaining a positive attitude towards life, then we feel like everything is getting settled on its own. Similarly, to sustain in the digital marketing field, one needs to be having a positive attitude towards career and life.
Engage with Older Customers and Give Them Time
The customer retention should be as vital as getting a new client. Your marketing for the customer will show your dedication to preserve the meaningful bonds between you and your client base. Get connected with your clients on social networks with their permission and engage regularly with them.
Redesign Your Website
Ever heard, first impression matters? Of course, you might have. Equally, matters is the change of impression. This New year gives some space to redesigning your blog or website. Make it look new, this New year. You need not completely turn over your site. You just need to make it new, updated, attractive and more effective to gather more public. Doing such changes the way your visitors used to feel until the last year.
Consistent Posts and Updates
You need to do consistent and fresh content posting in websites and social media, as always keep in a plan that internet works day and night, all seven days of the week and whole 365 days of the year. So, for the digital media presence regularly generating fresh content is essential.
Expand the Reach
Being confined to a particular set of visitors isn't going to get you anything new this New year. You just need to engage with lot more of the public to keep them occupied at your site. Apart from this, engaging with more audience lets your name gets spread over their mouths gathering your number of visitors. This is why it happens to be new digital marketing. You just need to spare time to engage with new audiences along with the older ones.
Organize Your Data
This New year gets ready to organize your data well. Every new year, each of us organizes everything we own. Why not organize our digital marketing services too? Incorporate these techniques in our marketing field to gain access to all those things hidden somewhere difficult to find. You just need to keep track of your basic website information, note your page views, new users along with the source from where your traffic is coming from daily. This at first might seem like a challenge. As you go on to make a habit of it, it becomes a part of your daily routine. Rather than starting out organized, there is going to be no better way to kick off the new year.
Using Chatbots
This year start your site with the utilization of chatbots. Keep them busy at your site with their help. These chatbots reduce your work if answering your customer's queries regarding your company. They handle the basic information and settle the queries on time without any delay. By this, your customers can get answered when they need and not when you can.
Text Message Marketing
In these days, where the public feels that every text message that arrives is crucial, one can utilise these messages as a way of marketing. Just the application of strategies is much required in attaining benefits. Gathering information if the customers had become much easier these days. Visitors by themselves are keen to provide their contact information to get details regarding the services provided. By doing so, we gain access to a huge network where we can increase marketing.
Video Marketing
You may even utilise this feature, as video ads have proven to show a greater impact on the statistics in 2019 and have been expected to increase in the upcoming year too. If not started yet, you need to start utilising this way of marketing from this New year at least. Video marketing not only increases the reach of marketing but also increases the influence on viewers to get more visitors and customers. Even if views increase, you may get popularity in audiences.
Quality Blog Post For Website
Along with fresh content and good quality photo post on social media, your websites posting is equivalently important. Good quality content blog and pictures are very important. Pictures clicked by professional should be preferred, there is no harm in using high-resolution Smartphone keep lighting in mind and just crop out the unnecessary things before posting on the website or social media.
Enhance Risk
As long as you want to deal with business, taking a risk is a must. However, the extent to which you are ready to take risks decides the extent of your gains. So, this year think of increasing the risk you take while being wise enough to handle to loss if any. Profit might not be guaranteed. However, this too teaches a great lesson if the loss takes place. You can learn from it for future applications of strategies.
Don't Be Afraid to Try New Strategies
Keep on looking for new things, try new trending technology to stay updated as the user can make out from your post, is the organization up to date with the technology or not.
Video!! Is definitely going to rule 2019, if you haven't started using video to promote your brand, you need to start especially for social media. Video, pictures, short/long posts, whatever gets your audience hooked, do it now.
Follow the latest digital marketing updates
We regularly come across lots of updates in digital marketing. But we aren't really concerned regarding their effects on our business. The impact they show can only be analysed by taking them as a clear note for analysis. Just analyse the way, these updates can impact your success and alter it to gain success as much as you can. Only then, you might be able to stay ahead of other agencies in all aspects to gain more visitors.
Let's make this year the best year of your career.
Are you Interested in Starting your Career in Digital Marketing?
Web Trainings  Academy is the most preferred and leading institute of digital marketing in Hyderabad. With experience of digital marketing training for more than a decade we will serve with the entire latest update program. If due to any personal or professional reason you cannot attend the regular classroom program, we can help you with Online video Program for distant learning. It has been updated by our most experienced and renowned faculty of digital marketing.
Digital Marketers New Year's Resolutions 2022
was last modified:
March 30th, 2022
by