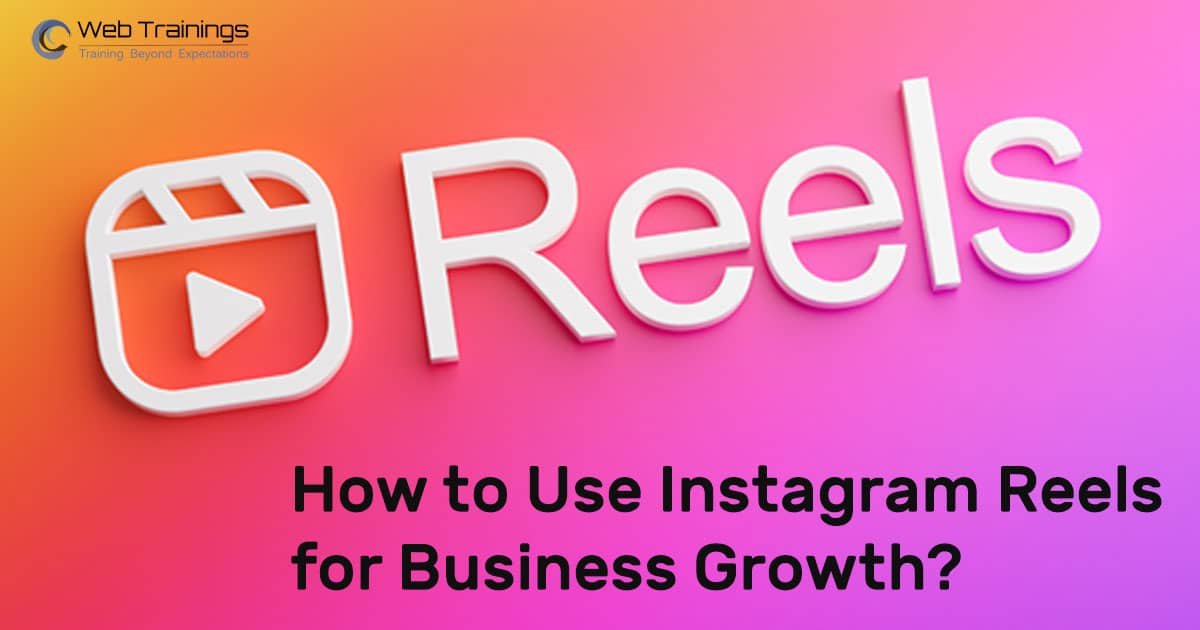 What are Instagram Reels?
Reels is a new feature for Instagram users to create up to 30- video clips with text, music, filters, stickers and share with your followers from your user profile. Earlier, Instagram was limited to pictures and text. This quick-to-create video format is similar to TikTok and is aimed at short-form video creation,  especially popular for Gen Z. Reels has gained the confidence of influencers and brands. Instagram Reels is an integral part of Social Media Marketing Strategy for many companies.
Benefits of using Instagram Reels?
Reach a huge audience on Instagram platform

Helps you become a content creator and reach out to new audiences globally

Helps you handle social media like a professional by allowing you to add music, filters and AR effects to your content

Gets your content on the Explore page and helps you engage more with your audience, increase your visibility and brand awareness and secure new leads to grow your business
How to Create a Reels Marketing Strategy
Research Competitors on Reels
Research what your competitors are doing on Reels and how they are using the feature. Understand what's working well for them. Check their 
Analyse how their followers are responding to and engaging with their content. This will give you insights into how to get started on Reels and what will work for you.
Identify the Trending Music
We know music is a great engagement tool and the trending music engages more. 
There are so many songs that you can use in a reel. 
Identify the trending music to add to your quality content you are creating to share on Reels.
People are recording quality clips with hit numbers, posting lip-syncing videos, tutorials, and entertaining and educational content.
Identify the Trending Format
Identify the trending content formats or types and analyze what would work best for you.  challenges, story-times, text-over video, jump cuts, lip-syncing, etc.
Challenges
Challenges are highly popular. They help you showcase your brand personality. many people like to watch challenges. 
Story-times are a simple form of video content involving the content creator sitting in front of the camera and just speaking. Story-times are popular too and your audience will love to hear more about you and your business and your brand.
Text-over video
You can place the text over video. In this content format, text is the most important element. You can also add instrumental music to bring in more context to the kind of emotion you want your audience to experience from your Reel.
Jump Cuts
Jump cuts are important and popular choices for intent content producers. They are a great format for small businesses. 
A jump cut is a video editing technique breaking a single continuous sequential shot of a subject into two parts, with the second shot jumping forward in time to show the 'before and after' related to using a product or service.
These are just a few content formats. You can explore various other formats that can work wonders for you.
Match your Business Content with Reels
You wouldn't want to create content for Reels just for the sake of it. You aim has to be to create and share effective content that will eventually help you grow your business. Analyze the business content you have created or any new business content you are planning to create and match it with Reels. 
Check how effectively you can create your content and that will complement your business, educate your users and take them through their journey from users to customers.
Prepare a Monthly Calendar
To benefit immensely from your Reels, you need to post your content consistently. You can define what "consistency" means for you and your business. Based on your resources and strategy, you can decide if you want to post every single day, or twice in a week. Decide what you want to do and commit fully to it. 
Create a content calendar for your Reels. It's the best way to plan and organize your forthcoming content. Identifying the trending content and finalizing on your content strategy will make it easier for you to create your calendar. Based on your strategy, time and diversify your content well to engage and educate your audience about your business. Show them how you will make their life easier with your products or services. Execute your calendar well and you are on way to success.
Free Tools to Edit Reels Videos
Editing Reels is quite limited and isn't always a smooth process. Fret not. You have tools to help you. Some of them are premium tools while some are free. Let's check the free tools. 
InShot
is a popular Reels editing app. 
With InShot, you can modify the video aspect ratio, trim your footage, join it up, accelerate clips, add music, filters, effects and more in a few simple steps. 
Though it's not among the most advanced video editing apps out there, it will do the trick for most users.
KineMaster
KineMaster is a great Instagram Reel editing app. It allows you to trim your footage frame-by-frame. You can create multiple layers of video, record voice-overs, import images and add music, text and effects. You can also edit and export 4k video projects at 60 fps. Though it's a free tool, all exported videos will a watermark. If you want the watermark to be gone, you can upgrade to a monthly ($4.99) or an annual subscription ($39.99). 
iMovie 
iMovie is a free editing app available exclusively on iOS.
It's a rich tool for videographers who lookout for a quick, easy way to edit footage and transitions, photos, text, and more. You can smoothly share your project to Instagram Reels through AirDrop. 
But, we have a catch here. The app doesn't allow you to edit the video footage vertically. You will have to rotate your video footage horizontally to edit it.
Conclusion
Reels is a great feature of Instagram that helps you grow your business by allowing you to create multi-clip videos up to 30 seconds with music, text, filters and effects. You can use Reels to create and authentic, educational content, showcase products, effectively engage with your audience, step up your visibility and brand awareness ultimately leading to the growth of your business.
How to Use Instagram Reels for Business Growth?
was last modified:
January 19th, 2023
by