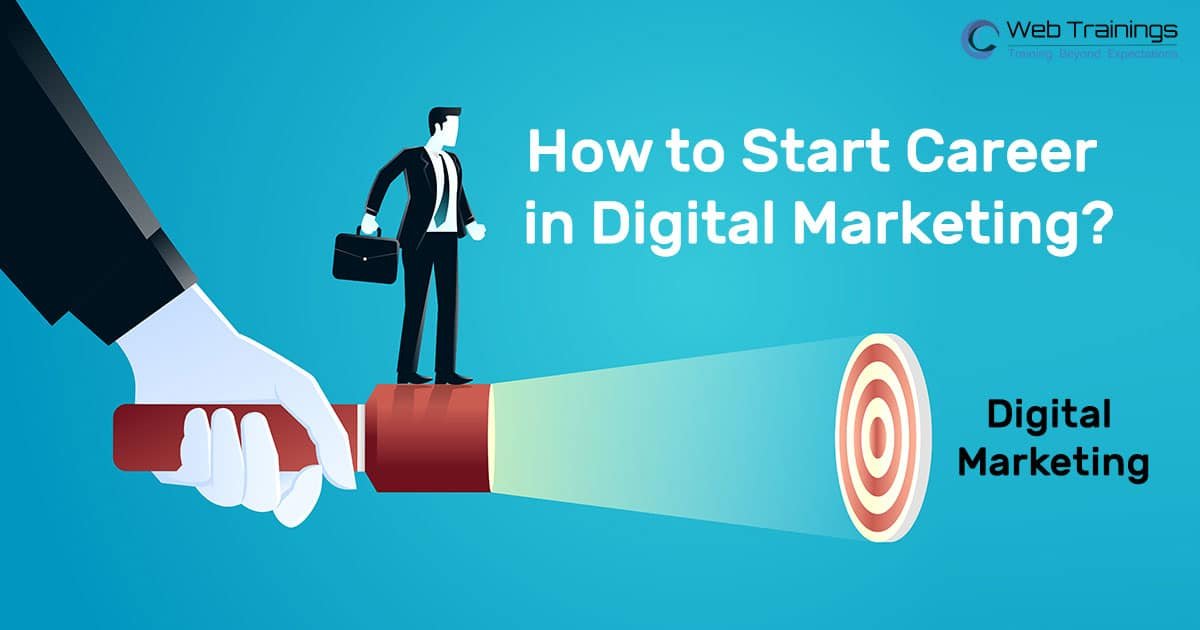 If you are planning to make a career in digital marketing, go for it! As per the government, digital marketing is rising ten times faster than traditional marketing; hence an opportunity for those who want to give wings to their career. You might have heard the hype that digital marketing is booming (rather bursting), and companies emphasise online promotion. Yes, it's true. A bigger budget, decent salary and more growth are some of the benefits of making a career in digital marketing. According to industry experts, the Indian Digital Ad Industry will be 1Billion dollars.
Are you confused about whether to take digital marketing entry or go for higher studies? It is good for you to look at the article before making any decision.
What is digital marketing?
At a high level, digital marketing refers to advertising delivered through digital channels such as search engines, websites, social media, email, and mobile apps. Digital marketing is a combination of strategy, content, technical and non-technical strategies. The primary goal of digital marketing is to generate traffic, generate leads, get sales and increase brand awareness. 
7 Trends FORBES Magazine Stats predicts for Digital Industry in 2023 and the future:
Digital business pivots may become permanent

Social media will become a top channel for purchase, instead of just discovery.

Informed buyers want to buy from informed brands.

Virtual events started out of necessity, but are here to stay because of ROI and accessibility.

Culling social media channels.

Live interactions with virtual events.

Using AR in digital engagement
Using these online media channels, digital marketing is the method by which companies endorse goods, services, and brands. Some of the core topics are:
01. SEO 
Search Engine Optimization (SEO) is a practice of getting targeted traffic to the website from the organic or Free techniques for search engine rankings.
For SEO professionals, the digital marketing career outlook is strong. Professionals are very much in need who understand:
1. Keyword research
2. On-page and Off-page SEO
3. Technical SEO
3. Content quality scoring
4. Competitive analysis
5. Mobile search
6. Website analytics
The average salary for an SEO Professionals: Rs 10,000 to Rs 60,000+ per month (based on experience)  
02. Social Media Marketing
Social media marketing is the use of social media platforms like Facebook, Instagram, Whatsapp, Twitter, LinkedIn, Pinterest, YouTube, and Snapchat :
1. Build your brand
2. Increase sales
3. Drive website traffic.
4. Publishing great content on your social media profiles
5. Listening to and engaging your followers
6. Analysing your results
7. Running social media ads.
The average salary for Social Media Marketer: Rs 15,000 to Rs 75,000+ per month (based on experience)  
03. Google Ads or Search Engine Marketing (Advertising)
Search Engine Marketing is often confused with Search Engine Optimization, but the main difference is that SEM includes paid tactics.
Google Ads is an online advertising platform developed by Google, where advertisers bid to display brief advertisements, service offerings, product listings, or videos to web users.
It can place ads both in the results of search engines like Google Search and on non-search websites, mobile apps, and videos. Many tools and platforms are used in research, bidding, and A/B testing to determine which variations are best. SEM managers must be highly analytical and data-driven.
The average salary for Google Ads Specialist : Rs 20,000 to Rs 75,000+ per month (based on experience)  
04. Content Writing
Content writing and copywriting may seem like the same digital marketing role at first glance, but you'll see that they have two separate jobs as you get started in digital marketing.
Content writers concentrate specifically on longer-form content that attracts and nurtures readers to the site throughout the sales cycle. They produce white papers and case studies, blog posts, and eBooks that educate and keep readers coming back for more.
The average salary for a Content Writer: Rs 10,000 to Rs 40,000+ per month (based on experience)  
05. Copywriting:
As you gain experience in digital marketing, you will realize how much writing is involved in the process. Copywriters produce a wide range of content, including tags, product descriptions, emails, ads, and more. They even produce non-digital content, such as direct mail and video scripts.
Copywriters need a strong background in writing, but beyond that, they need to be creative and curious. Their job is to get people to pay attention in a world full of distractions.
Average salary for Copywriter: Rs 25,000 to Rs 60,000+ per month (based on experience)  
06. Email Marketing:
Email marketing is when you send a commercial email message to those on your email list, who have given you express permission to send the messages.
Email marketing is used to inform, drive sales, and build a community around your brand (e.g. with a newsletter).
Modern email marketing has moved away from one-size-fits-all mass mailings and instead focuses on consent, segmentation, and personalisation.
The average salary for Email Marketing Manager: Rs 25,000 to Rs 50,000+ per month (based on experience)  
Education Background Required for Digital Marketing:
In short, while there is no general requirement for any job in digital marketing, or for enrolling or completing a quality digital marketing course. The only requirement is your eagerness and willingness to learn and implement practically so you will greatly increase your chances of getting a digital marketing job.
Is free training enough to get a job in the digital marketing field or else why does one need an experienced trainer or agency?
Digital Marketing is a vast area of study and research. You should certainly try to get into the best Digital marketing agency or academy that you can afford. These courses can be a little expensive around 15k-30k, but that's only because of the high quality of training and prospects they offer. You will get experienced trainers who can guide you in every step to succeed in the digital marketing journey. Apart from this, you get a lab where you can practice, and most important is the certification, internship, and initial job placement.
YouTube videos, Udemy, LinkedIn learning, SkillShare are great ways to learn but at some point or the other if you get lost in any concept it will be very tough to find a mentor who can guide you instantly otherwise you will be stuck. Yes once you did a paid course from a professional trainer these other mediums are great to have revisions and grasping new ideas. Professional trainers are aware of the latest trends and happenings in the industry and will guide you accordingly.
And once you enroll in a digital marketing course in hyderabad or a virtual online digital marketing course you get a dedicated mentor who is there for all your doubts and clearing the concept as you build a relationship with an experienced trainer. You can also do Free Google Digital Marketing Course for a better understanding of this field. 
Certifications needed for getting a job?
Once you enroll in the training you will start gaining concepts in each and every field. For proof of your expertise one needs to get under the following certifications:
Certification from a reputed Digital Marketing Academy

Google Ads Certifications

Hubspot Certifications

Semrush Certifications

Google digital garage digital marketing certification

Google Analytics Certification

Inbound Certification

Facebook Certification (Paid)

Youtube Certification

Content Writing and Content Marketing Certification
Although all these certifications are not mandatory you only need 3-4 areas where you need to excel but as a beginner, at entry-level if you clear these free certifications you will have the confidence to face any interview and you will get an added advantage too.
How to get a Practical Exposure in Digital Marketing?
Digital marketing is not only a theory subject so as you go along with the course you need to follow and do the practicals to get hands-on practice. The best way is to find a digital marketing academy with a lab facility where you can work after the classes with the support of a dedicated mentor. You need to implement test and try concepts unless it is of no use as it's practical-based work in every industry wherever you apply. 
One another way to get practical exposure is to work on your own website or blog. This is one of the best ways to understand every concept and apply the subject practically. You can also do various tests & experiments to make new discoveries. 
How to apply for jobs in the Digital Industry?
First of all, if you are enrolled in a training program you will do an internship or placements depending upon your skill. You should apply to all these interviews and be confident with your concepts to crack a job.
Rest there are job platforms like Naukri, Indeed, Monster, Shine, and freelance platforms where you can put your CV and update it regularly and apply, and most important is Networking in LinkedIn.
Also Checkout Digital Marketing Interview Questions and Answers 
Hope you are now well aware of the benefits of digital marketing. Digital marketing is a booming industry. Many companies are now migrating towards the digital platform, and yes, this profile will never become outdated.
How to Start Career in Digital Marketing [2023]
was last modified:
January 19th, 2023
by