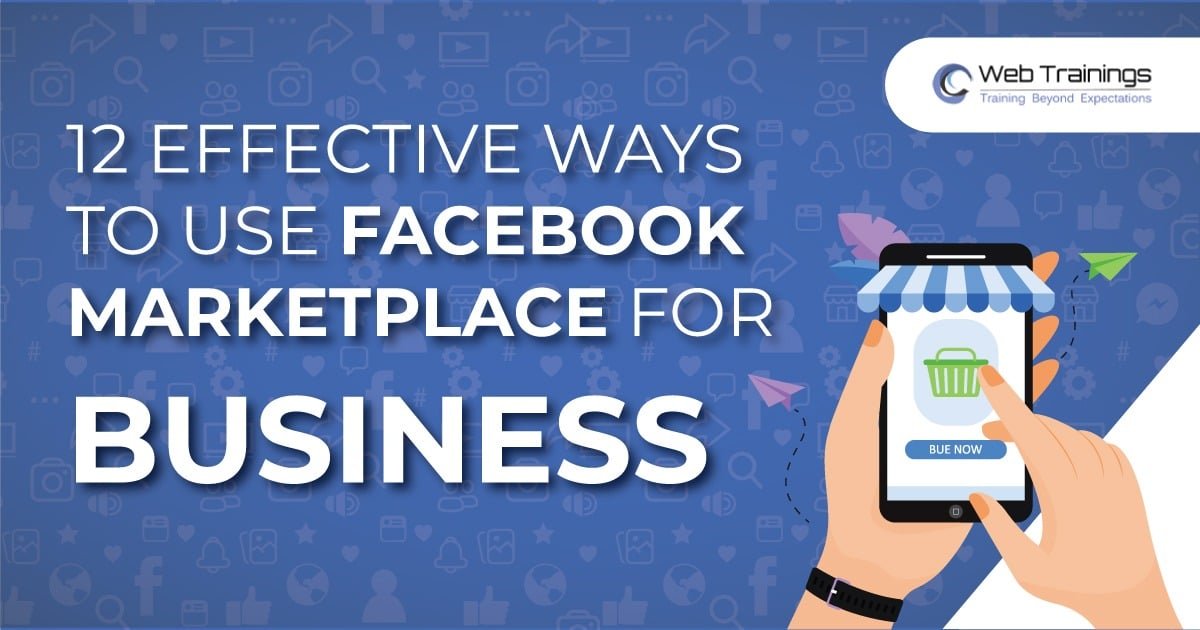 What is Facebook Marketplace for Business?
Facebook Marketplace for business is a place to find, sell, and buy items. There are few effective ways to use Facebook Marketplace for business to upscale your business's credibility, cognizance, visibility, and capital. This marketplace enables the business to offer its products, items to Facebook users. All interactions and purchases are done on Facebook Messenger, allowing companies to connect along with the buyers. 
Below are some effective ways to use Facebook Marketplace for business to generate quality leads and turn new customers into regular and loyal customers for your business.
12 Effective Ways To Use Facebook Marketplace for Your Business
1. Start listing your products for free
Unlike the majority of other platforms, In Facebook Marketplace for Business, one can create and manage listings for no additional cost.
Facebook Marketplace for Business Platform gives you a fast and free selling option, so you can immediately improve revenue. So you will have an extra budget to expand your reach with paid ads.
2. Increase brand name awareness
More than 1000 million individuals around the world use Facebook Marketplace monthly– and Market business will assist you immediately to reach and broaden your online audience. Increasing brand awareness is among the fastest and easiest ways to increase your sales. This is one of the most effective ways to use Facebook Marketplace for business in order to increase brand awareness.
As users are using and familiar with Facebook desktop or App version user interface, so it isn't tough for them to discover brands on Marketplace.
And individuals who see your product are further down the funnel than a number of the leads you are targeting through your ads; they are already looking at products to purchase.
To increase and boost the online presence of your products, you need to understand how categories work in Facebook Marketplace.
There are 11 top-level classifications, each of which is broken down into more specific subcategories.
All Marketplace
 Vehicles

 Rentals

 

 Home & Garden

 Electronics

 Hobbies

 Home Sales




 Classifieds




 Entertainment




 Clothing & Accessories




 Family




 Deals
If you position your products in the relevant categories that appeal to your target potential customers, they're more likely to find your items as they browse and make a purchase out of them.
Another way to increase the visibility of your items is to appear in the news feed. As more people follow your organization's profile on Facebook, the more your products will appear in one's news feeds.
An excellent location or way to do this is in the description of your item. The relevant ads you create will also appear on Facebook Marketplace.
Just make certain that you're choosing one of the following right goals:
     

Brand name awareness

     

Reach

     

Traffic

     

Video views

     

Lead generation

     

Messages

     

Conversions

     

Brochure sales

     

Store traffic
These steps will gradually lead to increased awareness of your brand and make it simpler for users to find your products on Facebook Marketplace.
Even if you don't post your Business directly to the Facebook Marketplace, you can still market your products on the Marketplace to reach more customers and make conversions out of it. Utilizing Facebook's Ads Manager Tool, you can run targeted ads to Facebook users to see when they shop on the Marketplace. Coupling your Marketplace for Business listings with paid ads will give exposure and assist more individuals to find and learn about your items.
3. Boost product sales
With Facebook Marketplace for Business, you can list items from your Facebook Page without any cost. Thus it will enable customers to buy directly on Facebook, without leaving the platform.
Selling on Facebook Marketplace for Business helps you to improve the conversion rate, so you can make more sales and profits.
If you want to sell more of your products, do link your Facebook Page shop with Marketplace for Business to boost your product sales.
4. Engage directly with consumers through Messenger
When you sell on Marketplace for Business, you can instantly respond to questions from interested buyers via Facebook Messenger.
Engaging with leads in real-time enables you to respond instantly to questions and provide the details they require to purchase before they lose interest. You can also show your customers shop and reviews to make potential buyers feel more positive in their purchase decisions.
5. Outsell competitors online
As Facebook Marketplace for Business is still in the evolving phase, selling on the platform will give you an early starter advantage.
Getting started with Facebook Marketplace for Business helps to diversify one's selling channels resulting in standing out online and outmatch competitors.
By using this platform to reach customers on social networks– and given that 1.82 billion people utilize Facebook every day, and 3.21 billion in total including Facebook-owned family subsidiaries like Instagram, Messenger, and WhatsApp active users daily. Thus you'll reach more Customers and Buyers than rivals who do not sell on the platform.
6. Track What Sells Best On Facebook
The products that sell well on your Shopify store might not be the items that sell out on Facebook Market. Take advantage of your Facebook ad spend by discovering which products are most popular on that platform.
If you wish to see what kind of items are offering well on the Market, Use classifications to see which items are best-sellers. These details can be utilized to create ads that include these types of products, or similar products, that you make sure Marketplace consumers want to buy. You're likewise able to track popular items by checking out different business pages. Whenever you access a store, the top-performing products are constantly listed.
The Store area of the Marketplace will also supply customized suggestions based upon user preferences. With a bit of a research study, you can quickly discover what kinds of items are popular. This information likewise assists you to create effective advertisements. In your promotions functions, by targeting the products that Facebook purchasers frequently purchase, and your ads will likely result in sales.

7. Optimize your spending plan
Considering that there's no cost to list and no cut on commissions, Marketplace listings are a budget-friendly way to promote product sales.
8. Deal daily deals and promotions
Facebook has been experimenting with a Daily Offers feature for more than a year, and it's most likely to stay a crucial piece of the Marketplace channel.
Placement in the deals category leads to faster sales for Daily Deals compared with similar offers sold elsewhere. Thus it results in a higher conversion rate when shoppers used Facebook Checkout as opposed to completing the payment on its website.
9. Launch a brand-new product
Your main goal in marketplace goals is to acquire pre-orders or early registration, Marketplace is a good place to determine early consideration. If you're thinking about releasing a brand-new item or simply want to evaluate out an idea, Facebook Marketplace is a fast and lean way to do so.
Because Facebook does the targeting for you, you get to evaluate whether or not a product and services resonate with your core audience. All you need to do is develop a listing, and you are ready to start. There's no cost included whatsoever. Producing a shop through Marketplace makes it much easier to promote these products also.
You can share originality or a new item and utilize the description to let consumers understand you're trying something new. Beyond evaluating new items, you can likewise explore pricing on the Marketplace to see how your audience responds to discount rates and price boosts. You can opt for A/B testing which products and descriptions work best.
Think about using unique access to a product or discount through Facebook Marketplace. This move provides leads and clients the sensation that you're using them something special and builds their loyalty to your brand name.
10. Take advantage of Facebook's Customization
Together with promoting popular products, use ads to target people who have bought from your store or follow your page.
These individuals have already expressed an interest in your organization, so they're most likely to buy from you once again. One way to do this is by producing a lookalike audience or interest-targeted audience to target Market advertisements.
11. Using Chabot's in Marketplace
Chabot's are another method to connect with users who are interested in your business. You can immediately follow up with anybody who reaches out on Messenger, either before or after they have purchased.
It is essential to always keep the discussion going to ensure leads aren't going cold with time.
While you're communicating with these customers, Facebook Marketplace likewise helps you see what various kinds of items sell well on the platform; you can utilize these details to produce new deals or products of your own.
12. You get mobile-friendly listings
With Facebook Marketplace, you get mobile-friendly listings. As Google is preferring first the Mobile index version, so do Facebook Marketplace for business gives Mobile-friendly listings as a matter, since 98% of Facebook users use their mobile phones to access Facebook
When you post a listing on Facebook Marketplace, it's currently adapted for mobile devices. So, you don't need to stress over adjusting your listing to look appealing and showcase products to users.
Above are few effective ways to use Facebook Marketplace for business that you can start implementing right away to grow your business. So, which one of the above ways would you like to try first for your business?
If you are someone looking to learn about Facebook Marketing and Advertising, you have come to the right place. We offer an extensive and insightful Social Media Marketing Course where we teach how to use social media to create brand awareness, find potential customers and generate quality leads. We offer Twitter, Instagram, Pinterest, YouTube, and LinkedIn Marketing. Our course emphasises the right strategies to leverage various social media sites for your business.
We also offer other courses such as advanced Digital Marketing Course and Paid Advertising which will help you master the right digital marketing strategies.
12 Effective Ways To Use Facebook Marketplace for Business
was last modified:
January 19th, 2023
by