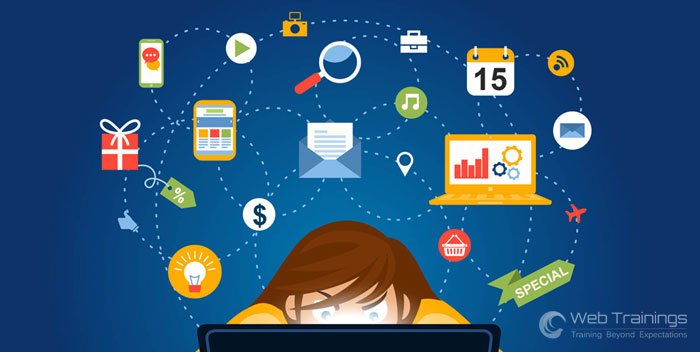 Digital Marketing has been a buzzword in the marketing industry. Every large, medium and small businesses are utilizing the various channels of digital marketing to reach the target audience. One of the major challenges faced by business owners and marketers is to use a right marketing strategy for a specific medium. Paid marketing is one the effective strategy for business growth.
Digital marketing strategies can be broadly categorized into non-paid and paid marketing techniques. In non-paid marketing we focus on search engine optimization (seo), social media, inbound marketing etc. Some of the major drawbacks of non-paid marketing is high competition, unpredictive update and time for ranking. In contrary, paid marketing can generate good traffic and conversions on a consistence basis.
Paid Marketing Goals
Direct Marketing: We use this strategy to generate leads and conversions for the business. In this strategy we use Pay per click, mobile marketing, shopping ads.
Branding: In this strategy the advertiser goal is to spread the awareness about brand or product. In this strategy we use Google Display ads, video marketing, mobile marketing.
Re-marketing: In this method we target advertising to those users who have already visited our website/app/Youtube channel. We can create a unique targeted ads to convert these users.
Paid Marketing Strategies
Direct Marketing Campaigns
Pay Per Click Marketing: PPC marketing can be considered as the best strategy for generating targeted visitors to your site and convert those users into leads. A business owner can show ads to the users who are searching for a specific topic or product and need to pay only when the potential user click on the ad.  We can also use PPC strategy to display ads on Google display network and generate visitors from other sites.
A business owner can use this strategy to target potential customers and generate leads for business growth. On downside of this marketing is in some industries the competition will be extremely high and may need to pay very high cost per click (cpc). To get started you can use Google AdWords or Bing Ads
Example: For the keyword "Packers and Movers" you can see the various PPC ads on Google Search.
Shopping Ads: This marketing strategy can be used by E-commerce websites to display product ads when user is searching for products. In this strategy the advertiser will be charged whenever a click is generated on the ad.
Example: When a user search for keyword "buy iphone" the following results are shown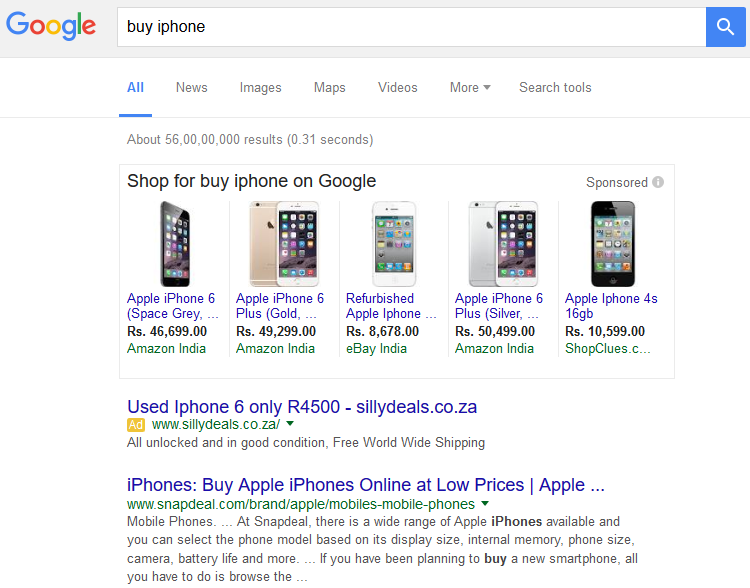 Mobile App Advertising:  This marketing strategy is used to target only the mobile and tab users. You can use this strategy to promote your mobile app and encourage users to install or use your app.
Example: When a user search for "online recharge freecharge" from mobile device, following result is shown.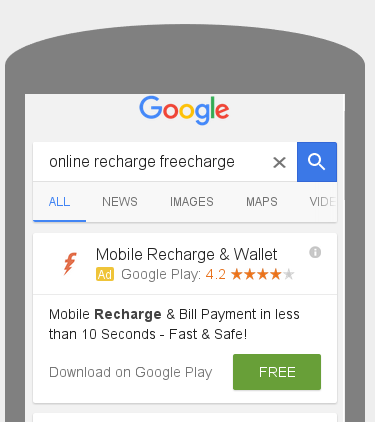 Branding Campaigns
Display Advertising: In this marketing strategy advertiser can able to display ads on Google display network (Gmail, YouTube, Blogger, Maps and other Google Partners). You can able to generate a good reach and branding by display your ads on many popular websites. You can choose to pay for every click or impressions.
Example: If a user visit a website Quikr for checking mobiles the following ad is shown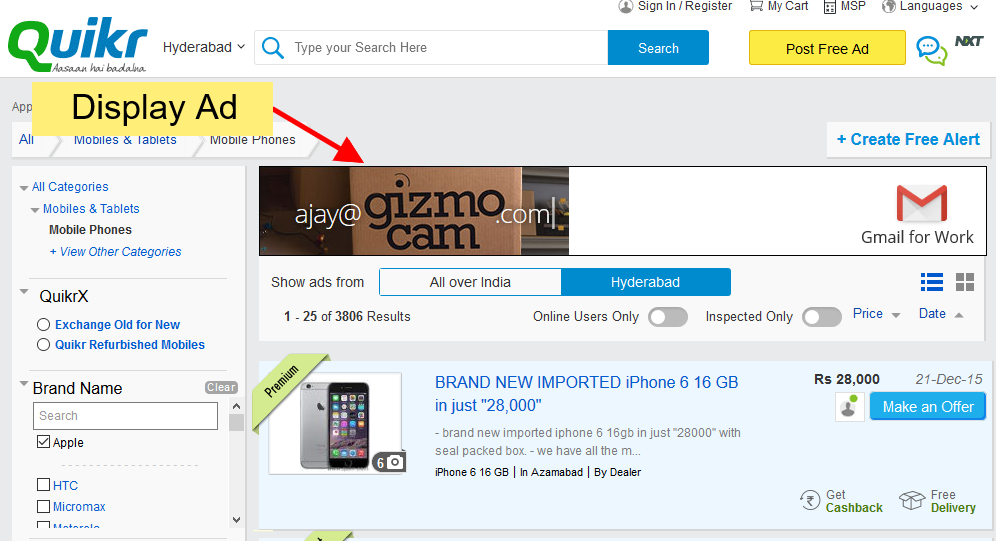 Video Marketing: In this marketing campaign you can able to target ads on specific channels and videos in YouTube. In this campaign you will be charged CPV (cost per view).
Example: When as user  was watching a video the following ad was displayed.

Re marketing Campaign
In this marketing campaign you can able to target only those users who have visited your website/app/YouTube Channel. One of the major benefit of this campaign is precise targeting and low cost of advertising. Every advertiser must use this strategy to reach those users who have visited the website but left site with being converted.
Example: While research about this mobile phones, I visited Quikr mobiles section. Now you can see how Quikr ads are following me on different websites.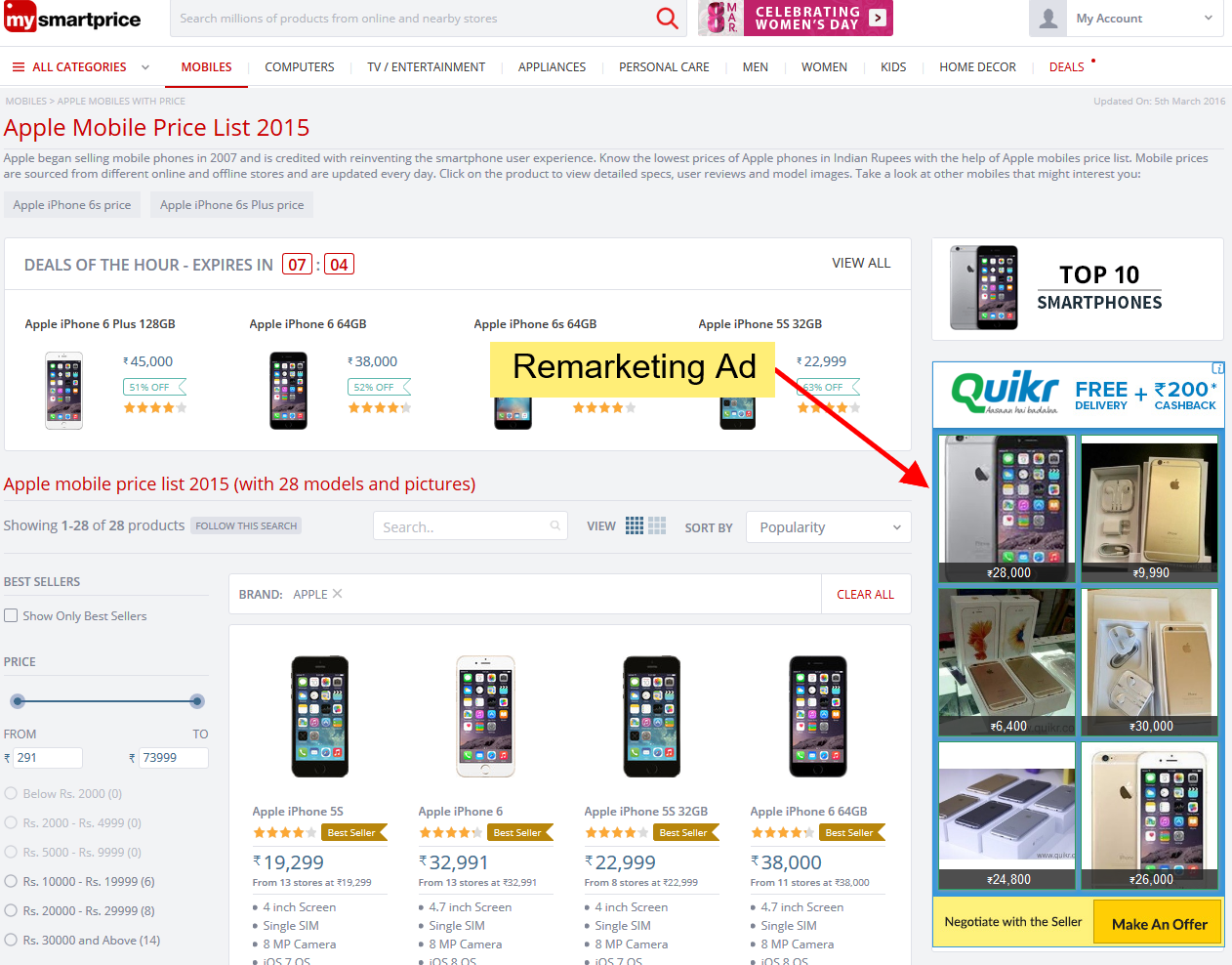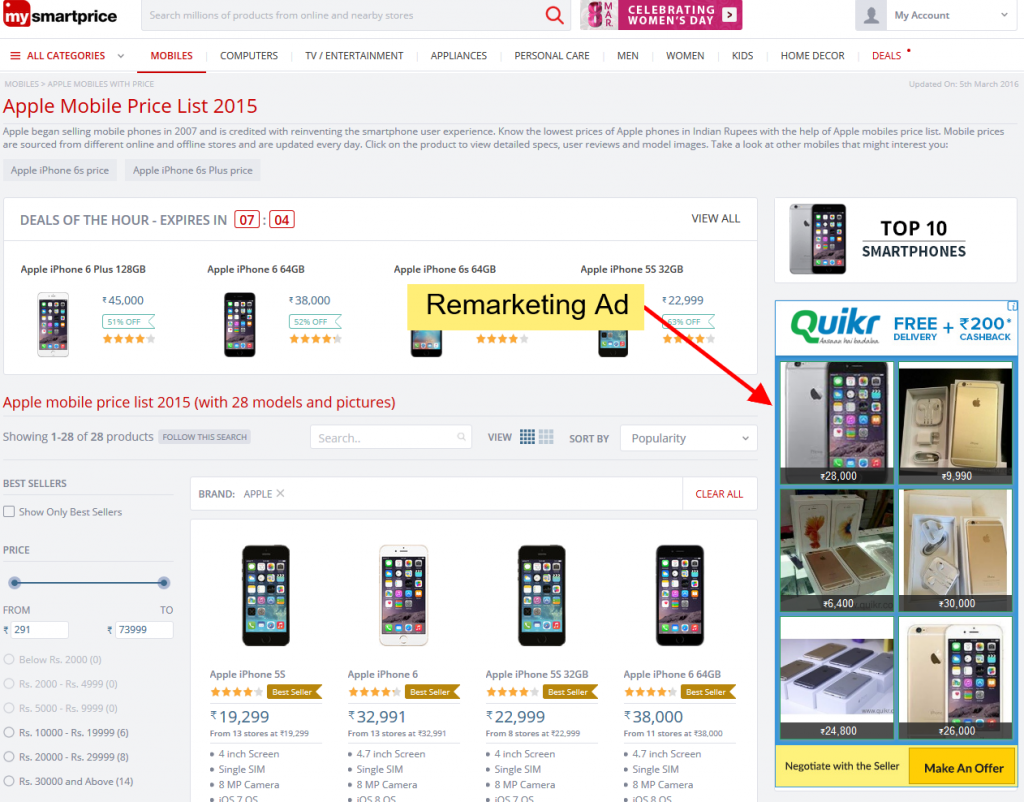 Conclusion: Advertiser must use all the marketing strategies depending on the business goals. Distribution of marketing budget in all the available campaigns and monitoring the campaigns performance is key to success. In case a particular campaign is not performing well, then must use an alternative method to improve the campaign. If the paid marketing strategies are used in a planned and effective manner will help in business growth and expansion.
Paid (PPC) Marketing Strategies for Small Business Owners
was last modified:
January 19th, 2023
by