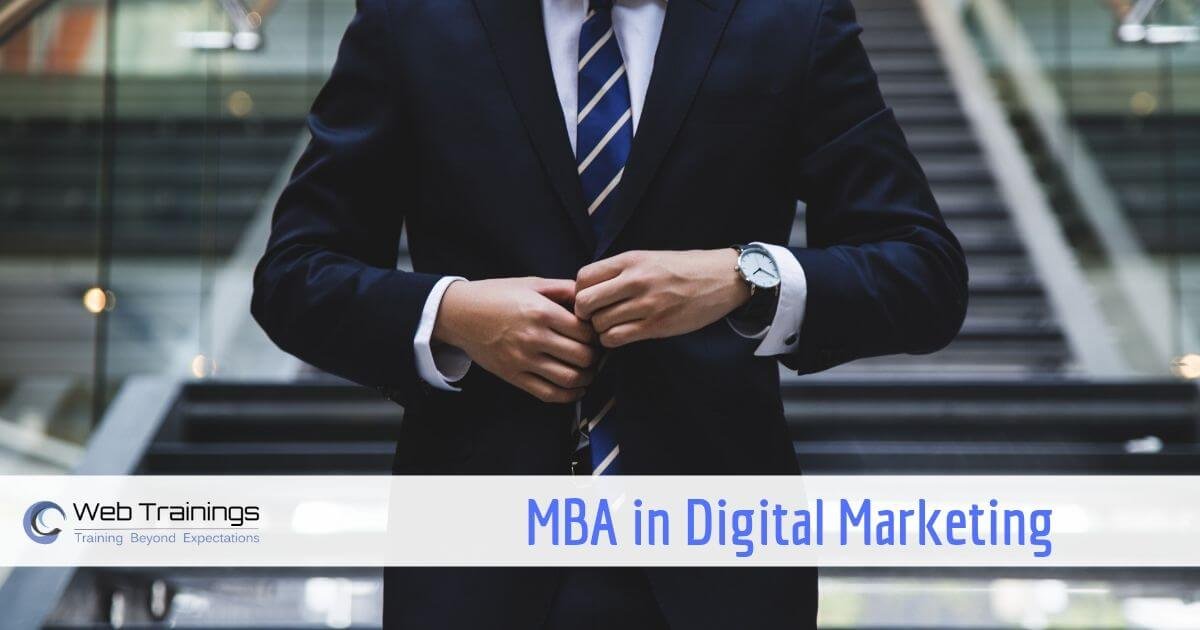 MBA/PGDM in Digital Marketing
In today's digital world its highly impossible for brands to survive with traditional marketing only. As digital audience is growing rapidly, creating more demand for MBA Professionals with digital marketing specialization.
MBA with Digital Marketing specialization is an amazing opportunity to combine technology-based specialities with an MBA program. There are a number of specific skills that are included in an MBA program with digital marketing which you will learn in this blog article.
What is an MBA/PGDM with Digital marketing specialization?
An MBA or PGDM course with a digital marketing specialization basically provides its students with the technical training needed to perform marketing on a digital platform and use technical tools to successfully market goods and services for their clients.
This course also trains you to plan, implement and target specific digital marketing strategies that are best suited for your particular client or product. MBA or PGDM with Digital Marketing Specialization is a course that has a duration of one – two years at the end of which you will certainly have amazing prospects and opportunities to work with.
Syllabus of the MBA Program
An MBA program in Digital Marketing consists of various courses which are created after considering inputs from various industry experts to groom students. Some of the most important course topics that you may need to study under MBA or PGDM with Digital Marketing specialization are as follows:
Marketing management
Financial management and financial statement analysis
Decision science
Life Skills Lab
Operation Management
Business Systems and Procedures
Geopolitics and the world economy
Market Research techniques
Interactive Marketing
Business planning and B2B (Business to Business) marketing
Digital advertising
Social media marketing
Internet marketing strategies and techniques
Behaviour analysis of potential clients
Web analytics.
Job Opportunities for MBA Professionals
Digital Marketing is an essential job profile in any marketing and advertising team of any company. In Today's world where internet penetration is off the charts and the majority of the population spends their time online on various platforms, it has become absolutely crucial for companies to hire more and more people who have experience with digital marketing.
Digital marketing is a vast industry with many subjects. We have following Job Titles for MBA with Digital Marketing.
Search Engine Optimization specialist
Digital Marketing specialist
Google Ads Specialist
Online Content Developer and Content Manager.
Social Media Marketer
Business Analytics Specialist
Mobile Marketing Specialist
Brand Management
Search Expert
Email Marketer
Advertising Manager
Digital business manager
Supply chain manager
B2B or business to business marketing specialist
Digital Marketing specialist 
Other than this you can also open your own business or consultancy where you will find the skills that you obtained during your course extremely useful for a better understanding of the ever-changing marketing and the trends that are popular with your target demographic.
Salary information for Digital Marketers
| | |
| --- | --- |
| Experience | Salary |
| Freshers | 20K to 25K per month |
| 6 Months | 1.5 to 4 LPA |
| 1 to 3 Years | 3 to 7 LPA |
| 3-5 Years | 10 to 15 LPA |
| 5+ Years | 15+ LPA |
For a fresher you can expect something in the range of 20k – 25k per month but if you have experience and good practical knowledge then you can expect around 30k – 35k per month. When you shall join as an executive with about 0-1 years of experience, then your pay package shall be around 1.5 – 4 LPA (Lakhs per Annum) and this data has been collected from 30,000+ participants of the digital marketing survey.
With experience and the designation of a Specialist which demands a job experience of 1-3 years generally and has a pay package of 3 – 7 LPA. Then the role of Team Lead and the Strategic Analyst with 3 – 5 years of experience and up to 10 to 15 LPA. Then Digital Marketing Head is a post which demands a minimum of 5 years of experience and offers a high pay package of up to 30 LPA and in some cases even more than that.
Colleges which offer MBA/PGDM in India
Some well-known colleges which offer MBA/PGDM with Digital Marketing in India are as follows:
ISTTM,  Hyderabad, Telangana
RVS Institute of Management, Sulur, Tamil Nadu
Suryadatta Institute of Business Management, Pune
Xavier Institute of Management and Research, Mumbai
RIMT University, Punjab
JK Lakshmipat University, Jaipur, Rajasthan
Integral University, Lucknow, Uttar Pradesh
Centurion University of Technology, Bhubaneswar
Dr. D. Y. Patil Institute of Master Business Administration
RNB Global University
SGT University
Thus, we can see that MBA in Digital marketing has a good scope and is one of the booming industries of digital India where every business is fighting for their online presence and to make a name for themselves. Everyone can own a website but to make it successful and to promote their business well you need to study Digital Marketing
MBA in Digital Marketing in India
was last modified:
January 19th, 2023
by