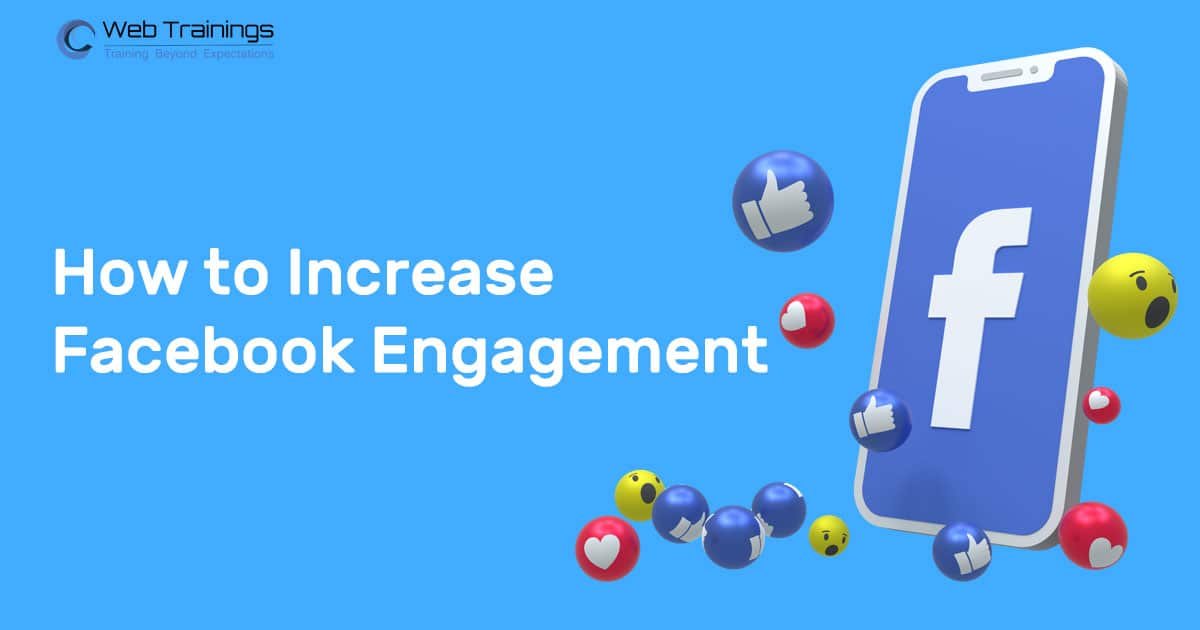 One of the biggest challenges for Facebook Page managers is increasing the organic reach of the posts. Presently the organic reach of posts is at just 0.5% of the total followers. Which is extremely poor and doesn't provide any value to the business. So it's necessary to use the following Facebook Tips to improve Facebook engagement. When the engagement on the posts increases, this will help in increase in organic reach and conversions. In this article, we are sharing 25+ Tips to improve Facebook engagement and increase organic reach on the page. In our social media marketing course we teach advanced social media strategies.
Top 25 Facebook Engagement Tips
One of the simplest and effective methods to begin engaging with fans is to ask them a question and expect an answer. Create Different Types of Questions that users can relate to and gain individuals' interests and requirements.
Examples of Some questions to ask:

Specific: What's your favorite?

Tips: How do you?

Experiences: What's your favorite moment from experience/memory?

Edgy: Do you believe it? (Controversial question).

Direct: Why do you?

Events: Who is going / who went to?

Timely: Today is …, so what are you?
Tip #2: Ask the Audience to Choose on Facebook
A fun method to get your fans to engage with your post is to ask a "this or that" post. Ask individuals to pick a side, preferred, or choose between two things. An added advantage it creates a division among your fans, which can stimulate a dialogue in the comments.
Tip #3: Posts when Most Audience are Online 
Individuals use Facebook at various times of the day. Some individuals are on Facebook the whole day, while others may only check it in the morning, evening, or in their free time. Facebook Insights will reveal you the peak times for fan engagement. A tactic is to post when your audience is most active. 

Tip #4: Share Appropriate and Unique Images
An image can say a lot more than a text post. Visually appealing images have been shown to improve engagement, specifically when they tell a story or get in touch with the audience on a personal or emotional level. The Images should be appropriate, relevant, and of high quality.
Tip #5: Engage With Other Brands
Utilize all the social platforms, post to other pages, and engage with brands and share it with the audience to build relationships, and engage with people. For example you can see brands like Netflix, Tinder, Parle G etc engage with each other on regular basis. 

Tip #6: Crowd-Source Feedback
Individuals love giving feedback. When you request to give feedback properly, your audience will have a sense of engagement and be quick to react. The added advantage is you can discover chances to improve your business and delight your clients and customers.
Tip #7: Include a Call to Action and Ask
The primary rule for any sort of marketing is that if you want your audience to do something, you need to tell them to do it. Use a Call to Action in every post, whether it's to comment, share a post, decide, and opt-in for some products, webinars, or any other action. Always utilize a Call to Action to derive the preferred action from fans. Constantly ask your audience what you want them to do a post to improve your engagement.
Tip #8: Try to Boost Your Best Performing Posts
Whether you have a blog post or website content that has acquired a significant amount of Traffic, Reach, post it to your Facebook page and Boost that particular post on Facebook and target the people who like your page to trigger engagement in the form of likes, shares, or comment. The more people engage with your post, the greater will be the organic reach to all platforms.
Tip #9: Share Your Niche Market News and Hot Trending Topics
Sharing News, Articles, and Trending Topics from your industry will show your fans that you're not focused solely on promoting your product; you desire to keep them notified about what is going on in the Market. Ask individuals to contribute their thoughts and share the post.

Tip #10: Adjust Your Post Frequency
Facebook engagement depends on post frequency. Publishing insufficient (say a couple of times a week) won't assist you to establish importance with Facebook's algorithm and you will be missing the audience's Engagement.
On the other hand, posting too often can harm your page too.

Facebook tries to show users the most interesting and appropriate content from everybody they follow regularly.
To find your post in the best engaging spot, try posting daily a few times each day at the times your fans are more than likely to engage in terms of likes, shares, or comments.
Tip #11: Try to make People a Laugh, feel Happy and Motivated
All of us enjoy a great laugh in our news feed. Don't overthink it; simply do something to offer your fans a chuckle. Keep their interests in mind and ensure the humor relates to your audience.
Tip #12: Respond to Every User or Audience
If you get any form of Comments whether it's likable or unsatisfied, respond politely, respond to them and solve their query. So this will help to have greater Positive Engagement. Constant reactions make fans feel valued and they'll be more likely to engage with future posts from your page.
Tip #13: Solicit Your Fan Material
Motivate and engage your fans to share images on a provided topic or images of your products. This is a fun method to spark engagement and dialogue with fans. To go one action even more, run a contest or offer a gift to encourage more shares and submissions.


Tip #14: Try sharing Content from Other Platforms
Always look for any content types, videos, images, gifs, articles on other platforms (YouTube, Twitter, Instagram, Pinterest, and so on) and share the very best with your Facebook audience.
This is one of the best ways to fill the gaps in your weekly posting schedule if you come up short on content strategies.

Tip #15: Facebook Live Video
Facebook Live videos make it simple to stream live video direct to your audience, anytime you like. This method takes an advantage of more user engagement. Fans like a live video as they enjoy seeing to know what is going behind the scene.
Show your clients or fans a peek into how your business operates, disclose the organization's personality, unity, and work culture, to make a human connection.
Tip #16: Make a Psychological Connection
Always try to release a post that attracts your audience on an emotional level. Share content and tell stories that attract people's interests, feelings, worries, and even their dislikes. Brand loyalty doesn't originate from products; it comes from a consumer's smile and joy by experiencing shared belief sentiments and thoughts for finding a solution that works for them.
Tip #17: Provide Worth Value to your Audiences
Anytime you share or post material to your page, ask yourself what kind of value you're providing to your fans. Make them laugh, giggle, teach them how to do something, motivate, inspire them to take action, and try to add value to their life. It assists to develop trust and engagement with your clients.
Tip #18: Use Trending Topics
Keep a content calendar to record all the occasions and trends, to grab the attention of your audience. Use appropriate trending hashtags into a post to help improve organic (unpaid) visibility in search. Create different creative ways to find different patterns for a chance to grab the engagement.
If you're operating a local business, keep up with city, county, and state event calendars and watch for local festivals, occasion, trends that could be utilised in the way of engagement.


Tip #19: Recycle Your High-value Posts
Take a look at your Facebook archives posts from the previous years and determine posts that created a significant amount of engagement. Post that material once again, however, modify it so that it creates a fresh brand-new engagement spike.
Tip #20: Upload Native Video
Facebook's native video allows you to submit videos straight to your page, much like pictures, and the Facebook algorithm favors that and will result in high engagement. Native video is bound to get more engagement and views, likes, shares, remarks, and reach.
Tip #21: Celebrate Holidays and Festivals
Constantly keep a note on severe awareness dates and conventional holidays, so you'll never run out of ideas for your Facebook content schedule. If it's a more whimsical event, try to have a little fun with it with your creativity.


Tip #22: Share Valuable Curated Content
Your audience understands when you're promoting your business, and if you do it excessively, they'll start losing interest. To mix it up, Utilize sources for hand-curated high-value relevant content for specific audiences that are relevant to audience interests and provide a helpful resource.

Tip #23: Post a Quiz or Poll
Try doing surveys that can generate more serious engagement, like a quiz or poll, to drive serious user engagement. Focus on existing developments and changes in your market or niche that are appropriate to your audience. Produce personalized, engaging resources that you can publish and share.

Tip #24: Use Hashtag Properly
According to BuzzSumo, it analyzed over 1 billion Facebook posts and said posts without hashtags get more engagement than posts having hashtags.
While you must utilize hashtags for trending news topics to increase visibility, use hashtags moderately (or not at all) in all of your other types of posts. Don't make the mistake of using numerous hashtags in the hope for your content to go viral.

Tip #25: Use Audience Targeting for Organic Posts
One other way is to turn on Audience Optimization for Posts. You can target a customised audience for your Facebook posts similar to how you target a particular audience with your Facebook ads. Audience segmentation preformation will limit your Audience Reach, however, the benefit is your Content is most likely to be seen only by the people you want as you segmented it. It establishes a custom-made audience for your organic posts. This Optimization puts your posts in front of the perfect audience.
Tip #26: Host Contests and Giveaways
Very few kinds of posts can attract mass attention as a giveaway. The Giveaway depends on higher worth, user benefit, relevance, that solves their query so it will have greater engagement and the potential reach.
Conclusion: Try the multiple types of posts styles and strategies as mentioned in article. Any queries or suggestion, please leave a comment.
25 Tips to Improve Facebook Engagement
was last modified:
January 19th, 2023
by