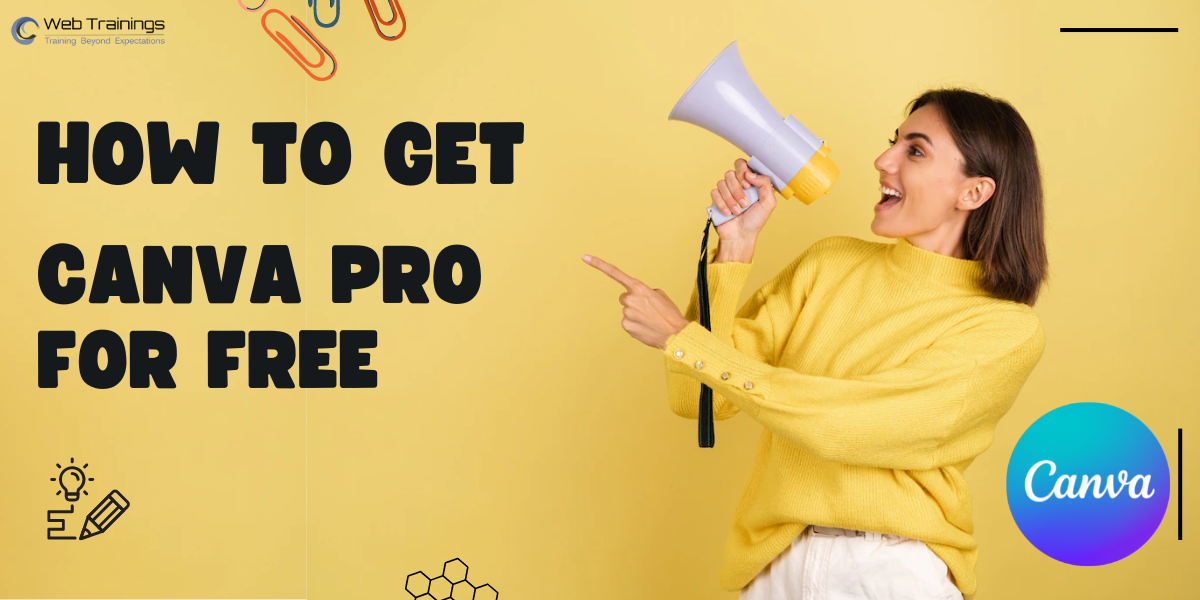 Are you confused about the differences between Canva and Canva Pro? Are you wondering if you should upgrade from the free version to the Pro version and How to get canva pro for free? Let's start by discussing what Canva is. Canva is an online platform and mobile app that allows users to create visuals like brochures, banners, infographics, and more. Canva is free to use but has a number of upgrade options to choose from.
Canva Pro is the paid version of Canva that has some additional features. It offers access to more design elements and templates as well as other extras like resizing, custom fonts, and design automation. It's aimed at more experienced users who need to create visuals more quickly and efficiently. It also includes a collaborative feature that allows users to work on a project together.
The main difference between Canva and Canva Pro is the scope of features available. While Canva is a great platform for users of all levels to start creating visuals, it doesn't offer the same level of advanced features as Canva Pro. Generally speaking, Canva Pro is designed for professional users who need to create professional-level visuals faster and more efficiently.
In addition, the differences in plans and pricing between Canva and Canva Pro should be taken into account when making a choice. Canva Pro costs Rs 499/-INR per month or a discounted annual rate of Rs 3999/- INR for 1 person.
Whether you should upgrade from the free version to the Pro version really depends on your needs as a user. However, if you're looking for more features or want to collaborate with other users, then Canva Pro might be the better option for you.
Including 100+ million premium stock photos, videos, audio, and graphics. With so many options at your disposal, you can finally create highly striking visuals that communicate your message with ease. All assets come from top-tier professional sources to ensure a premium result every time you create.
Benefits of Canva pro.
Unlimited Features, Folders, and Premium Content Canva Pro's powerful features give you the freedom to create an infinite range of designs with no limits. Explore the in-depth options offered by Canva Pro, such as unlimited folders and user permissions. Leverage Canva Pro's huge library of assets to create complex compositions and stunning artwork, with all the tools necessary to bring your project to life.
610,000+ Premium and Free Templates with New Designs Daily
No matter what type of project you take on, Canva Pro will give you access to more than 610,000 templates to help you get started. With 200+ of these professionally designed templates updated daily, you'll never run out of design inspiration. Stick to the classic look and feel for your projects, or go for something new and unique – the choice is yours!
Establish Your Brand's Visual Identity with Logos, Colors, and Fonts with up to 100 Brand Kits
Canva Pro's Brand Kits feature makes it easy to create and maintain a consistent visual identity across all of your projects. Limited only by creativity, you can craft and manage up to 100 brand kits on Canva Pro, complete with logos, colors, and fonts. With so many options, it's easy to make sure your brand stands out from the competition.
Create Dedicated Folders for Specific Projects
Organize your projects with ease thanks to the Folders feature in Canva Pro. Create dedicated folders for specific projects and keep all your related files well organized. This way, you only need to access one place to find all the information and designs related to a specific project. No more spending hours sorting through dozens of files – Canva Pro does it for you.
Resize Designs Infinitely with Magic Resize
With both its Brand Kits and Folders features, Canva Pro makes resizing designs infinitely easy. Magic Resize automatically resizes designs for whatever medium you are using – from a blog post to a billboard, or from a laptop to a mobile phone – so that your visuals look amazing in any context. Time-saving and reliable, Magic Resize helps take your designs to the next level.
Remove Image Backgrounds Instantly with Background Remover
Another great tool available in Canva Pro is Background Remover. This allows you to easily remove distracting and unwanted elements from images, freeing up space for creativity. Make your visuals look cleaner, more professional, and better aligned with your brand identity.
Schedule Social Media Content to 8 Platforms
Canva Pro makes it easy to schedule your content across eight major platforms. Say goodbye to manually posting content after tedious preparation and resource gathering – take advantage of the Schedule & Publish tab to send your visuals to Facebook, Twitter, and many other social media platforms in just a few clicks.
Cloud Storage (1TB)
Working with large files doesn't have to be a hassle anymore. Canva Pro's cloud storage gives you 1TB of storage space – now you can store all the data you need in one place. Keep your visuals and projects safe, accessible, and organized for future use.
24/7 Customer Support
Using Canva Pro is easy and intuitive, but if you need help, you can always reach its 24/7 customer support. The knowledgeable and friendly team at Canva Pro will help you get the most out of the platform and answer any of your questions.
How to get canva pro for free with a free trial option?
Don't forget that Canva offers a 30 days free trial option. Fortunately, you don't have to pay the full price to experience the amazing features of Canva Pro. With the Canva Pro Free Trial, you can get access to all the features and tools of the Canva Pro app for free with no strings attached. But how do you get started with the Canva Pro Free Trial? Here are the easy steps to guide you through the process.
Step 1: Sign up for the Canva Pro platform
The first step is to register yourself as an official user of Canva Pro. Visit the official website of Canva Pro, click on the "sign up" button and enter the necessary details. You will be asked about your language, timezone, and contact details for the activation of your Canva Pro account.
Step 2: Enter your payment details
Once you sign up for Canva Pro, you will be allowed to enter your payment details for the free trial subscription. You will be asked to enter your credit card or online payment details and choose whether you'd like to continue with a monthly or yearly subscription.
Step 3: Start creating designs with Canva Pro
Once you've successfully completed the payment process, you'll be able to start creating visuals with Canva Pro. You can choose from a variety of templates and use the intuitive drag-and-drop feature to customize your designs.
Step 4: Enjoy the features of Canva Pro
The Canva Pro Free Trial lets you experience the amazing features of the app without any cost. You can use intuitive design tools, collaborate with other designers, and take advantage of millions of illustrations and stock photos.
Finally, enjoy your free trial period and experience what it would be like to use Canva Pro for all your creative projects.
To sum up, If you are looking for a cost-effective way to create stunning visuals for your business, Canva Pro Free Trial is the perfect way to do that. Sign up for the free trial, enter payment details, and start creating amazing visuals. Enjoy all the features of Canva Pro and test the full version of the app for free.
How Students and Teachers can get Canva Pro for free from Canva for Education?
Are you a student or teacher looking for ways to access the awesome features of a Canva Pro account for free? You're in luck because there are ways to get lifetime access (re-verification needed after every 3 years) to the Canva Pro features without spending a penny.
Whether you're a student or a teacher, here's how you can get a Canva Pro account for free!
If you're a primary or secondary teacher, you can invite students to join your Canva Pro for Education account. If you're a primary or secondary student, your teacher will have to invite you to Canva for Education.
For teachers:
1. Sign up with your education email address or upload proof of your teaching certification and employment and get verified.
Once your profile is verified, the Canva team will upgrade you to a Canva Pro for Education account within a few days. If you sign up with a verified educational email, then you'll get access right away. If you don't have a verified email, just upload a photo or scanned copy of one of the approved documents, and the Canva team will review your application within 48 hours.
2. Invite students to join your Canva Pro for Education account.
First, Teachers need to Log into their Canva Pro for Education account, click on the 'My Teams' tab, and then click on the 'Invite Students' button. Teachers can then enter the email addresses of their students and they will be sent an invitation to join the Canva Pro for Education account.
Note: Although Canva Pro for Education is not currently available for college and university students, they can still use the free version of Canva. Apart from this, getting a canva pro account with only students email-id is currently not avaliable in India.
So, there you have it! These are the two simple ways you, as a student or a teacher, can get access to all of the awesome Canva Pro features for free. What are you waiting for? Sign up and get creative with Canva Pro today!
Conclusion
Experience the exceptionally powerful features of Canva Pro today. Access its library of premium content, use its templates, leverage its brand kits and so much more. From creating beautiful visuals to easily managing large files, Canva Pro is the perfect tool to help you take your design skills to the next level.
Also Read:
Unlock Pro Features on Canva for Absolutely Free
was last modified:
March 11th, 2023
by