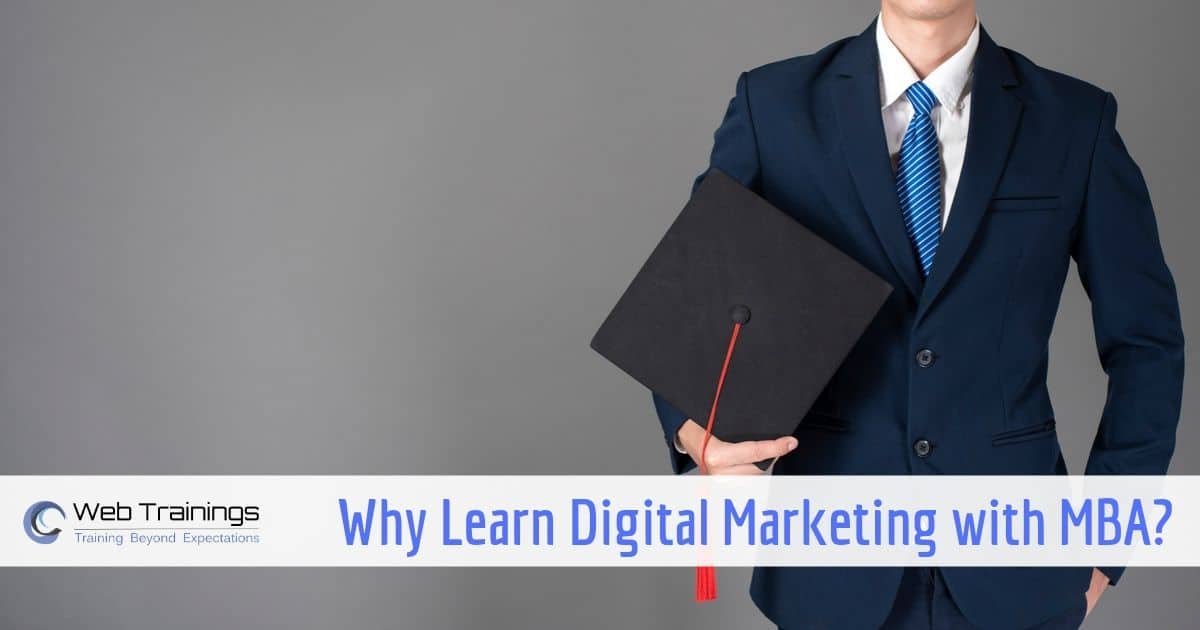 MBA will help you in learning the business, marketing and management skills. Most of the MBA colleges are focused on traditional marketing strategies and very few colleges offer in-depth digital marketing subject. That is the reason why every MBA graduate must learn the concepts of digital marketing to enhance his skills in digital world.
If you are an MBA graduate, then there are many reasons for why you must know about digital marketing.
1. There is a demand for digital marketing skills in industries:
In India the various business opportunities searching for persons with expertise in digital marketing. As it is such, the industries are opting to take based on the abilities due to shorter supply than demand for them. If you need to know the demand, once go to any job searching site and search for digital marketing jobs. The results are going to leave you astonished.
As per Oct 18th 2019 report, 50% of Indian Population is online. This provides a huge scope for new businesses going online a demand will increase for digital marketers.
2. Digital Marketing is easy to learn
Unlike any other course, digital marketing course is a non-technical course. It is easy to train and easily grasped. More science and analytics are included for marketing. That is why it is easy for an MBA graduate to work in digital marketing field more effectively without any doubt.
Following sources can be used to learn Digital Marketing:
Professional training institute like Web Trainings Academy
Video Course of Web Trainings Academy
Learn free of cost in YouTube
Udemy Paid Courses
Learn from Digital Marketing Books
3. Availability of wider varieties of prospects in digital marketing:
Various fields like search engine optimization, paid advertising, social media marketing, content writing, inbound marketing, conversion rate optimization are available in digital marketing field to opt for. While learning, basics of all the fields need to be learnt and specialization might be needed to be done in any one of those to pursue your career in digital marketing.
4. Skill-Based training program:
Unlike any other fields where you need to wait for an opportunity like internship or placements to gain experience and then create your own portfolio, in digital marketing, you can kick start your career with numerous available opportunities to prove your skills without any experience.
5. Good investment of time and money:
Without any wastage of time, and money like in other fields, you can just start your career after the completion of your MBA with many opportunities waiting for you.
6. Initiation of freelancing career:
A graduate who has interests in computer and internet services, can easily start his or her own company by hitting a bunch of freelancers to work for you. Even if you want to work for a company, then working as a freelancer earns you extra income in your free time. You may even start a blog on your own or by hiring freelancers.
7. Inexpensive:
Learning any higher courses after MBA might not be affordable to every graduate. But digital marketing is inexpensive and learning this is also affordable. When you think of starting a business also, you might not require such huge budgets as in other business and might just start your digital marketing business with the least possible budget.
8, Equivalent or more valuable than MBA:
In today's marketing network, just an MBA degree is not enough to pursue in this business. You need skills than a degree in hand. The future of marketing is digital marketing. Only persons having expertise in digital marketing are a step ahead of others.
9. Improves the valuation of your resume:
A resume with digital marketing skills mentioned in it has more worth than a usual resume without them. Also, these days, digital marketing skills are surely being checked in an individual resume before even calling him for an interview. Hence, digital marketing skills have gained demand in marketing by the increased demand for online marketing.
10. Helps in building your own Startup
As an MBA if you are planning to startup your own new idea of website or app. Digital marketing will be very helpful for marketing your business in initial stage without hiring any other person. Also, you can develop and implement more advanced strategies with your digital marketing knowledge.
10 Reasons Why Digital Marketing is Essential after MBA ?
was last modified:
January 19th, 2023
by