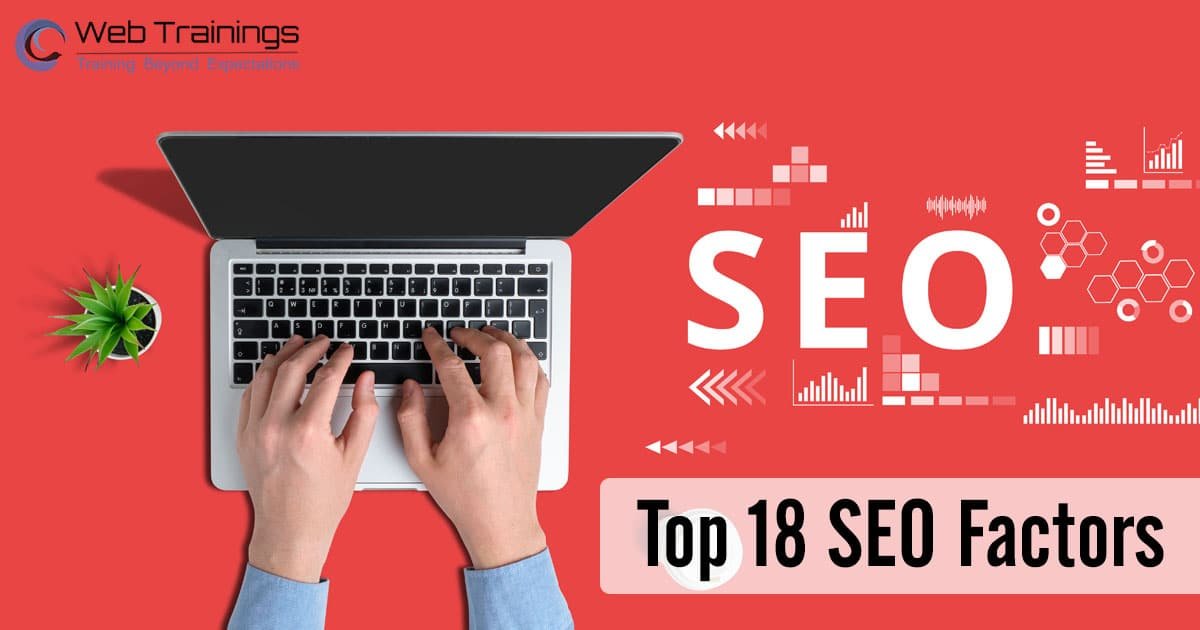 Search Engine Optimisation (SEO) is becoming challenging and more technical every passing year. With addition of new AI algorithms, the search has become more complex. To achieve top SEO Rankings, we have to understand and implement the Top 18 SEO factors in our websites to make it as per search guidelines. Read about the Top 18 SEO Factors ..
Top 18 SEO factors for improving ranking
1. Content
Showing users with the most appropriate results for their search questions is Google's top concern. Both visitors and Google like the fresh new, understandable, informative and detailed user relevant search intent content. In addition, numerous research studies have revealed that long-form detailed Content does a much better job at ranking in search engine results pages. In reality, the leading 10 outcomes on an average tend to have more than 1890 words.
Another thing that Google considers is whether the content matches what users intent when they type a search query in their Google. Generally, if your page makes users delighted, Google will reward you by boosting and improving your site's rankings in SERP.
2. Backlinks
Even though Google is preparing to move away from backlinks in the future, they still remain the most essential ranking factor for your webpages. Backlinks remain one of the most essential ranking factors as they assist Google to recognise great, trusted, User intended relevant content on the Web for any search query . Some Google patents say that freshness and traffic might also be crucial backlink metrics.
It is now too risky to use black hat SEO techniques– your links have to come from a range of high authority websites that resemble yours website niche.
Nevertheless, do not use dubious methods of getting backlinks– After RankBrain Machine Learning Algorithm Google is smarter than ever and able to figure out whether the backlinks toward a website are legitimate or not. If you use Black-hat  approaches to acquire backlinks, Google can penalise your website and even remove it from their indexing entirely.
3. Semantic saturation
Semantic saturation is a search  or an user action that produces meaningful results, even when the retrieved content  contains none of the question terms, or the search involves no query text at all but still it relates to the user search query
Your SEO content needs to include an appropriate quantity of appropriate keywords, entities, and images for the length of the copy. The content must not be stuffed, like in the old days of SEO, it should rather be a natural-sounding fresh new original written in an informative and user intended contextual way.
"Semantic query search utilizes artificial intelligence and machine learning to comprehend the searcher's intent and the significance of the question to just not find the synonym of the word but the contextual meaning of the keyword relating to the content and user search query .". When you search now, Google offers you results based entirely on the text and the keywords that you put in that search query. Essentially, Google provides you its best guess. When you use the semantic search result, Google will dive into the relationship between the user search query those suggested words, as how they work together best , and effort to understand what those words indicate. It puts away content getting stuffed with the same keywords rather using the same relevant keywords that the user can relate to for his search query. Using semantic keywords reduces the bounce back rate also which is a negative signal to the Google algorithm for the website.
4. HTML Tags and Keywords correlation.
It's 2020, and yes, keywords still matter. HTML tags tell Google which of your content copy are the most important. The title and meta description tags are what users see in search results—that Google algorithm check the relevancy and accuracy of the tags and keywords. . Heading tags (H1-H6) split your copy into sections– they need to also include keywords and be written in an informative style. Alt tag text is used to describe images to search engines and should be renamed according to the surrounding content to appear in the image search results. Using them in the title tag, URL, header tags, meta description, and the body of the posts/pages increases the significance of your content and helps Google evaluate it more successfully.
Also, it is very important to consist of terms associated with the primary keywords, also known as LSI. They provide Google with a much better understanding of the content meaning, assisting it decide which results to show. Additionally, they are great for mobile optimization, and current voice search statistics reveal they contribute considerably to optimising for voice search inquiries.
05. Core Vitals : Interactivity – First Input Delay ( FID),  Largest Contentful Paint (LCP), Visual Stability – Commutative Layout Shift (CLS) and Site Speed:
These are Core Web Vitals metrics of Google algorithms.
a. Interactivity – First Input Delay ( FID) catches a user's impression of a site's interactivity and responsiveness. It determines the time from when a user initially engages with a page to the time when the browser is really able to react to that interaction.
FID is a field metric and cannot be simulated in a lab environment. A genuine real time   web user interaction is needed in order to identify the action response delay time
b. Visual Stability – Cumulative Layout Shift (CLS) is an essential, web user-centric metric for figuring out visual stability because it helps measure how frequently a website users experience unexpected design shifts– a low CLS helps ensure that the page is wonderful.
c. Contentful Paint (FCP) and Largest Contentful Paint (LCP) are both metrics that determine the time it takes for web content  to visually render (paint) on a page. Although essential, paint times do not catch load responsiveness: or how rapidly a page responds to user interaction. It identifies the time from when a user initially communicates with a page to the time when the internet web browser is really able to react to that interaction. A real user interaction is required in order to determine the response delay.
d.Site Speed: Poor Loading Site speed affects SEO indirectly. Search engines will crawl less pages if your website is slow, which might negatively impact your website indexation. Slower pages effect user experience and bring about greater bounce rates.
06. No Intrusive Interstitial
Intrusive interstitials are essentially popup ads. They tend to obstruct or block most or all of a page, resulting in a bad user experience for desktop and mobile users alike.
These types of ads make it irritating at best to access the page as meant. The basic exception to the guideline is when there are lawfully needed (or ethically recommended) notices, such as pop ups for age verification.
These pop ups are reasonably irritating on desktops, there is even less screen genuine available to deal with on mobile devices. In these cases, it can totally destroy the user experience. Here are a couple of examples of how this goes incorrect:
The interstitial pop us ads covers most or all of the content of the webpage page.
The interstitial is not responsive. That means it is difficult or difficult to close it on a mobile, rendering the page ineffective for mobile users.
The interstitial is not triggered by an action, such as "Click on this link to subscribe." Rather, it pops up on its own without triggering, producing an unpleasant surprise for the mobile viewer. Concluding, this concern is not only the annoyance of popups but their function in destroying the user experience and has a negative impact for websites according to Google algorithms.
07. Website Loading Speed
Website speed influences SEO indirectly. Web search engine bots will crawl fewer pages if your site is slow, which could negatively affect your website indexation. Slower pages effect user experience and bring about greater bounce rates.
According to a Backlinko research study, a leading ranking site has a loading speed of 1900 ms which is 17% faster than a website that ranks at number 10. In addition, with Google's Speed Update, page speed is a ranking element for mobile searches too. Technically speaking, it's best that the mobile website loads in 2 seconds or less, and its desktop equivalent in less than three seconds.
08. Mobile Optimised Friendly Website
Mobile-first indexing has totally rolled out. Google revealed that beginning with September 2020 all websites without exception will be judged on their mobile indexing variation version , not the desktop version. If you want your website to have any chance of ranking in search results, you have to make sure that it is developed for mobile users.
09. Security – HTTPS
Security has actually always been Google's top priority. Apart from using a safe usage of Browse, Google Drive, and Gmail, Google aims towards making all the websites accessed from Browse safe.
Because of that, Google has actually made mandatory the usage of HTTPS a signal in its ranking algorithm. The sites which do not utilise HTTPS are being determined as not safe and secure, and their ranking position gradually decreases.
10. Simple URL Structure
A simple, concise, relevant URL enables both users and Google to know and understand what the page is about. You can further enter relevant keywords, matching the content on the page. This permits Google to provide your content to users performing a user relevant search question.
Using a customised URL will make the URL path shorten and avoid loss of authority of the landing page rank up and domain authority will increase.
11. Structure data, Rich Snippets, Schema
Structure data
Structure data is a term to describe when adding code on to a website, for example, abundant snippets, Schema and Twitter cards are all examples of structured data. Structured data is increased so it can be comprehended more effectively, especially by search engines. Google determines and reads structured information so that it can display rich snippets in its search results page.
Rich Snippets
Rich Snippets are some additional information about a site's material on the search engine results page. Abundant Snippets can reveal evaluation stars, and aggregate reviews evaluations which can all be seen in  the local search results or Google my business box results.
Schema
Schema is an agreed term for website usage so it's much easier and consistent to develop code to mark up their site pages so that they can be crawled better by search engines. The business's name, location, phone number, (NAP) also emails address and products is what can be marked up so search engines can comprehend the meaning behind the content. Schema permits you to leverage the worth of your content from your site so search engine can understand the meaning of the content, how to crawl and index it however also how to characterise the trust most worthy, accurate query intend is the content for the users.
12. User behaviour, Time on Site & Click Through Rate
User behaviour
There is a lot of uncertainty in the SEO community on whether Google really utilizes user's behavioural metrics to rank Web Pages or not?  Google says that it doesn't, but there's been some pretty convincing proof that it might.
The metrics we are speaking about are the click-through-rate (CTR), bounce rate, session depth, and session duration. To check your performance on user behaviour metrics, you can analyse and see Google Analytics and Google Search Console accounts.
Time on Website
The quantity of time a visitor spends on your page before going anywhere else, signals to Google that the website content is engaging, associating, valuable to the user query intend. A higher site quality result high ranking in search engine result page..
If, on the other hand, if a visitor lands on your page and stays for just seconds, Google will understand that your content wasn't engaging nor informative. The typical time on site to increase the organic rankings is three minutes.
Click Through Rate (CTR).
The click-through rate is computed by dividing the varieties of clicks your site's search results page gets by the number of impressions or views.
CTR plays an important function when Google analyses and measures your site's SEO success since it reveals how well your website is performing in the SERPs. A high CTR indicates that the website and its content are appealing enough to catch the attention of searchers and engage them.
13. Social Signals
Creating great content is the most efficient way of getting your site in front of your target audience through social media. Reliable social engagement signals, especially from people who have actually developed popularity such as influencers and blog writers, will boost your rankings.
The social signals will improve the domain authority and page authority, even in cases when links from Twitter and Facebook are 'nofollow'.
14. Internal links
Internal linking is among the most important SEO ranking factors. To start with, internal links assist Google comprehend much better your website and guide search spiders, crawlers, bot — if a large number of internal links indicate a particular page Google considers that page essential.
Internal linking likewise helps spread out link equity throughout the site, enabling you to get the most out of the offsite optimization. The number of quality, and web page content internal links have  , they drive and influence user engagement metrics, consisting of conversion rate and time spent on the site, which gives search engine crawlers spread link juice equity with positive ranking for the website.
15. Google My Business listing
For your Local Business three mandatory thing is to Claim, optimize, and maintain your Google My Business listing are the most important thing you can do for your local SEO. It helps establish your business as an entity, which in itself is a fantastic possession to your SEO. More notably, it increases your chances to rank in local search efficiently. Once you produce a listing, the Name, address, phone number, email address, website link, operation hours,  it ends up being qualified for the local business as well as Google maps, opening and showing your business to neighbouring searchers by example say term nearby, near me etc.
16. Direct Website Traffic
The traffic produced by users who type in the URL of the site into the web browser bar signals to Google that your site supplies value to users and they wish to visit it regularly.
The more direct website traffic you have, the much better your brand searches for Google and the higher you will rank in your niche, taking that your UX and user engagement factors are also greater than average.
17. Bounce Rate
You require giving search results to users what they require and when they need it. If your content , user intent query is not crucial, not optimized to user importance, , and most important not relevant, content is jumbled up, your visitors will leave the site and bounce back  and so your website rank will drop.
Bounce rate, or the percentage of single-engagement visits to your website, is among the primary aspects Google's RankBrain algorithm takes into factor to consider. For RankBrain algorithm high bounce rate basically signals that users have found the info on your site useless.
18. Video and Images
It is noted that 97% of the first page results have at least one image or illustration on webpage that;s it is ranking for. Any form of images, video, info-graphics, charts adds depth to the content. Having illustrations, screenshots, and info-graphics support the text and provide the readers with visual information, thus enhancing the user experience.
Including video to your website also enhances online search engine rankings and CTR. A video shows a greater level of engagement and a better way to communicate the message across. According to MOZ website,  business website or an even an individual normal website with videos on their page have a 27% greater CTR and 34% more conversions rate.
Focus on above 18 SEO Factors to improve your ranking as per Google Guidelines.
Top 18 Most Important SEO Factors for Ranking
was last modified:
January 19th, 2023
by