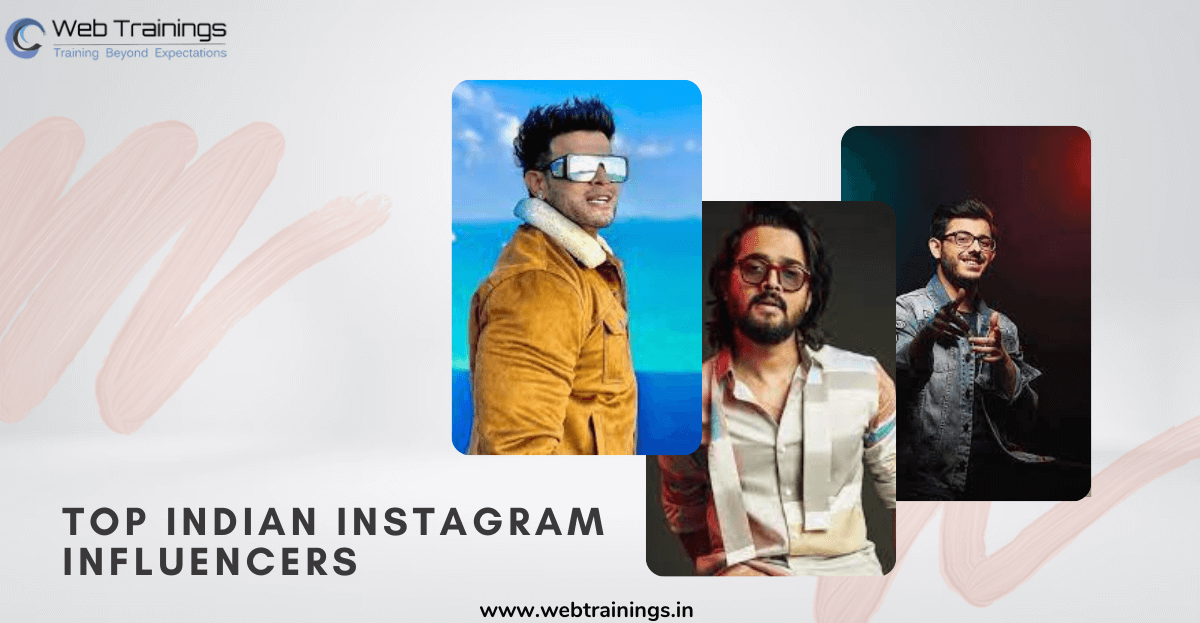 Instagram has become the most popular social media platform in India, with over 100 million new users signing up every 9 months from the first half of 2022 till 2023. With over 229 million Instagram users in India, influencers have become increasingly popular for guidance and inspiration in various niches, such as comedy, beauty, fitness, travel, food, and photography. Instagram content creators play a significant role in marketing products and services to the Indian market by posting about their favorite brands for millions of followers. Collaborating with Instagram influencers can be an effective way to make an impact in India. If you Looking for top indian Instagram influencers? It's not easy.
You need to have a clear purpose and consider several parameters beyond just follower count, such as engagement rate, relevance to your niche, quality of content, and average likes and comments. Find the right influencer and start following or collaborating with them.
list of the best Instagram influencers:
01. Bhuvan Bam
Meet Bhuvan Bam, the Instagram sensation who has captured the hearts of millions with his humorous portrayal of a typical Indian family. With over 16.6 million followers, he is one of the biggest social media influencers in India. Bhuvan started his journey as a YouTuber with his hit comedy series 'BB ki Vines'. Today, he has expanded his reach beyond YouTube and has taken over Instagram with his funny antics and relatable content. His comic series 'Titu Talks' and his songs have also contributed to his success.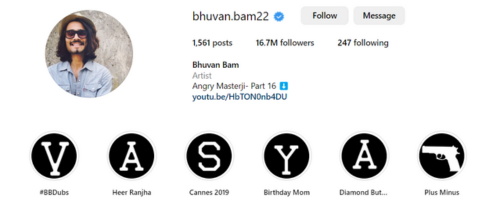 But that's not all! Bhuvan recently starred in the Hotstar Special 'TaazaKhabar' and has collaborated with other Indian celebrities, The Man Company, and Amazon Prime. He is also set to appear in an upcoming Disney Hotstar production. Bhuvan's Instagram page is a must-follow for anyone who loves to laugh. With an engagement rate of 11.5% and an average of 1 million likes and 4.8K comments per post, he has proven time and again that he is the king of comedy in India.
02. Carryminati
Ajey Nagar, popularly known as Carry Minati, is a content creator on Instagram who has made a name for himself with his humorous take on cringe-worthy user-generated videos. His followers admire his unique voice and his straightforward approach to millennial issues. Carryminati's most successful videos are his gameplay series, which are a treat for PC gamers who enjoy watching him play and engage in funny in-game conversations.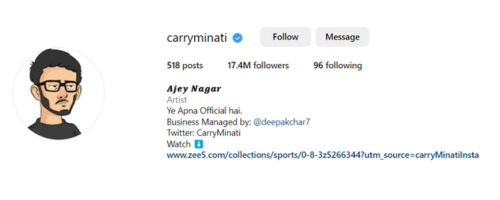 With a massive following of 17.4 million on Instagram, Carry Minati is one of the top content creators in the Lifestyle and Gaming category. His posts receive an impressive engagement rate of 17.48%, with an average of 1.7 million likes and 14.3k comments. To join the fun and be a part of Carry Minati's Instagram community, follow him at @carryminati.
03. Rashmika Mandanna
Rashmika Mandanna is a rising Instagram star and a significant influencer in the fashion and beauty category. With a massive following of 36.9 million, Rashmika is known for creating engaging skincare, fashion, fitness, and beauty content for her followers. Her Instagram feed is full of her stylish makeovers, elegant outfits, and inspirational lifestyle posts that are sure to captivate any fashion enthusiast.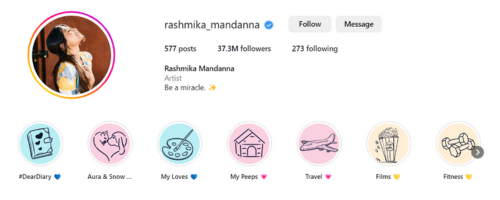 You can choose to follow her and get a glimpse into her fashionable yet simple life, and with an engagement rate of 20.68%, you can be sure that her content is worth your time. Don't miss out on Rashmika's unique and exciting posts and follow her at @rashmika_mandanna now!
04. Justsul
Just Sul, a former mechanical engineer, has turned into an Instagram sensation, captivating the platform with his clever and inventive posts. Possessing a unique perspective that allows him to perceive the ordinary in extraordinary ways, Just Sul's photos and videos are guaranteed to elicit raucous laughter from his 6.1 million followers.
Boasting an engagement rate of 10%, an average of 624K likes, and an average of 7.4K comments, Just Sul's profile falls under the category of Humor and Fun. By following him at @justsul, you can revel in his entertaining content and join the millions of fans who cannot resist his distinctive outlook and uproarious humor.
05. Shirley Setia
Shirley Setia, the rising star of social media, initially gained popularity through her musical performances on YouTube. However, her presence expanded to Instagram, where she enthralls her followers with melodious tunes and also promotes various brands. Her daily life events are also displayed on her account, which has amassed an impressive 7.6 million followers.
Moreover, Shirley's popularity is reflected in her engagement rate, which stands at an impressive 6.64%, and her posts' average likes and comments, which average at 143K and 2.3K, respectively. Shirley has managed to establish herself in the music and acting category and continues to entertain her followers through her creative pursuits.
06. Sahil Khan
Sahil Khan, a prominent Instagram influencer, has been bestowed the seventh rank in the category of fitness and gym on the platform. With a staggering 11.4 million followers, he endorses multiple fitness supplement brands and shares his lifestyle and fitness tips with his followers.
Sahil's engagement rate stands at a remarkable 4.6%, and his posts receive an average of 272.2K likes and 1.7K comments, which is a testament to his prowess in the fitness and gym category on Instagram. Follow him @sahilkhan
07. Kusha Kapila
Kusha Kapila, a prominent content creator, has amassed a substantial following of over a million individuals within just a few years. Her exceptional ability to transform uninteresting and mundane subject matters into amusing and engaging content is just one of the reasons why her viewers can't resist tuning in. Additionally, her vocal tonality and eloquent articulation serve as significant contributing factors to the appeal of her videos.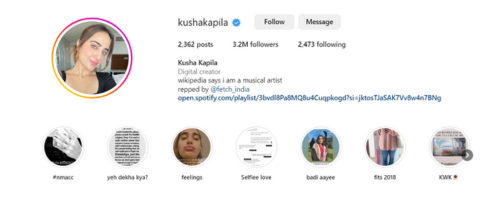 In terms of statistics, Kusha Kapila's Instagram account boasts an impressive 3.2 million followers, with an engagement rate of 7.42%. Her posts receive an average of 103.8k likes and 1k comments, and her content primarily falls within the beauty and comedy categories. Those interested in keeping up with her content can follow her account @kushakapila.
08. Gaurav Taneja
Meet Gaurav Taneja, a pilot by profession and a fitness enthusiast by passion. While his career may keep him busy flying high in the skies, his Instagram journey takes him on a different kind of adventure. Gaurav started his Instagram account with his wife, sharing daily conversation videos. Today, he has amassed a massive following of 3.7 million fans who can't resist waiting for his next post.
What makes Gaurav's Instagram so irresistible? It's his ability to share his life with great simplicity and humor. From travel stories to household chores, family life to work-life, Gaurav invites his followers into his world, showcasing the ups and downs of his daily routine. His engaging content keeps his audience hooked, with an impressive engagement rate of 14.47%, average likes of 193K, and average comments of 851.
Follow Gaurav's journey in the travel and lifestyle category, and discover how he finds the perfect balance between work and play. His Instagram handle, @taneja.gaurav, is the go-to spot for anyone looking for a refreshing and entertaining escape from their everyday routine. Get ready to be amazed, inspired, and entertained by Gaurav's unique perspective and captivating storytelling style @kushakapila
09. Komal Pandey
Komal Pandey, an illustrious content creator on Instagram, has made a name for herself in the fashion industry. Her page exhibits a plethora of cosmopolitan fashion trends, which are complemented by her engaging and captivating captions. As a result, her bond with her audience is strengthened with each passing post.
Boasting a whopping 1.8 million followers, Komal Pandey's engagement rate of 9.34% speaks volumes about the immense adoration and admiration her followers have for her. Her posts receive an average of 107.4k likes and 941 comments, which is a testament to her ability to create content that resonates with her audience.
Komal Pandey's category of focus is fashion, and her official Instagram handle is @komalpandeyofficial. By following her, one can keep up with the latest fashion trends and be a part of her ever-growing community of fashion enthusiasts.
10. Varun Aditya
Varun Aditya, the recipient of the distinguished award for nature photography, has an Instagram profile replete with awe-inspiring snapshots that seamlessly meld wildlife and scenic grandeur. His exceptional talent lies in his proclivity for capturing the essence of his subjects. Notably, he generously dispenses professional photography tips, readily responding to queries from his followers. As such, those who aspire to emulate his success would do well to embark on their journey at one of India's most stunning forests, immersing themselves in the beauty of nature and honing their skills.
With a staggering 2.6 million devotees, Varun Aditya enjoys an impressive engagement rate of 8.48%, garnering an average of 92,000 likes and 947 comments per post. As a testament to his singular focus, his content is categorized under the theme of photography. Follow him on Instagram at @varun.aditya to partake in his captivating vision of the world.
11. Mithila Palkar
Mithila Palkar, an aspiring actor, burst onto the digital scene in 2016 with her unique rendition of the Cup song. The video, which was posted on her YouTube channel, garnered an astonishing six million views, propelling her into the limelight. Since then, she has gone on to secure roles in high-profile Netflix productions such as Little Things and Bollywood movies such as Katti Batti.
With a staggering 3.9 million followers, Mithila's social media presence is nothing short of impressive. Her engagement rate of 2.93% is a testament to her influence, and her average likes of 124.5k and average comment count of 372 are clear indications of the level of interest that her content generates. In the entertainment category, Mithila reigns supreme, and her handle @mipalkarofficial is one that no true fan can afford to miss.
12. Aaditya D. Sawant
Aaditya DAaditya D. Sawant. Sawant, also known as Dynamo Gaming, has amassed a following of 2 million individuals across multiple platforms, making him one of India's most renowned gamers and streamers. His content features gameplay of games such as Battlefield, GTA, and Apex, which he began uploading on YouTube. However, it was his videos on PubG Mobile that served as the catalyst for his online success. Aaditya has since acquired numerous gaming awards and collaborated with esteemed brands such as Gillette, HP, and ESPL.
Whether you're an expert in gaming or a novice, Aaditya is an individual who deserves recognition for his Aaditya is someone whose content you won't be able to resist. Follow him now @Dynamo Gaming and witness firsthand why he's considered one of the best in the business.accomplishments in the field.
13. Bruised Passports
Savi Munjal and Vidit Taneja curate their travel videos and posts on a social media platform known as Bruised Passports. The content they share exudes positivity, euphoria, and showcases picturesque travel destinations. Their globetrotting escapades have spanned 8 years and taken them to 95 different countries. Bruised Passports is not just any ordinary travel account; it serves as a platform to showcase stunning, captivating images and a fashionable way of life.
The principal reason behind the dynamic duo's success is the high level of interaction they have with their followers. They offer valuable insights and recommendations to aid fellow adventurers. The Bruised Passports Instagram (Follow @bruisedpassports) page boasts a whopping 1.2 million followers with an impressive engagement rate of 5%. Their posts receive an average of 21510 likes per post.
14. Diipa Khosla
Hey there! Have you heard of Diipa Khosla? She's a fashion icon and has been named Influencer of the Year by both Vogue and Elle. With 1.9 million Instagram followers, she's definitely someone to keep an eye on!Diipa shares her thoughts on the latest fashion trends and how to dress for the season.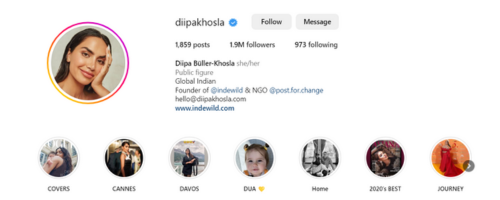 She posts amazing high-end fashion videos and lifestyle content that will leave you feeling inspired. Want to keep up with Diipa and her incredible style? Follow her on Instagram at @diipakhosla. Her engagement rate is 3% and she averages 22,397 likes per post, so you know her content is top-notch. Don't miss out on the fashion-forward inspiration she has to offer!
15. Thatbohogirl
Have you heard of Thatbohogirl? If you're into fashion and beauty, you need to check out Kritika Khurana's Instagram page. With 1.7 million followers, she's definitely one to follow. Thatbohogirl has got you covered for both western and Indian fashion styles. Kritika's fashion suggestions are spot on and you can get the suggested dresses and accessories at unbeatable prices during the Big Billion Day sale or other sales.
With an engagement rate of 7% and an average of 58,066 likes per post, you know that Kritika's content is worth checking out. So, what are you waiting for? Follow her on Instagram at @thatbohogirl and get ready to upgrade your fashion game!
16. Samantha Akkineni
Are you looking for some amazing beauty, fashion, and skincare tips? Look no further than Samantha Akkineni, one of the biggest Instagram influencers in her niche. With a massive following of 25.6 million, Samantha's Instagram page is full of fresh content that her followers love.
Her posts showcase the beautiful moments of her life, and she even promotes genuine products that she has personally used and loved. With an engagement rate of 8.8%, you know that Samantha's content is engaging and worth following. So why not check out her Instagram page at @samantharuthprabhuoffl and see what she has to offer? You won't be disappointed!
17. Pooja Dhingra
Hey there! Are you a foodie with a sweet tooth? If so, you need to check out Pooja Dhingra, the famous pastry chef and Instagram influencer. With a massive following of 7.1 million, Pooja's Instagram page is full of gorgeous pastries and sweets that will leave you drooling. Her engagement with her followers is top-notch, and you'll love the way she displays her delicious creations.
Even with an engagement rate of just 0.13%, Pooja's content is irresistible. So why not follow her on Instagram at @poojadhingra and see what mouth-watering treats she has in store for you? Don't miss out on the culinary inspiration she has to offer!
18. Jay Shetty
Jay Shetty is an extraordinary individual who has made a name for himself as a brilliant video creator, wellness coach, and one of the most exceptional Instagram influencers in the industry. If you're looking to discover the secrets of meditation and attain inner peace in your life, then Jay is the perfect person to follow.
His Instagram handle, @jayshetty, is an excellent resource for finding out more about his upcoming events and webinars. With a staggering following of 13.2 million people, Jay's influence is undeniable. Furthermore, his engagement rate of 0.74% is a testament to the quality of his content, which resonates deeply with his followers.
19. Ranveer Allahbadia
Ranveer Allahbadia, a prominent figure in the realm of health and mental fitness, has established himself as an influential Instagram persona. With a staggering follower count of 2.3 million and an impressive engagement rate of 7.67%, Ranveer's content on the platform has garnered significant attention from fitness enthusiasts and novices alike.
His feed is brimming with invigorating videos that serve as a source of inspiration to his viewers. Moreover, Ranveer's posts are not limited to mere fitness-related content; he frequently engages in thought-provoking discussions on a wide range of topics that pique the interests of his audience. Follow him on Instagram at @beerbiceps to stay updated with his latest content.
20. Ashish Chanchalani
Ashish Chanchalani, a prominent Instagram influencer, has risen to fame with his amusing vines and brief videos. His regularity in posting videos and his use of comedy that resonates with the audience are his keys to success.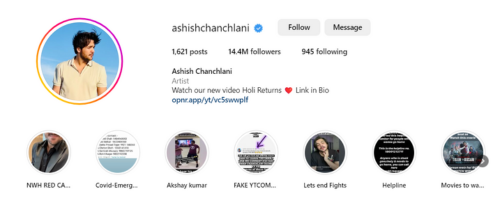 To get a glimpse of his humor and wit, it is recommended that you follow his Instagram profile, @ashishchanchlani. With 14.4 million followers, he has an engagement rate of 12.1%, and his average likes and comments are 1 million and 6.3K, respectively.
Conclusion:
The latest social media trends have made us conscious of our surroundings. It's affecting our work and leisure time, as we now tend to capture aesthetically pleasing pictures of everything from food to streets. Instagram influencers are now taking over bloggers, changing the marketing game. Consumers are more likely to trust someone who's gained credibility amongst followers. Here, we've compiled a list of top Indian Instagram influencers who influence our lives. Hope you found this helpful. Check out the creator's Instagram profile for more intriguing content.
Also Read:
Best Career Options After Graduation 
Guide to Google Search Console 
Top Indian Instagram Influencers | Famous Instagram Influencers
was last modified:
May 26th, 2023
by