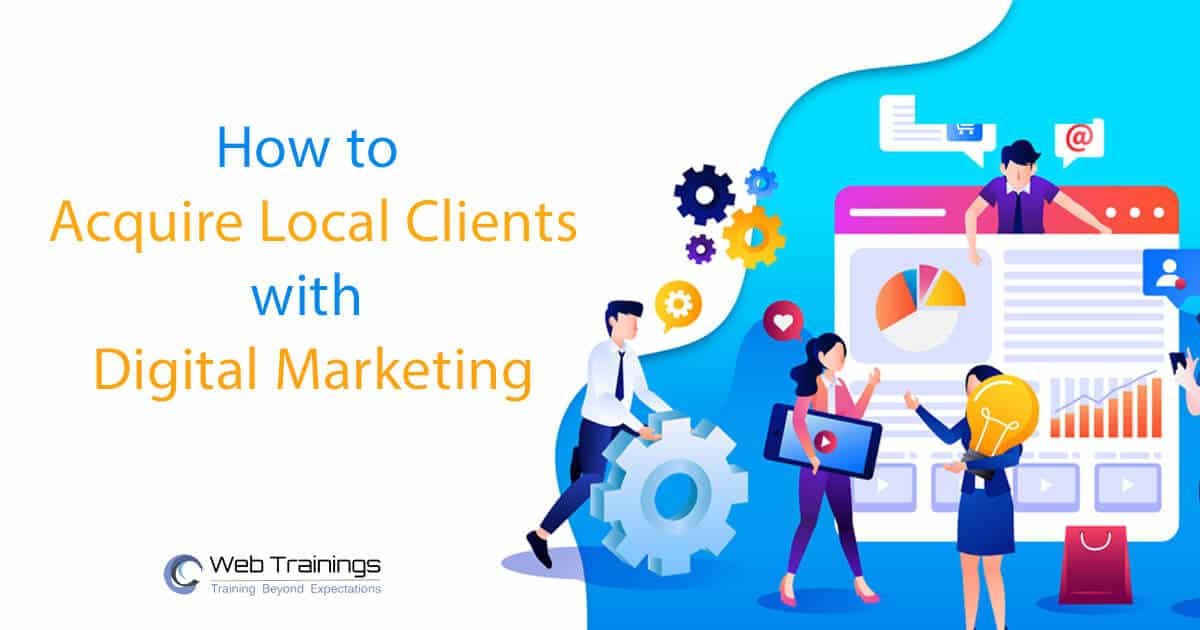 How to Acquire Local Clients for Digital Marketing Services?
Finding a client and converting them for business requires a good strategy. A simple process is to be followed religiously to discover a valued client who can give you business. As we are searching to get business, likewise customers are also searching for a reliable service provider. A customer will search for a supplier only in a desperate state but a service provider will always search for a client with an intention to grow business.
As a digital marketing professional you can use different strategies to attract and convert the businesses.  In this article, I will explain various strategies to acquire customers for your digital marketing business.
Local SEO Strategy
The fasted way to get a client for digital marketing is using Local SEO.  Google My Business (GMB) is a free service provided by Google so you may approach many small or big shops /offices to encourage them to register for GMB and charge a very minimal cost to encourage them to use the digital marketing platform.
You can also pre research whether the customer has GMB or not. You can eliminate those who have it and meet those who have not registered in GMB.
SEO Strategy
For SEO (Search engine optimization) meet a niche market business houses who can afford to and understand its importance. As customers are unaware of SEO and its benefits initially very few may be converted.
Educate clients about SEO, how they can grow business and get leads through SEO. Business owners can create another marketing platform to rank their websites on top google pages when searched by customers. The benefit is to generate genuine traffic for potential customers to visit websites and probable conversions.
PPC (Pay Per Click)
Little expensive but can accurately tab the customer who are trying or in need of digital marketing to grow their business. For example: Educational institutions, Hospitals, Clinics, Service providers etc will be good to start your targeting. where the customer is searching for a digital service provider and you may be the one to get it in first place to get potential digital marketing business.
Social Media Marketing
Most of the users are active on all social networks. You can use various social media sites to showcase your services to prospect clients. Specially using Facebook Ads will be effective way to generate leads.  Also be member of various Facebook Groups as per your niche, there are lot of clients looking for service providers in groups.
Conducting Webinars
One of the best ways is webinar. It will be attended by those who are seriously interested and want to know more about the benefits of digital marketing. A webinar's reach is very wide and the potential customers may be from the same city state country or from another country.
The most cost effective, much lesser than organising a physical conference, seminar or event . The session should be for awareness later conversion for those who are interested.
Attending Local Events
To create vast awareness by meeting people in a large group personally builds trust, exchange of direct questions and answers resulting I your knowledge being shared and becoming known. Local events come into picture like display banners, speeches, sponsoring small events, also religious festivals, birthday parties, community national festivals etc.
Also one must join networking groups locally like BNI, Lions Club, Rotary club, local chamber of commerce. Community association etc. The specialty of this method is you will get the opportunity to meet the owner of the business from time to time, who is also the decision maker. May get the biggest client without any struggle. The local businessmen buy from people available within reach and high trust can be built.
Note: Due to Covid-19 situation, you avoid the above strategy for sometime. 
Cold Calling
This is one of the oldest methods of direct marketing. With online research you can find the prospective clients. Prepare a proper script to speak to individual business owners.  The advantage is one can identify the seriousness, paying capacity and recognise immediate demand or future prospect of the client.
Email Marketing
It's like hugely spreading out information about your product to people at once. The advantage is that we will not disturb them at their business time hence the intention is they will call us whenever need arises or the customer may call us to collect information. The email marketing has its own hidden results like it has global audience reach, shares the information silently, and can commence the marketing work immediately.
Conclusion: Use all the above digital marketing strategies to attract the local clients. This helps in your brand building, generate traffic and leads to your business.
How to Acquire Local Clients for Digital Marketing Services
was last modified:
January 19th, 2023
by