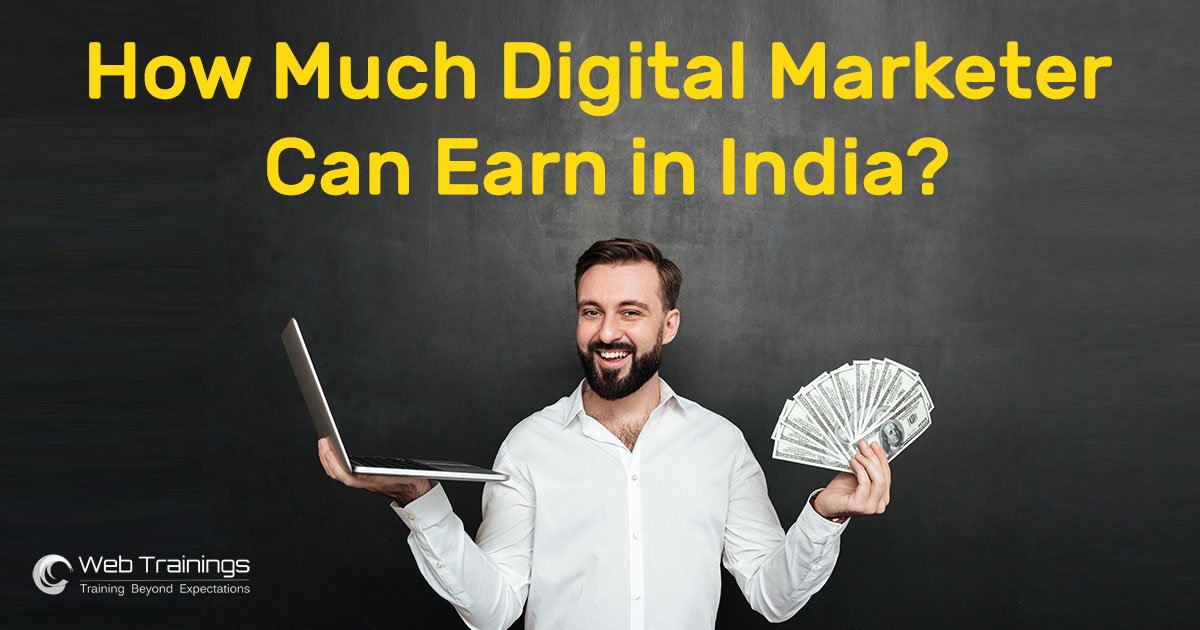 As we all know the boom of digital marketing in India. Many students want to know how much digital marketer can earn India?  Unfortunately there is not single answer for this because, salary will depend on education, soft skills, technical skills of individual student. 
There are lots of skilled individuals out there who are getting fantastic positions at top-tier businesses despite having very little "formal" experience or education, or in some cases, both. The increasing rate of change in the digital marketing sector is fantastic. Every month, new startups, SAAS businesses, and digital marketing agencies are hiring digital marketing specialists.  
You can start career in digital by  educate yourself on these digital marketing abilities without obtaining a costly and difficult-to-acquire college or masters degree.
According to an article published in Statista on May 28, 2021,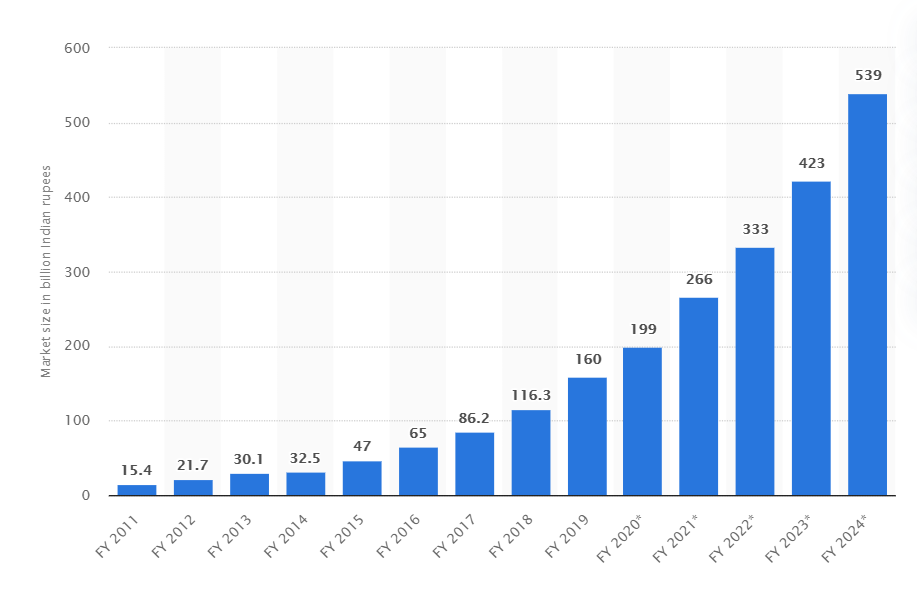 The digital advertising business in India had a market size of around 65 billion in 2016 but has since grown to over 199 billion in the financial year 2020. This amount is expected to rise to 539 billion rupees by 2024, suggesting a huge increase in the digital advertising industry.

This demonstrates that a significant amount of money is being invested in various digital channels nowadays, implying that digital marketing efforts are being used to their full potential.
To ensure the proper operation of these processes, they require highly skilled professionals to supervise them. That is one encouraging statistic indicating an exciting job opportunity in digital marketing in India.

Another info from the popular job portal Naukri indicates the current number of digital marketing job openings in India:




If you're still unsure whether digital marketing is a viable career path, you should definitely read this blog to learn more.

Digital Marketing Skills Required for Job: 
1. SEO

Search Engine Optimization (SEO)-Understanding how SEO works is essential for improving search engine rankings. The higher a company ranks, the more probable it is that visitors will click on its website in search engine query results.
Basic SEO Prerequisite Skills:
Expert in Keyword Research in finding queries and search terms that people enter into search engines.



Ability to find competitor websites with target keywords



Knowledge of On-page refers to both the content and HTML source code of a page that can be optimized and fix bugs, as opposed to off-page SEO, which refers to links and other external signals.




Analysis of in-depth SEO audit report




In-depth knowledge of Google My Business, Google Analytics, Google Search Console and Tag Manager.



2. Social Media Marketing (SMM)
Now, more than ever before, social media platforms are utilised. Digital marketers recognised the increasing use of social media platforms when COVID-19 hit the globe and we were driven into social media.
Brands had to alter their strategies for social media. Social media strategies are likewise built on insights and are data-driven.

You have to access a variety of analytics across many platforms, like Facebook, Linked-In, Twitter, Instagram, Pinterest, such as likes, comments, shares, link clicks, and research search terms, manage bids, and perform A/B tests to see which variations are most effective. With all of these factors analysed, digital marketers can determine which content performs best for them.

Social media marketing tools everyone should be aware of:
Facebook Business Manager /  Suite

Buzzsumo

Hootsuite

Buffer



3. Data Analysis
Digital Marketers need to know how to use Google Analytics and other analysis tools, even if they aren't Data Scientists. Their detailed information about where your traffic comes from—the most attractive keywords, the most popular times of day, and invaluable data on your audience's age, gender, and location breakdown, as well as their interests and the devices they're using to reach you—is perhaps the Digital Marketer's most valuable source of audience insight.


4. Advertising with Pay-Per-Click and Social Media
If a Digital Marketer's budget includes advertising, they must know how and where to spend it effectively.
This covers both display advertising on numerous websites throughout the web—either directly or through third-party platforms such as Google Ads—as well as social media ads and sponsored posts.

5. Email Marketing (Optional) 
In email marketing, you send emails to targeted lists. But it's the targeting that takes specialist knowledge.
Marketing emails are sent to lists of consumers and prospects to generate sales and exposure. They're also regularly sent out to engage audiences even when no hard sell is involved.

Testing subject lines, text, and email formats to see which emails attract the most attention is the responsibility of the email marketer.

Digital Marketing Job Roles & Salaries 
1. Digital Marketing Interns Job Responsibilities
The Digital Marketing Intern is responsible for assisting the Digital Marketing Manager to support the digital marketing team and Assist with Social media, Email marketing and SEO campaigns.
They are required to coordinate with the Content Marketing team and come up with Website and Social media content. They must also Complete other administrative tasks as needed and Support marketing strategies and online marketing initiatives.
Digital Marketing Intern Salary in India 

The annual salary for interns with approx. 1 year of experience gets around 1.2-1.75 lakhs per annum.
2. Digital Marketing Executive Job Responsibilities 
A Digital Marketing Executive in India is responsible for planning and executing all aspects of an organisation's online marketing strategy, including market research and targeting, social media outreach, search engine optimisation, newsletters and direct campaigns, lead generation, brand building, and conversions. (Digital marketing executives typically collaborate with IT on issue fixes as well.

Digital Marketing Executive Salary in India 



A mid-career Digital Marketing Executive earns approx. 18k-25 per month whereas a Senior Digital marketing executive draws 25-35k per month
3. Digital Marketing Managers

Digital Marketing Managers are in charge of online strategic initiatives. They are in charge of marketing campaigns from conception to execution and implementation. They constantly monitor and evaluate Social Media, Organic and Paid campaigns, and analyse the results (ROI and KPIs).

Digital Marketing  Managers must communicate with other department heads and staff to discuss plans and marketing strategies. They collaborate with the finance team to develop and adhere to a budget.

In a B2B environment, they negotiate advertising contracts and serve as a primary point of contact for clients. The Dgital Marketing Manager should be well-dressed, well-spoken, and knowledgeable about current marketing trends.

Digital Marketing Manager Salary in India 


The average annual salary for a Digital Marketing Manager (mid-level) is around 6 lakhs per annum. Some other factors, like industry, experience, and city of residence, play an important part in deciding the salary.
[Source: Glassdoor]
4. Digital Marketing Head Responsibilities 
Digital marketing heads are generally in charge of planning, developing, implementing, and managing the overall digital marketing strategy.  They oversee all digital marketing channels (such as websites, blogs, emails, and social media) to ensure brand consistency. This is one fo the top level positions for digital marketing specialist. 

The Digital Marketing manager must report to the Head of Marketing and discuss the project's progress and shortcomings, as well as forecast sales performance trends and act proactively to increase our market segment.

In addition, they are in charge of managing, guiding, and training digital marketers and other marketing positions on the team.

Digital Marketing Head Salary in India: 


On average, Digital Marketing Head salaries in India range between 8.0 Lakhs and 30.0 Lakhs, with an average annual salary of 15 Lakhs per annum.
[Source: Glassdoor]

5. SEO Analyst Job Responsibilities 

A Search Engine Analyst must be well-versed in Ranking Algorithms. SEO analysts help businesses develop and improve their online brand presence. To ensure the best possible user experience, SEO analysts conduct keyword research, monitor website traffic, and devise improvement strategies.

They must also be familiar with current SEO algorithms and be skilled in technical SEO. You should also be familiar with SEO tools such as Google Analytics and Search Console, as well as third-party tools such as Semrush, Ahrefs, and Screaming Frog.
SEO Analyst Salary in India :



The average salary for an SEO Analyst with 2years of experience is around 2lakhs-2.2lakhs per annum. [Source: Glassdoor] whereas a Senior SEO analyst with 3-5yrs experience is 3 lakhs to 3.2 lakhs per annum [Source: Glassdoor]


6. SEO Manager Job Responsibilities 
The SEO Manager collaborates closely with the marketing team and is accountable for the quality and growth of on-site and off-site SEO factors that drive organic growth.
The SEO Manager also collaborates closely with the Design, Communications, Product Marketing, and Sales teams to drive the company's marketing campaigns and branding goals by enabling higher search rankings on major search engines.

SEO Manager Salary in India :


The national average salary for an SEO Manager is ₹4.5 Lakhs – 5.0 Lakh per annum in India. [Source: Glassdoor]

7. Google Ads Specialist / Google Ads Associate 

Google ads specialist performs End to end campaign management (From forecasting to executing, monitoring, evaluating and optimising campaign performance to generate maximum leads). They Optimize the ad copy, landing pages for the best ad objectives.

This role involves Research and analysing competitor advertising links and strategise the best plan ahead for the business and Conduct keyword research and optimize the campaigns. They measure and report the performance of all marketing campaigns, and assess against goals.

Google Ads Specialist Salary in India : 


Google Ads Specialist Draws an annual salary of around 3 lakhs- 3.5 lakhs per annum [Source: Glassdoor]
8. Social Media Executive Job Responsibilities 
They create engaging, creative, and innovative content for regular posts that educate and promote brand messages. Executives work with advertising departments, brand managers, and quarterly or seasonal goals.
The audit and analyse social media presences, costs and returns and Plan social media timelines to coincide with new product releases, ad campaigns, or other brand messages.

Social Media Executive Salary in India : 

The average salary of a Social Media Executive is around 2.25 – 2.5 lakhs per annum
9. Social Media Manager
Social media managers supervise an organisation's social media strategy to increase visibility and customer relationship on different social platforms. As a social media manager, you'll build a strategy, create content, analyse usage data, facilitate customer assistance, and manage projects and campaigns.

If you work for a small or medium-sized company, the function may be coupled with other marketing and communications duties

Social Media Manager Salary in India : 


The average salary of a Social Media Manager is around 3.5 lakhs – 4.0 lakhs per annum [Source: Glassdoor]
10. Email Marketing Specialist Job Responsibilities
Email Marketing Specialists craft compelling copy for email marketing campaigns and initiatives. Depending on the agency or company's size, the Email Marketer may also be responsible for establishing the email campaign strategy and methods for delivering persuasive messaging.
Email marketers are accountable for the following:

a. Building customer relationships
b. Introducing new products and brand awareness
c. Lead generation and nurturing
d. Advertisements for product offers and discounts

Email Marketing Specialist Salary in India:


The average salary of an Email Marketer is around 4.0 lakhs per annum [Source: Glassdoor]

Want to Start your Career in Digital Marketing ? 

With our Online Digital Marketing Course, you can learn digital marketing in less than three months and start your career in digital marketing. If, on the other hand, you prefer classroom training, then you can join Web Trainings digital marketing course in Hyderabad 
Web Training Academy offers customised digital marketing training for business owners and entrepreneurs. Our programs are designed by industry experts and are tailored to your specific needs and requirements. Join our 2 Days advanced digital marketing workshop for business owners and entrepreneurs. 
Attend a Free Demo Session to know more about Digital Marketing 
Learn digital marketing course in Hyderabad from industry pioneer. Our digital marketing course consists of 25+ Modules & 10+ Certifications. Apply for Free Demo using the below form.
How much a digital marketer can earn in India?
was last modified:
January 19th, 2023
by