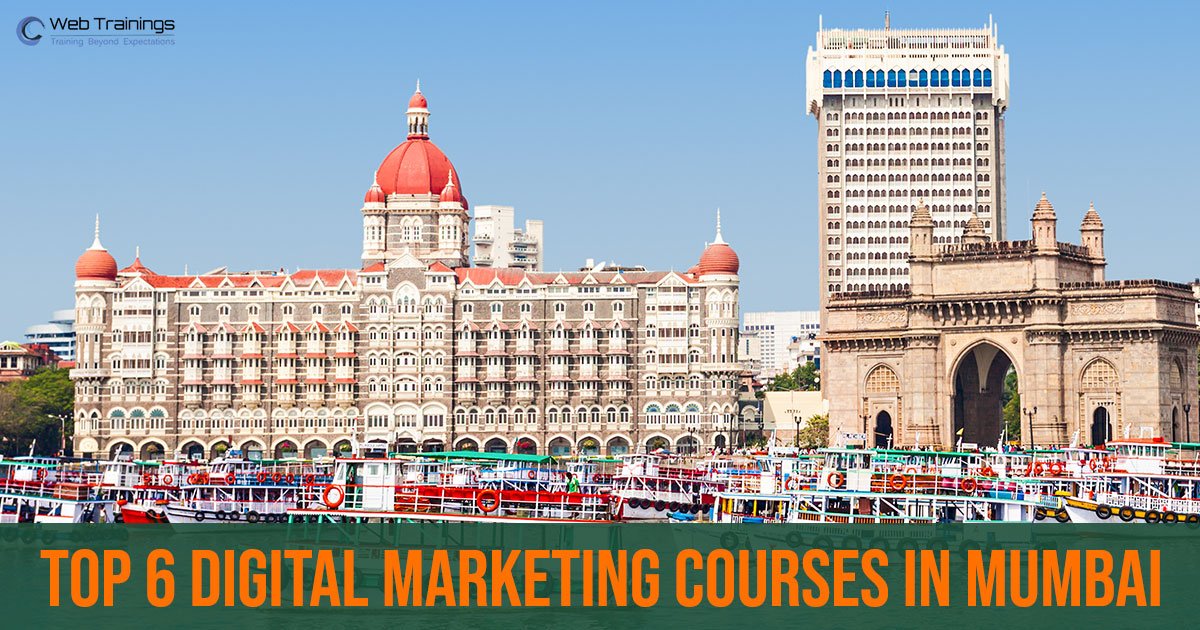 If you're a striver hunting for the best digital marketing course in Mumbai, then you have landed into the right page. Mumbai bursts with pride as the business capital in India. It holds several best and oldest advertising and digital marketing agencies to help brands with digital marketing.
As per Naukri.com there are nearly 22,000+ openings for digital marketing jobs in Mumbai. Hence, it is the right time for job enthusiasts to search and enrol for the best digital marketing course in Mumbai. Here is a screenshot of the digital marketing job openings in Mumbai.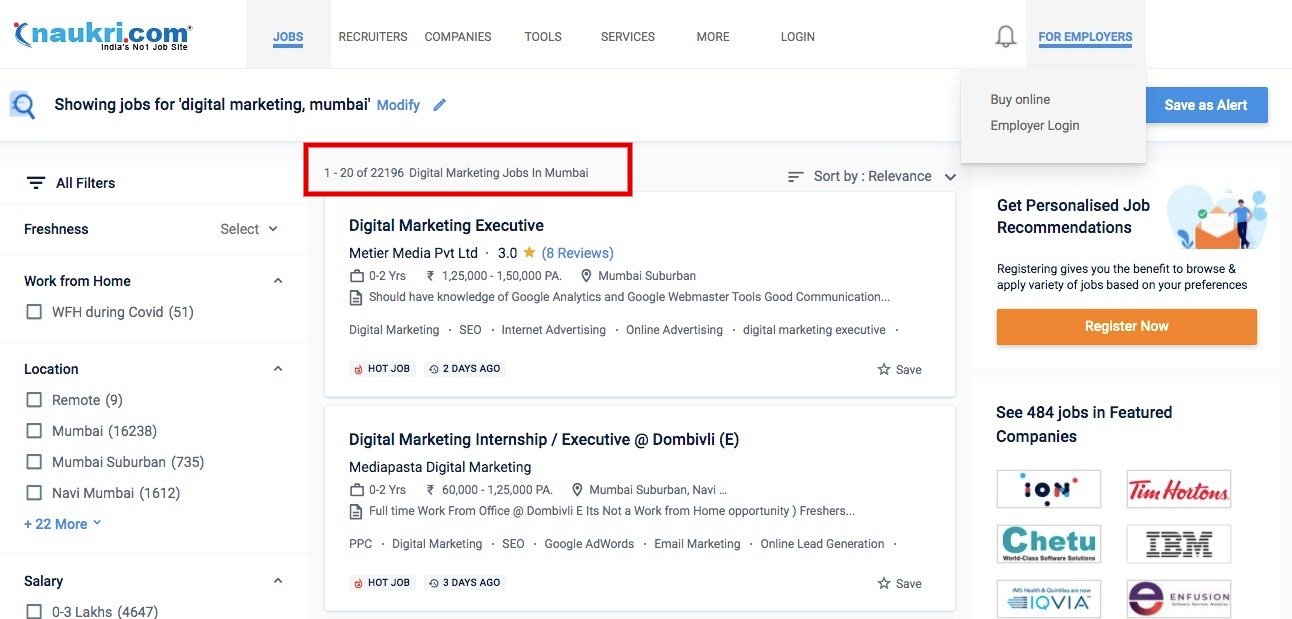 Why Digital Marketing is Important?
With the lifestyle change, the path businesses follow to approach customers has taken a shift. Digital marketing is assisting companies to renew the marketing techniques to associate with the customers and sustain in their mind. Digital marketing plays an essential role in capturing the right customers with appropriate information on the suitable landscape. Hence reaching the customers becomes effective and efficient. However, digital marketing is an intensive platform, mandating expert digital marketing professionals.
Digital marketing careers have witnessed an escalated growth in recent years. 
Digital marketing will rule the marketing niche in the next five years, and hence a career opportunity for digital marketing is bright.
Companies are anticipating linking their products with the appropriate customers through digital marketing platform. Hence digital marketing experts are in high demand.
The digital advertising industry is estimated to shoot up to 539 billion rupees in 2024, paving the way for significant career opportunities.
Job seekers anticipating to advance in the digital marketing niche should enrol for digital marketing course in Mumbai to gain in-depth knowledge. Then, take a glimpse at the top 6 digital marketing courses in Mumbai for a trouble-free decision.
Top 6 Digital Marketing Institutes in Mumbai
1. Web Training Academy


Web Trainings Academy is a reputed and leading training institute that delivers top-notch digital marketing course. The online digital marketing course for Mumbai aspirants is a opportunity to master the strategies of the digital marketing world. We have developed the best online digital marketing course to deliver in-depth digital marketing strategies to marketing professionals, students, entrepreneurs, and business owners.
Online Digital Marketing Course Modules
Domain & Web Hosting  Concepts – Start your own Domain and Hosting
WordPress CMS – Develop professional website in 4 hours without coding skills
Search Engine Optimization – Develop SEO strategy to rank your website on top ranking
Local SEO – Rank your local business on Google Local Results
Google Ads (Paid ads) – Grow your business with paid advertising strategy
Google Display Ads – Create Display Ads to promote your business
Shopping Ads – Promote E-commerce website on Google
YouTube Ads – Promote products/services on YouTube platform
App Promotions – Promote your app using Organic & Paid techniques
Local Ads – Promote Local business on Google Platform
Bing Ads – Promote business on Bing Platform
Social Media Marketing – Promote business on social networks
Facebook – Promote business with Profile/Pages/Groups & Marketplace
Facebook Ads – Reach target audience with Paid Ads
Instagram – Sky rocket the business with Instagram strategies
LinkedIn Marketing – Promote Business, Generate Leads and Get Hired
YouTube Marketing – Generate traffic and leads using videos
Twitter –  Leverage Twitter marketing and advertising strategies
Quora – Write answers on Quora to build your authority in your niche.
Pinterest – Generate traffic with infographics and photos
Email Marketing –  Build your own marketing lists with SendinBlue
Inbound Marketing – Develop a content marketing plan for business
Online Reputation Management – Manage your brand reputation online
Google Analytics – Measure your website traffic and improve the strategies
Online Money Making Strategies with Digital Marketing 
Google Adsense – Make money online with Blog/ Website
YouTube Monetisation – Make money with YouTube channel
Affiliate Marketing – Promote products and earn affiliate commissions
Freelance Business – Start freelancing on major freelance networks
Get Global Certifications 
We provide 10+ Global certifications with our online digital marketing course.
SEMRush SEO Certification
Google Search Ads Certification
Google Display Ads Certification
Google Shopping Certification
Google YouTube Certification
Google App Advertising Certification
Google Measurement Certification
Google Analytics Certification
Hubspot Inbound Certification
Facebook Blueprint Certification (Paid)
Web Trainings Academy Certification
Why Join Online Digital Marketing Course:
Pioneer in Digital Marketing Industry.
14+ years experienced trainer.
Live online sessions on advanced digital marketing from experienced lecturers.
The program is designed to impart both practical and theoretical aspects to implement projects.
The online training course for digital marketing covers 28 modules and gain 10 different certifications.
Live project work and weekly project assignments.
The course includes search engine marketing, SEO, email marketing, social media marketing, inbound marketing, online reputation management, money-making techniques, and more.
Faculty support during and after the course
100% Placements Assistance
Backup videos for revision
Study material for all topics.
Watch a Free Digital Marketing Demo
Contact Details: 
Web Trainings Academy – Digital Marketing Course Hyderabad
Zore Complex, First Floor, Block 1, Flat 104
Above Red Rose Restaurant, Opp Erramanzil Bus Stop
Punjagutta, Hyderabad.
Phone: 9052425444 / 9676525444
Email: info@webtrainings.in
2. IIDE –Indian Institute of Digital Education

The Indian Institute of Digital Education portrays as pioneer in offering digital marketing training in Mumbai. They concentrate on complete digital skills and have been an eye-opener for many graduates. There are two branches of IIDE in Mumbai, and they offered top-class training to 5000+ students. The centres are equipped with the latest tools and technologies mandatory for a digital marketing programs.
Digital Marketing Syllabus
Introduction to digital marketing
Search engine optimization
Search engine marketing
Social media marketing
Content strategy
Web Analytics
Email marketing
Mobile marketing
Online reputation management
AdSense, Blogging and Affiliate marketing
Course duration and fees
Online course: 3 months with fee INR 79,999
Offline course: 11 months with fee INR 3,70,000
Course highlights
Online, offline and hybrid video course available
They offer several digital marketing and business programs
100% placement assistance with training for interview and resume.
Business professionals as faculties with extensive experience.
13+ certifications provided for students availing digital marketing course in Mumbai.
Contact details
Andheri Campus
1st floor, Andheri girls education society, S.V. Road, Opposite Vijaya Bank,
Near Andheri Station, Andheri West, Mumbai-400058.
Phone: +91 7304442840
3. EduPristine (Digital Marketing Institute in Mumbai)
EduPristine is a global institute that has one of its branches positioned in Mumbai. The training institute is dispersed over 40+ countries and offers massive numbers of courses. Being experts in Digital marketing courses in Mumbai, EduPristine provides both classroom and online training. In addition, the Institute provides a digital library for graduates craving to drench themselves in the marketing ecosystem.
Digital Training Syllabus
Introduction to digital marketing
Search engine optimization
Mobile marketing and optimization
SEM-PPC marketing
Social media marketing
Email marketing
Marketing automation
Affiliate marketing
Funnel marketing and growth hacking
Content marketing & conversation rate optimization
Soft skill training
Course duration and fees
Classroom training: INR 33,000
Offline training: INR 25,000
Course highlights
150+ hours program
35 modules covered by industry experts
Live hands-on training
Module wise assessment
Placement and internship assistance
Course completion project for students.
Contact details
Address: 702, Raaj Chambers, 7th Floor, Near Andheri Subway, Old Nagardas Rd, Mogra Pada, Natwar Nagar, Andheri East, Mumbai, Maharashtra 400069
Phone: 1800 200 5835
4. SP Jain's (Digital Marketing Institute In Mumbai)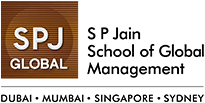 SP Jain training institute of management and research plays a crucial role in offering training digital marketing course for Mumbai aspirants. The global training institute has its branches in Sydney, Singapore, Mumbai and Dubai. The expert faculties assist students in understanding the tactics of digital marketing and the latest practices followed. With the help of various sessions, students learn to navigate the right social media campaign and engage with customers.
Syllabus
Trends in digital marketing
CRM and A.I. in delivering customer experience
Marketing strategies and customer touchpoints
Marketing and campaign automation
Digital engagement canvas
Digital Audit
SEO audit
E-commerce presence
Social media presence
Course duration and fees
Five months with payments INR 60,000 and taxes
Course highlights
Thirty hours of live classes, with 20 case studies and 10 hours of hands-on experience.
Course completion certificate from intellipaat and SPJIMR
Collaborate with 500 partners with three inclusive interviews
Contact details
Address:
South Campus- SP Jain School of Global Management, 1st Floor, Trade Point, Kamala Mills, Lower Parel, Mumbai, 400013
North Campus- SP Jain School of Global Management, 1st Floor – Kohinoor City Mall, Gate No. 1, Kurla West, Mumbai – 400 070
Phone: 1800 200 0827
5. Lips India Digital Marketing Course In Mumbai
Lips India offers a top-notch digital marketing course in Mumbai with an exceptional digital marketing curriculum for enthusiasts. The Institute holds about 5000+ digital marketers with in-depth knowledge about present digital marketing.
Syllabus
Google Adwords
Web introduction
SEO on-page and off-page
Email marketing
Social media
Google Analytics
Video optimization
Ad server display
mobile marketing
social media analytics
CRO, GTM
Content creation
Affiliate marketing
WordPress CMS
Course duration and fees
Online training with a fee of INR 18,500
Course highlights
Classroom and online training with weekdays and weekend classes
Students gain live paid platform access
Unlimited server space for WordPress website creation, free access to website development tools
Paid campaigns available for students
Contact details
Address: 3/A, Vrindavan Building Gr. Floor, Umeda Ashram Rd, Behind Pantaloons, Borivali West, Mumbai, Maharashtra 400092
Phone: 098332 01420
Frequently Asked Questions:
Which is the best Institute to pursue a Digital marketing course in Mumbai?
Web Training Academy tops the list and stands as the best training provider for Online Digital Marketing course in Mumbai.
What is the fee for the Digital Marketing course in Mumbai?
Based on the course level, the Digital Marketing course in Mumbai ranges from INR 10,000 to 3,00,000 depending on various factors. We are offering online digital marketing course @ Rs 20,000.
What are the eligibility criteria for Digital Marketing Course in Mumbai?
To grab the best career opportunities, a minimum degree is required. Apart from degree, the person must develop both soft skills and technical skills in digital marketing.
What is the salary for a Digital Marketing career?
The digital marketing experts salary per annum in Mumbai starts @ INR 2,50,000 and increases based on experience ands skillset.
Is it right to choose digital marketing as a career option?
Digital marketing is a rapidly growing industry catering to more job opportunities. Hence it is the best career choice to choose. Proficient employees experience a quick upsurge in their digital marketing career with excellent salaries and benefits.
Hope the above information is beneficial for aspirants to choose the best Digital Marketing Course In Mumbai.
Note: The copyrights of logo belongs to respective owners.
Related Articles:
Best 6 Digital Marketing Courses in Mumbai – 2023
was last modified:
March 27th, 2023
by