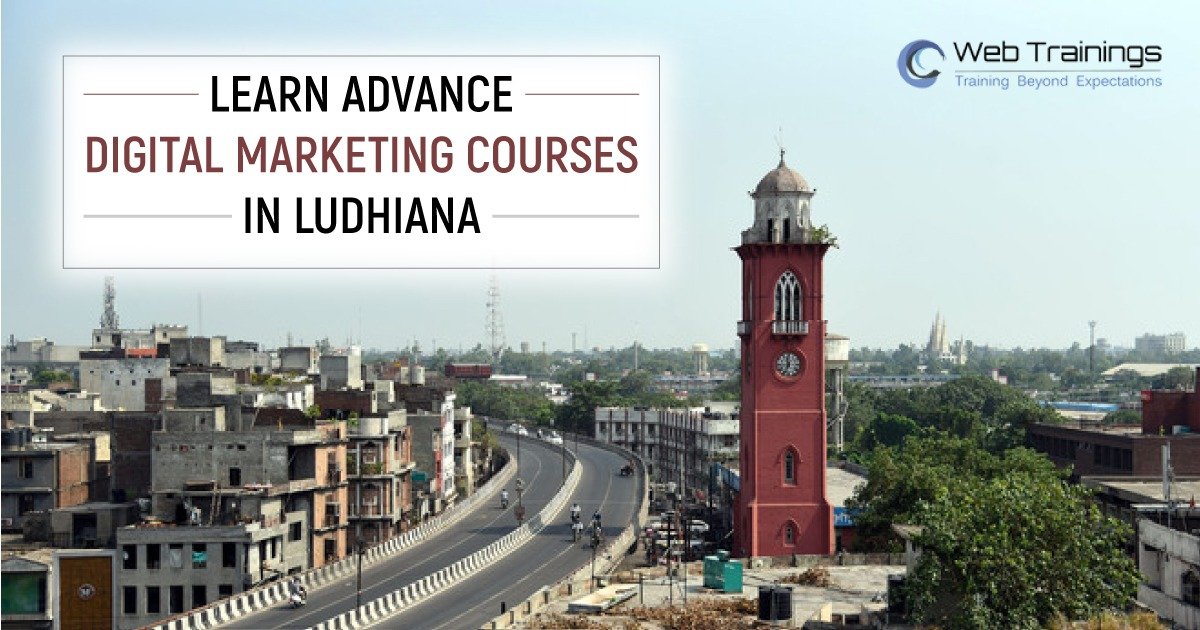 If you're looking for the best digital marketing course in Ludhiana, you've come to the right place. We've thought of everything! Some of the most excellent digital marketing course in Ludhiana are included here, together with all of the relevant course syllabus, fees, and other information.
Scope of Digital Marketing in Ludhiana: Since its introduction into our daily lives, Internet usage has increased exponentially. According to statistics, India will have 560 million internet users in 2019, which is predicted to increase to 650 million by the end of 2023. The future scope of digital marketing has been substantially broadened as a result of this.
As a result, the marketing business has transformed as a result of digital marketing. Due to the expanding number of organizations attempting to build their businesses online, digital marketing is more in demand and growing quicker than ever.
Digital Marketing Jobs in Ludhiana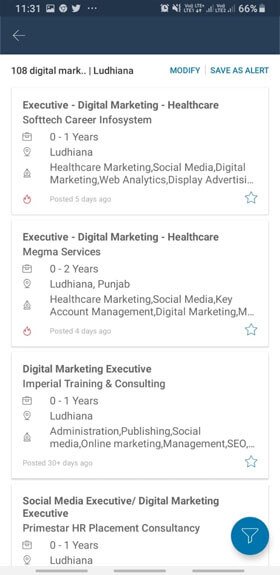 ---
Top 6 Digital Marketing courses in Ludhiana
01. Web Trainings Academy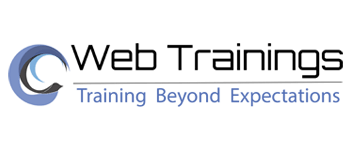 Web Trainings Academy is a reputed and leading training institute that delivers top-notch digital marketing course. The online digital marketing course for Ludhiana aspirants is an opportunity to master the strategies of the digital marketing world. We have developed the best online digital marketing course to deliver in-depth digital marketing strategies to marketing professionals, students, entrepreneurs, and business owners.
Online Digital Marketing Course Syllabus
Domain & Web Hosting  Concepts – Start your own Domain and Hosting
WordPress CMS – Develop a professional website in 4 hours without coding skills
Search Engine Optimization – Develop an SEO strategy to rank your website on top ranking
Local SEO – Rank your local business on Google Local Results
Google Ads (Paid ads) – Grow your business with paid advertising strategy
Google Display Ads – Create Display Ads to promote your business
Shopping Ads – Promote E-commerce website on Google
YouTube Ads – Promote products/services on the YouTube platform
App Promotions – Promote your app using Organic & Paid techniques
Local Ads – Promote Local business on Google Platform
Bing Ads – Promote business on Bing Platform
Social Media Marketing – Promote business on social networks
Facebook – Promote business with Profile/Pages/Groups & Marketplace
Facebook Ads – Reach target audience with Paid Ads
Instagram – Skyrocket the business with Instagram strategies
LinkedIn Marketing – Promote Business, Generate Leads, and Get Hired
YouTube Marketing – Generate traffic and leads using videos
Twitter –  LeverageTwitter marketing and advertising strategies
Quora – Write answers on Quora to build your authority in your niche.
Pinterest – Generate traffic with infographics and photos
Email Marketing –  Build your own marketing lists with SendinBlue
Inbound Marketing – Develop a content marketing plan for business
Online Reputation Management – Manage your brand reputation online
Google Analytics – Measure your website traffic and improve the strategies
Online Money Making Strategies with Digital Marketing
Google Adsense – Make money online with Blog/ Website
YouTube Monetisation – Make money with YouTube channel
Affiliate Marketing – Promote products and earn affiliate commissions
Freelance Business – Start freelancing on major freelance networks
Why Join Online Digital Marketing Course?
14+ Years Experience Digital Marketing Trainer
Affordable Fees for Digital Marketing
The course includes search engine marketing, SEO, email marketing, social media marketing, inbound marketing, online reputation management, money-making techniques, and more.
Live online sessions on advanced digital marketing syllabus from experienced lecturers.
100% Placements Assistance
The program is designed to impart both practical and theoretical aspects to implement projects.
The online training course for digital marketing covers 28 modules and gain ten different certifications.
Live project work and weekly project assignments.
Faculty Support on WhatsApp
Get Global Certifications
Google Search Ads Certification
Google Display Ads Certification
Google App Advertising Certification
Google Measurement Certification
Google Shopping Certification
SEMRush SEO Certification
Google Analytics Certification
Hubspot Inbound Certification
Web Trainings Academy Certification
Contact Details: 
Web Trainings Academy – Digital Marketing Course Hyderabad
Zore Complex, First Floor, Block 1, Flat 104
Above Red Rose Restaurant, Opp Erramanzil Bus Stop
Punjagutta, Hyderabad.
Phone: 9052425444 / 9676525444
Email: info@webtrainings.in
---
02. Digital Grow Up: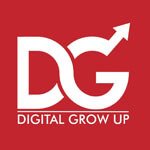 Digital Grow Up Computer Institute, popularly known as Digital Grow Up, is a computer institute and a digital marketing business situated in Ludhiana. Digital Grow Up not only provides practical instruction but also offers certificates for work on actual projects.
Digital Grow Up, founded by Mr Bharat Kumar and Ms Shivani Rao, offers one of the most excellent digital marketing courses at a low price. They have been delivering courses such as Search Engine Optimization (SEO), Graphic Designing, Email Marketing, and others since they were registered with the Indian government and associated with Google.
It Has Become The Most Preferred Career Option Throughout The World Due To The Growing Demand For Information Technology Professionals.
You Must Be A Part Of The Digital Grow Up Computer Institute If You Want To Induce A High-Quality Computer Education. Start Your Career In The Information Technology (I.T.) Sector (Field) With Digital Grow Up And Develop Yourself Digitally, Socially, And Technically.
Modules
Reputation Management
Email Marketing
Web Analytics
Graphic Designing
Social Media Marketing
Search Engine Optimization (SEO)
Course duration and fees :
Digital Grow Up is second on our list of digital marketing courses in Ludhiana. However, it takes roughly six months to finish the digital marketing course.
Student Ratings
Rated: 5/5 by 48 students in Google
Contact Details 
Address: Jawala Singh Chownk, Jassian Village Rd, Haibowal Kalan, Ludhiana, Punjab 141001
Email: digitalgrowup@gmail.com
---
03. CCIT – College of Communication and Information Technology:
CCIT has been providing one of the top digital marketing course in Ludhiana since 1993. Their goal is to turn graduates become business leaders. They provide training that allows students to enter the sector.
Software Development Training, Digital Art, Design, Multimedia and Publishing, Computer Networks, and System Administration are all covered by CCIT's two sections.
There are two types of training programs offered by them: –
Web Technologies, Web Designing, Digital Art and Graphics, Multimedia Publishing, Software Development, Application Development, Windows Store Apps Development, Web Application Development, Business Applications, Office Applications, Computer Networks, and System Administration are among the I.T. training and professional certification programs available.
Industrial Training Programs for B. Tech and M.C.A. Students and Internship Programs for I.T./ Computer/ Electronics Engineers are available for six weeks and six months.
Modules
Digital Marketing Fundamentals
Keyword Research
Website Planning & Structure
Video Advertising
Google Merchant Center
SEO On-Page Optimization
Email Marketing
Social Media Optimization (S.M.O.)
Google Webmaster Tools
SEO Off-Page Optimization
Google Shopping Ads
P.C. Advertising – Facebook & Instagram
P.C. Advertising – LinkedIn
Twitter Ads
Digital Marketing Strategy
Content Marketing
Domain Registration & Hosting
How to write a Blog
Google AdWords Text Ads
Google AdWords Mobile Ads
Display Advertising
Course Duration and Fees
The Ludhiana digital marketing training lasts six weeks. The cost of their services is Rs. 30,000/-.
Student Ratings
Rated: 4.7/5 by 212 students in Google
Contact details 
Address: Model Town Club, CCIT Building, Lane, Model Town, Ludhiana, Punjab 141002
Email: info@ccit.co.in
---
04. Think NEXT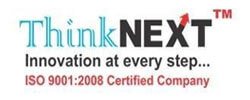 ThinkNext was created in 2011 and is an ISO-certified educational firm. They are Google partners and provide some of the top digital marketing courses in Ludhiana. They also offer training in computer languages, robotics, and other fields in addition to digital marketing.
They provide three types of training – classroom, instructor-led, and instructor-less online training – because they have created a reputation for delivering value to their students.
Modules
Website Planning & Creation
Search Engine Optimization
Content Marketing
Mobile Marketing
Google Analytics
Social Media Marketing
Email Marketing
Search Engine Marketing
Affiliate Marketing
Blogging & AdSense
Online Display Advertising
Ecommerce Marketing
Online Reputation Management
P.C.
Course duration and fees 
ThinkNext was placed #4 on our list of digital marketing courses in Ludhiana. The digital marketing training will last three months.
Student Ratings
Rated: 4.5/5 by 1686 students in Google
Contact details 
Address: S.C.F 113, Sector 65, Sahib Zada Ajit Singh Nagar, Punjab 160062
Email: info@thinknext.co.in
---
05. Digital Kangaroos
Digital Kangaroos is a top digital marketing agency in Ludhiana founded in 2017 and provided solutions to small and large businesses. They provide you with the most innovative digital marketing, content marketing, social media marketing, P.P.C., and S.E.M. solutions for your business.
They tailor solutions to your company's needs and ensure that you obtain a higher return on investment. They have executed over 500 projects so far.
Modules
Pay Per Click
Graphic Designing
Web Design & Development
Search Engine Optimization
App Design & Development
Content Marketing
Course duration and fees 
On our list of digital marketing courses in Ludhiana, Digital Kangaroos was ranked #5. The digital marketing course will take four months to complete.
Student Ratings
Rated: 4.3/5 by 60 students in Google
Contact Details
Address: Omaxe Royal Residency, SCO-4, 1st Floor, Ludhiana, Punjab 142022
Email: info@digitalkangaroos.com
---
06. BainBow:
Bainbow was founded in 2015 and is India's top professional agency, offering services in various fields, including strategy, digital marketing, I.T. services, branding, management consulting, and business outsourcing. They will assist you in comprehending and gaining your business's expansion, as well as achieving the ideal outcomes.
They will ensure that your creatives are eye-catching enough to get the required outcomes, as well as that your marketing initiatives are well-measured.
Bainbow knows how to create effective marketing and engagement programs for your business. They have a good number of clientele and understand what they are doing after many years of offering these services.
Modules
Market Research
Search Engine Optimization
Social Media Marketing
Content Writing
SEM/PPC marketing
Lead generation
Course duration and fees 
On our list of digital marketing courses in Ludhiana, Bainbow was ranked #6. The digital marketing course will take two months to complete.
Student Ratings
Rated: 5/5 by 33 students in Google
Contact Details
Address: #3187, Street Number 3, Ganesh Nagar, Ludhiana, Punjab 141008
Email: info@bainbow.com
Top Digital Marketing Institutes in Ludhiana
was last modified:
January 19th, 2023
by