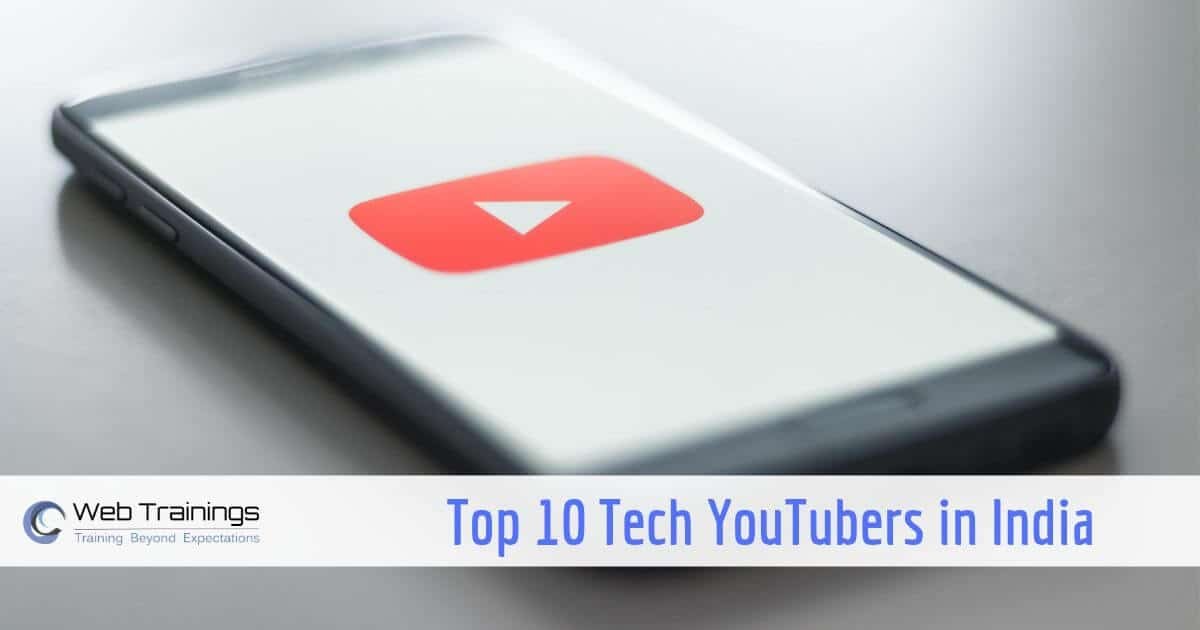 In India, the Vlogging trend is growing rapidly among all types of businesses. There are many Indian tech YouTube channels, and some Tech Vloggers are popular as they provide useful information for their subscribers. In this article, we will know about Top Tech YouTubers in India. YouTube is one of the most useful platforms for social media marketing strategy, every company includes this medium for brand promotions.
YouTube is the 2nd largest search engine with 1 Billion unique visitors per month. From questions and answers to tutorials, YouTube has everything for anybody and everybody. In the technological sphere of YouTube, there are many channels that host videos about gadgets and its usage; be it reviews or new gadgets launch news.
Here, in this article, we have listed about 10 YouTube channels from India that are making technology easy for all the masses. We have listed all the favourite channels. If you were looking to subscribe to some good and popular tech YouTubers to follow, we have made a list below to help you.
Top 10 Tech YouTubers In India
Based out of Dubai, Gaurav Chaudhary, the host of the YouTube channel Technical Guruji claims that the rationale behind creating the channel was to make it very easy to understand the technical videos in Hindi for the masses of India. Updates on the New Smartphone Unboxing, cryptocurrency, Gadgets Review, and other technologies are found on this YouTube channel.
Channel Name – Technical Guruji
Name – Gaurav Chaudhary
Channel Was Started In -18 Oct 2015
Subscribers – 12,818,530 subscribers
Videos – 1363 +
Views – 1,207,218,424 views
Language – Hindi
Full-Time YouTuber – No
Location – Dubai
Ranjit Kumar is the host of the YouTube channel called Geekyranjit. Ranjit Kumar who is based out of Hyderabad, also runs a gadget review website known as Tech2Buzz.com. He earlier had quit his job as an IT consultant to start his own YouTube channel Geekyranjit. In this channel he talks about the Android Tips and Tricks, Smartphone Review, Unboxing of New Smartphone, Gadgets Review, Electronic Products Review.
Name – Ranjit Kumar
Channel Name – Geekyranjit
Channel Was Started – Jan 6, 2011
Subscribers – 2,668,690 subscribers
Language – English
Videos-2209+
Views – 515,182,816 views
Full-Time YouTuber – Yes
Location – Hyderabad
As an engineer Praval Sharma spent his life in the IT sector before becoming a YouTube personality. He has held positions as technical engineer at Ericsson and as an Application Specialist at the ABB ISDC.
When Praval Sharma started to make video in Hindi to provide tech reviews in Hindi language and reach out to the audience who wanted to learn and understand technology in the language Hindi
Name – Praval Sharma
Channel Name – Sharmaji Technical
Channel Started – Mar 26, 2008
Subscribers – 1,616,074 subscribers
Videos – 2118+
Views – 213,227,568 views
Language – Hindi
Full-Time YouTuber – Yes
Location – Delhi India
Bhatnagar, is a Professional Blogger and also an Independent Web Consultant. Prior to starting his YouTube venture, he used to be a software engineer and has also worked for various IT companies. Abhishek Bhatnagar is not only a Successful Youtuber but he is also a Pro Blogger. On their channel Gadgets To Use you can see all the kinds of gadgets review and unboxing along with the Smartphone Review, tips and tricks along with how to's videos.
Name – Abhishek Bhatnagar
Channel Name – Gadgets To Use
Channel Started – Mar 29, 2011
Subscribers – 944,011 subscribers
Videos – 4023 +
Views- 180,484,709 views
Language – Hindi
Full-Time YouTuber – Yes
Location – Delhi, India
Amrelia, states that his goal is to provide simple tips and ad tutorials for tech-beginners on how to use their latest device and get untapped knowledge about a gadget. The user also gets the Daily Tech News along with the SmartPhone Reviews and Unboxing, Gadgets Review.
Name – Ruhez Amrelia
Channel Name – Techno Ruhez
Channel Started – Jan 8, 2015
Videos – 835 +
Subscribers – 1,266,036 subscribers
Views- 120,605,621 views
Language – Hindi
Full-Time YouTuber – Yes
Location -Mumbai
Abhishek Sagar, claims to be a self taught white hat hacker and also a commerce graduate from India. He has great interest and adds videos on cybersecurity, tech news and happenings. Internet and Ethical Hacking is his passion.
Name – Abhishek Sagar
Channel Name – Technical Sagar
Channel Started – Dec 20, 2014
Videos – 711+
Subscribers – 1,941,265 subscribers
Views- 125,037,213 views
Language – Hindi
Full Time You Tuber – Yes
Location – Delhi
Ashwin Ganesh 's C4ETech basically focuses on Smartphones and Android. This channel has videos mainly related to gadget Reviews, Comparisons and tutorials and more. The youtube channel is in English language.
Name –  Asu
Channel Name – C4ETech
Channel Started – Mar 20, 2007
Videos – 1766 +
Subscribers – 1,593,013 subscribers
Views- 312,919,072 views
Language – English
Full-Time YouTuber – Yes
8) IGyaan: – Bharat Nagpal
Bharat Nagpal's iGyaan youtube channel mainly focuses on iOS, Android, News, Unboxing Video, Reviews, and Hands On Videos of the latest Mobile phones and other gadgets.
Name – Bharat Nagpal
Channel Name – IGyaan
Channel Started – Jun 19, 2010
Videos – 1636 +
Subscribers – 980,310 subscribers
Views- 178,533,370 views
Language – English
Dharmendra kumar is an Indian tech youtuber from a remote village of Bihar. On the channel My Smart Support you get videos about Adsense, YouTube, Web Development, App Development and more.
Name – Dharmendra
Channel Name – My smart Support
Channel Started – Jul 26, 2012
Videos – 557 +
Subscribers – 1,022,666 subscribers
Views- 85,350,739 views
Language – Hindi
Full Time YouTuber – Yes
Location – Patna, Bihar
This Delhi based YouTuber and started his YouTube channel Technical Dost in 2016. Technical Dost is a YouTube channel which is totally different from the other Tech Channels. Technical Dost gives the information on Smartphone Review, Internet Knowledge Trending Tech Update, Tech News and are explained in funny style. This is the reason the channel is different from other channels. Technical Dost YouTube channel, provides enjoyment along with technology knowledge.
Name  – Hitesh Kumar
Channel Name – Technical Dost
Channel Started – Jun 11, 2016
Videos – 370 +
Subscribers – 1,380,687 subscribers
Views- 93,284,871 views
Language – Hindi
Full Time YouTuber – Yes
Location -Delhi, India
This is dedicated channel for covering all the topics related to Technology, Smartphone Reviews, Unboxing Gadgets, Electronics, Gadget Reviews, Tech videos, Tech Q&A, Tech news etc. This is focused on Telugu Language to carter the needs of Telugu-speaking audience.
Name  – Prasad
Channel Name – Prasadtechintelugu
Channel Started – Nov 11 2015
Videos – 1,569+
Subscribers – 805,689 subscribers
Views- 125,145,094 views
Language – Telugu
Full Time YouTuber – Yes
Location – Hyderabad, India
If you want to share about any other tech YouTubers in India, Please write about them in the comment. We will update about them in the next edit.
Top Tech YouTubers in India – YouTube Channels [2020]
was last modified:
January 17th, 2020
by